There are many video playback devices, from iPhones to TiVo boxes, and each require video in different formats. David Smith demonstrates how to easily batch export from Premiere for multiple formats.
Adobe Premiere Pro dispose d'un flux de travail brillant pour le lot d'exporter des versions multiples d'une édition, ce qui rend beaucoup plus facile de générer des copies pour les téléphones intelligents, le Web, les appareils tablettes, boîtes TiVo, you name it, en une seule action.
Dans cet article, je vais explorer la façon d'exporter une séquence de back-up et pour diffusion sur le Web Flash dans un flux de travail par lots.
Étape 1 - Paramètres d'exportation fixés
En utilisant une séquence ouverte définir le point de départ la zone de travail pour le début de la séquence partielle que vous voulez exporter en faisant glisser la poignée jusqu'à ce que vous voyez l'aligner sur le début de la séquence.
Astuce: Utilisez une section qui a une variété de types de médias et de niveaux si vous pouvez, de sorte que l'échantillon est une bonne section de votre séquence.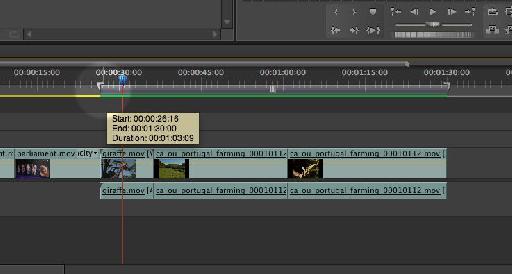 Puis faire la même chose avec le point final espace de travail, environ 20-30 secondes plus tard dans la séquence.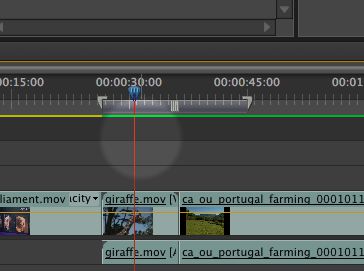 étape 2 - l'exportation des médias
Avec la séquence sélectionnée dans la presse calendrier de commande-M pour ouvrir la fenêtre d'exportation.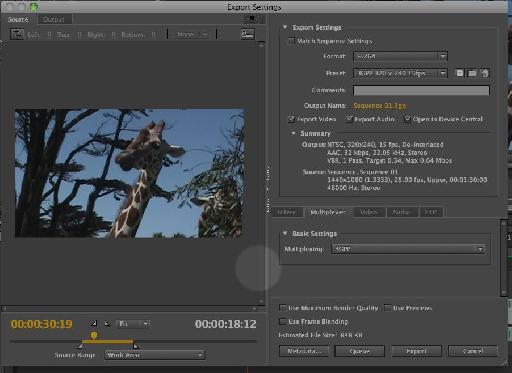 Étape 3 - Réglage de la Source
Sur la gauche de la fenêtre d'exportation est la source et des options de sortie.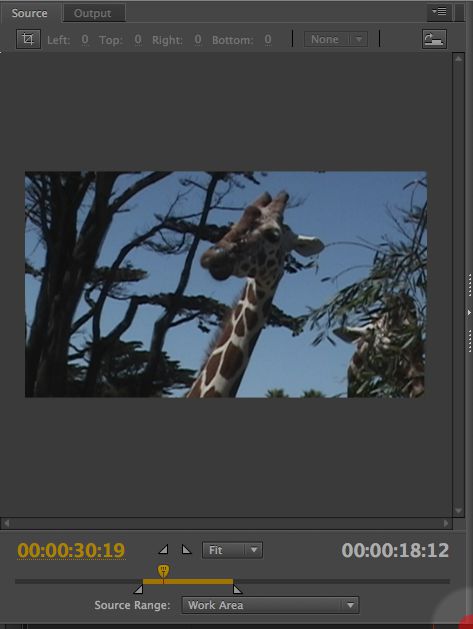 Dans la fenêtre source régler la plage dans le menu déroulant la zone de travail, en sorte que la zone de travail est exporté.
Astuce: Si vous définissez la plage de la «coutume», vous pouvez utiliser I et O pour mettre en et hors des points et de modifier la gamme de la vidéo encore plus loin. Utile si vous testez les paramètres d'exportation en premier.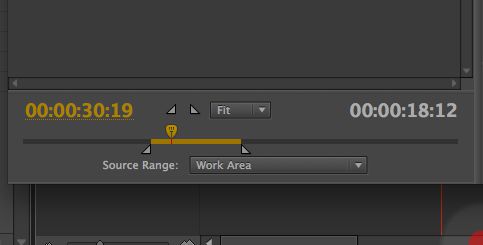 Astuce: Vous pouvez simplifier encore les choses, si vous utilisez l'outil Recadrage et de la culture de la sortie vidéo étant. Cela permettra d'assurer une exportation encore plus rapide et permettra de vous concentrer sur un détail du clip vidéo, comme un petit texte sur les graphiques compressés pour le web, par exemple.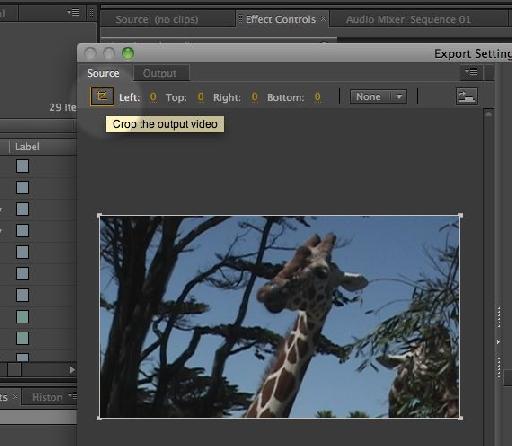 Étape 4 - Mise en forme Ensemble pour un Back-up
Maintenant, retournez aux Paramètres d'exportation pour sélectionner les formats destinés à l'exportation. Commencez par sélectionner les normes pour une exportation complète de la qualité. Juste au cas où quelque chose de terrible arrive à votre projet, il s'agit d'un back-up grande optionjust au cas où.
Afin de garantir un fichier compressé qui correspond à la séquence en cours de choisir le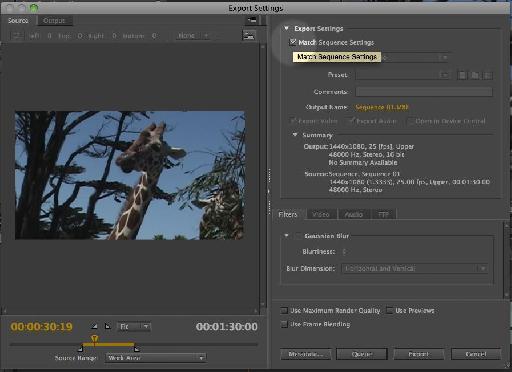 Nommez le fichier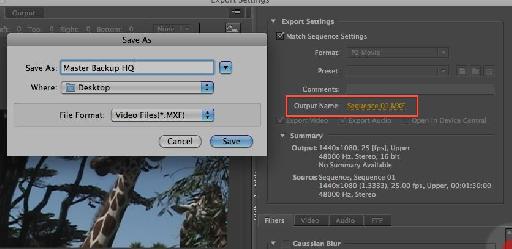 Utilisez le Résumé pour obtenir un aperçu de ce qui se régler.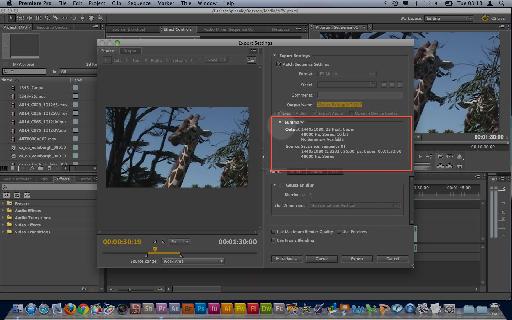 Choisir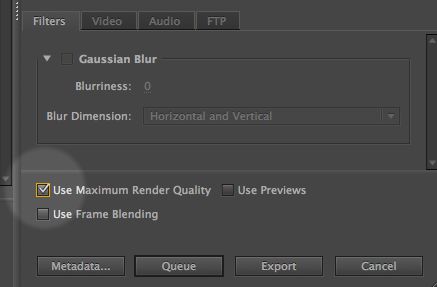 En cliquant sur l'exportation va commencer le processus d'exportation cette vidéo maintenant. Au lieu de cela, cliquez sur la file d'attente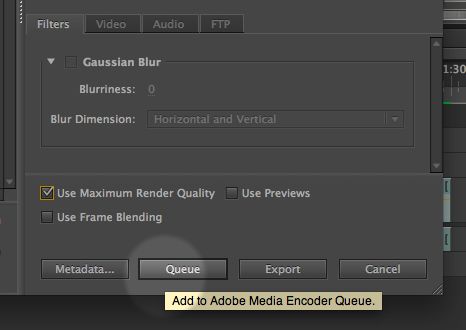 Médias ouvre Encoder avec votre vidéo répertorié dans sa fenêtre de lot.
Retour à Premiere Pro et en utilisant la même zone de travail, répétez les étapes 1 à 3, puis passez à l'étape 5.
Étape 5 - Définir Pour Flash
OK, donc le prochain format pour l'exportation est Flash Video. J'ai l'intention d'ajouter ces images vidéo à un projet. FLA en utilisant Flash CS5 à une date ultérieure.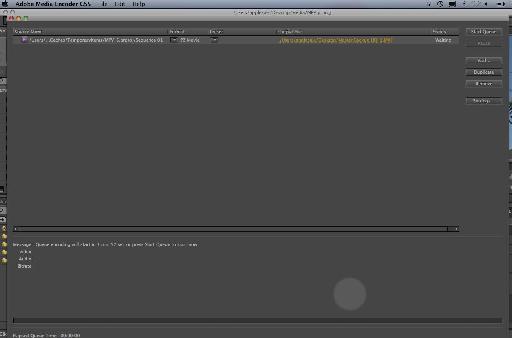 Définir le format au format Flash à partir du menu déroulant.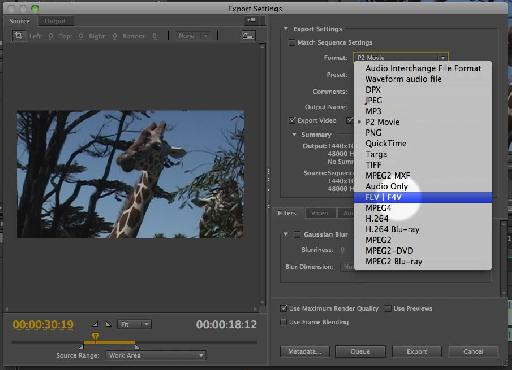 Flash a 2 normes de compression: la plus ancienne FLV qui est grande d'utiliser pour le compositing, car il peut incorporer Alphas. Et F4V qui est un nouveau format H.264 qui préférable d'utiliser pour le streaming tout en étant mieux à la manipulation des métadonnées. Choisissez F4V pour ce clip. Notez que les versions plus récentes F4V exige de Flash Player. Choisissez F4V pour le Web, 640x480.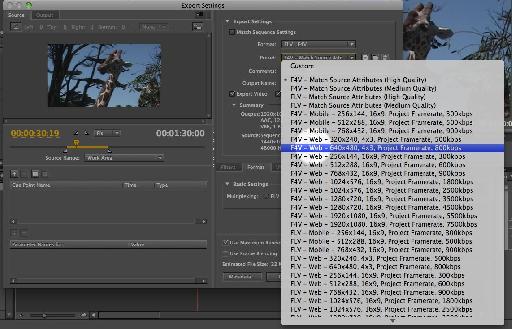 Nommez le fichier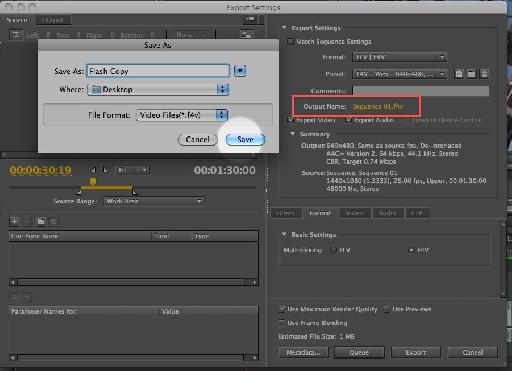 Choisissez d'exporter la vidéo et audio pour celui-ci.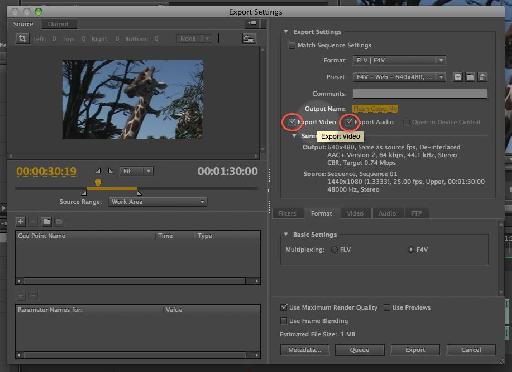 Les points de repère dans Flash fonctionnent comme des marqueurs de chapitre sur un DVD. Pour configurer la navigation dans le fichier Flash, jouer ou faire glisser la tête de lecture à l'endroit voulu dans la fenêtre de prévisualisation vidéo et choisissez "" pour ajouter un point de repère.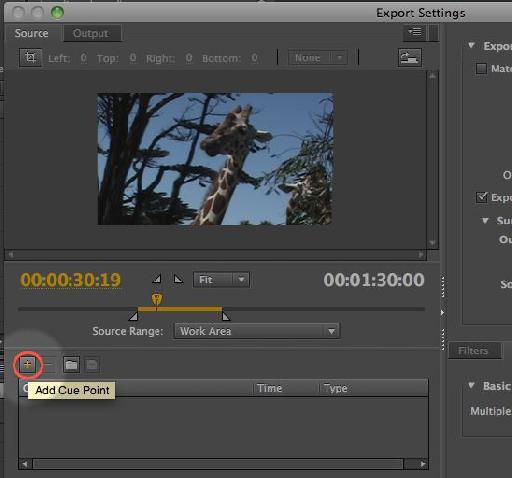 Nommez le point de repère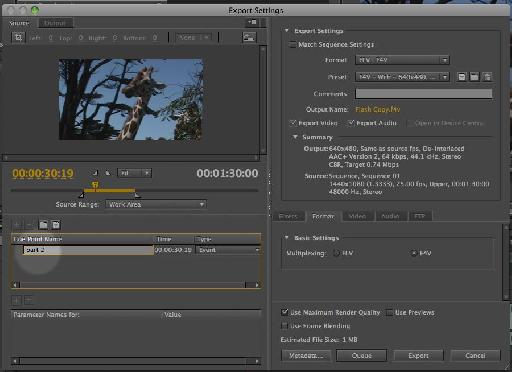 Le filtre Flou gaussien est un excellent moyen pour égaliser tout bruit sur la vidéo, qui à son tour va créer une image plus douce pour la compression. Comme nous sommes de manière significative la compression de la qualité de cette image, l'ajout d'une valeur de flou de 2-3 devrait être suffisant. Utilisez la fenêtre de prévisualisation de sortie pour vous garder ici.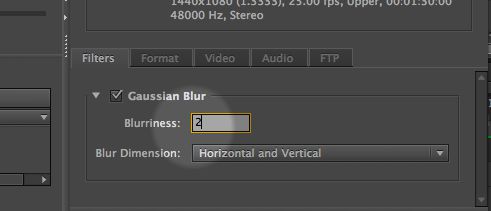 Ajouter ce paramètre pour la file d'attente.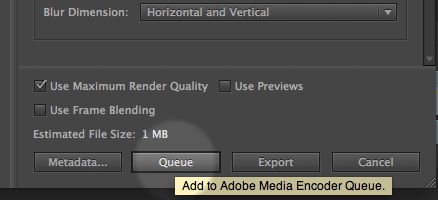 Étape 6 - Lot exportation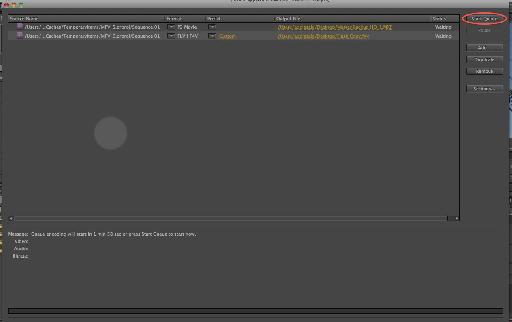 Dans le centre de dispositif, les deux paramètres d'exportation sont énumérés. Cliquez sur Démarrer la file d'attente pour commencer le rendu et l'exportation de la liste des lots. Votre progression est suivie par la barre jaune en bas de la fenêtre de Media Encoder.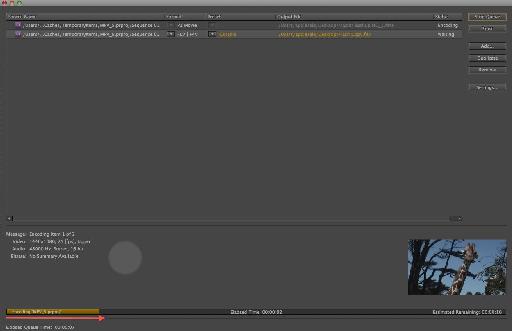 Une fois terminé, vérifiez le bureau pour les deux vidéos exportées et les lire.
Si vous êtes heureux avec les résultats, revenir en arrière et modifier la zone de travail en fonction de la séquence complète et exporter tous les médias. De cette façon, beaucoup de temps peut être sauvé en évitant les mauvais réglages. Essayez d'autres paramètres