There are many video playback devices, from iPhones to TiVo boxes, and each require video in different formats. David Smith demonstrates how to easily batch export from Premiere for multiple formats.
Adobe Premiere Pro dispone di un flusso di lavoro brillante per l'esportazione in batch di più versioni di una modifica, rendendo molto più facile per generare copie per smart phone, il web, i dispositivi tablet, scatole di TiVo, è il nome, in una sola azione.
In questo articolo ho intenzione di esplorare come esportare una sequenza di back-up e per la consegna web Flash in un flusso di lavoro batch.
Fase 1 - parametri di esportazione Set
Utilizzando una sequenza aperta impostare l'area di punto di inizio lavoro per l'inizio della sequenza parziale che si desidera esportare trascinando la maniglia fino a vedere che scatta all'inizio della sequenza.
Suggerimento: utilizzare una sezione che ha una varietà di tipi di supporti e dei livelli, se possibile, in modo che il campione è una buona sezione della sequenza.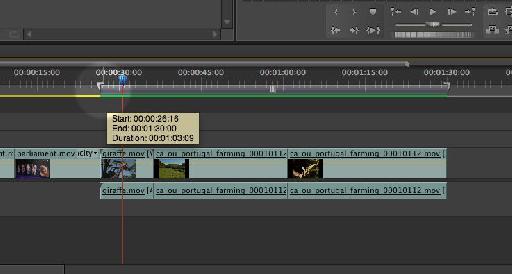 Poi fate lo stesso con il punto finale di lavoro, circa 20-30 secondi dopo nella sequenza.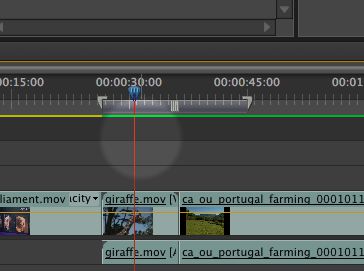 Fase 2 - export media
Con la sequenza selezionata dalla stampa timeline Command-M per aprire la finestra di esportazione.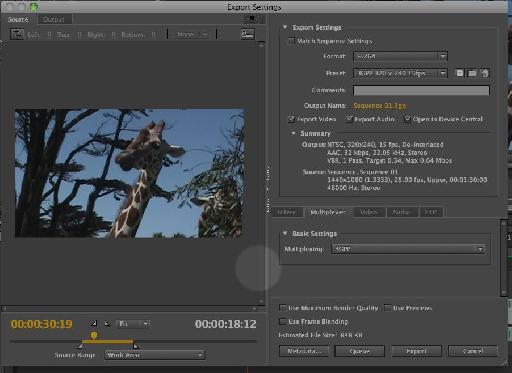 Fase 3 - Impostazione della sorgente
Sulla sinistra della finestra di esportazione è la sorgente e le opzioni di output.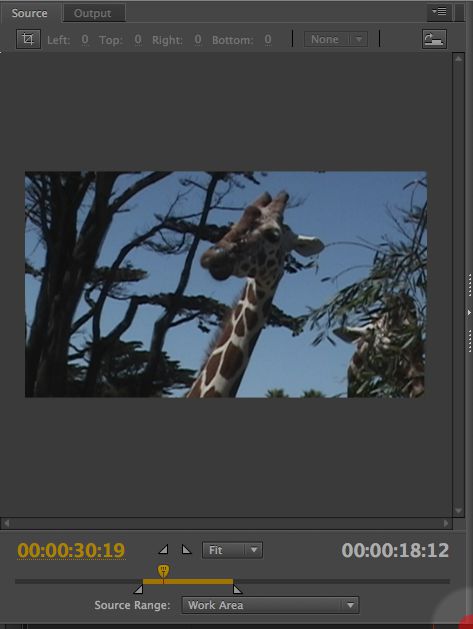 Nella finestra di origine impostare il menu a discesa Campo all'area di lavoro, in modo che solo l'area di lavoro viene esportato.
Suggerimento: Se si imposta l'intervallo a 'custom' è possibile utilizzare I e O per impostare punti In e Out e modificare la gamma di video ulteriormente. Utile se si sta testando le impostazioni di esportazione prima.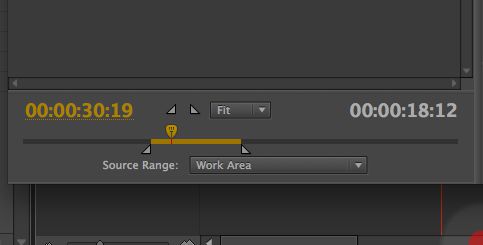 Suggerimento: È possibile semplificare ulteriormente le cose, se si utilizza lo strumento Ritaglia e ritagliare l'uscita video dell'essere. Ciò garantirà un export ancora più velocemente e permettono di concentrarsi su un dettaglio del video clip, come piccolo testo sulla grafica compressi per il web, per esempio.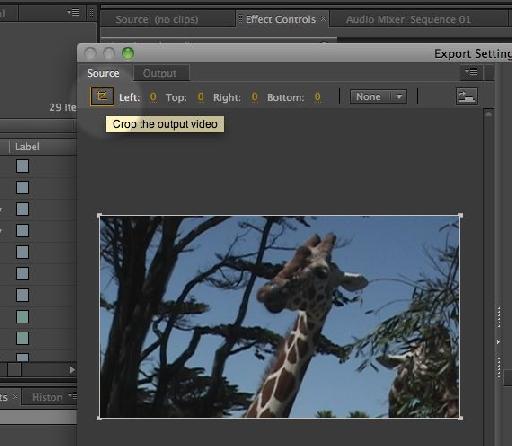 Fase 4 - Formattazione Set per un back-up
Ora tornate le impostazioni di esportazione per selezionare i formati per l'esportazione. Inizia selezionando le norme per l'esportazione di qualità totale. Solo nel caso in qualcosa di terribile accade al progetto, questo è un back-up in caso di grande optionjust.
Per assicurare un file compresso che corrisponde alla sequenza corrente scegliere il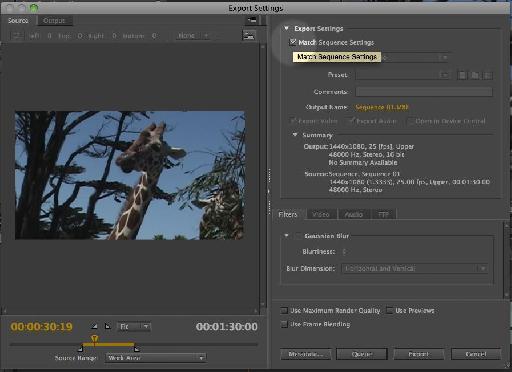 Nome del file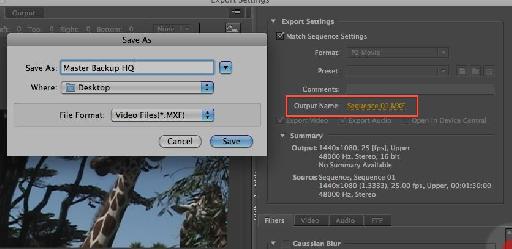 Utilizza il riepilogo per avere una panoramica di quello che viene impostata.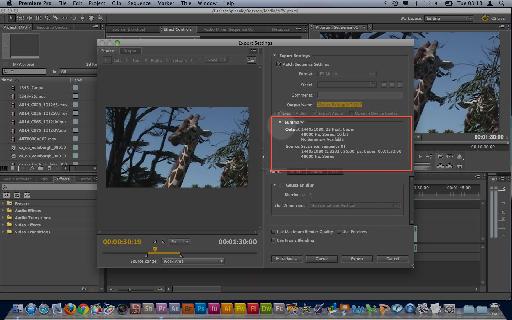 La scelta di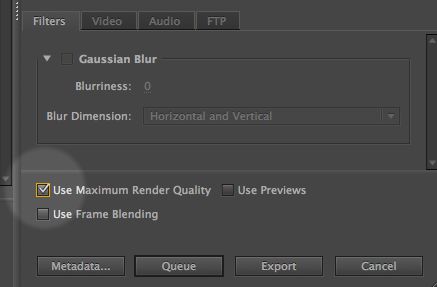 Facendo clic su Esporta inizierà il processo di esportazione di questo video ora. Al contrario, fare clic sulla coda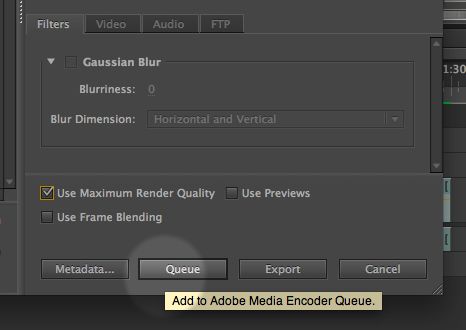 Media Encoder si apre con il video elencate nella finestra batch.
Torna a Premiere Pro e utilizzando la stessa area di lavoro, ripetere i passaggi 1 3 quindi procedere al passaggio 5.
Fase 5 - Set For Flash
OK, in modo che il prossimo formato per l'esportazione è Flash Video. Ho intenzione di aggiungere questo filmato in un file. Progetto FLA con Flash CS5 in una data successiva.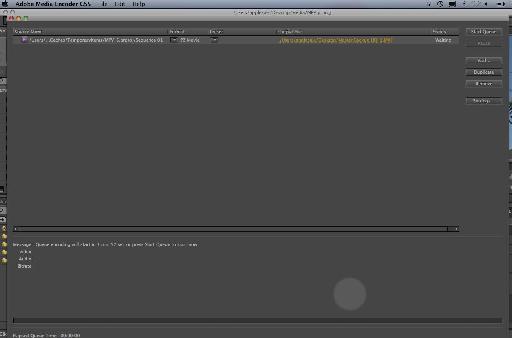 Imposta il formato di Flash dal menu a discesa.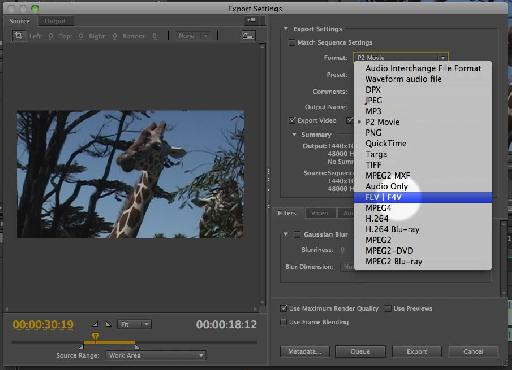 Flash dispone di 2 standard di compressione: il vecchio FLV che è ottimo da utilizzare per la composizione in quanto può integrare Alpha. E F4V che è un nuovo formato H.264 che meglio usare per lo streaming, oltre ad essere meglio a gestire metadati. Scegli F4V per questa clip. Si noti che F4V richiede versioni più recenti di Flash Player. Scegli F4V per il Web, 640x480.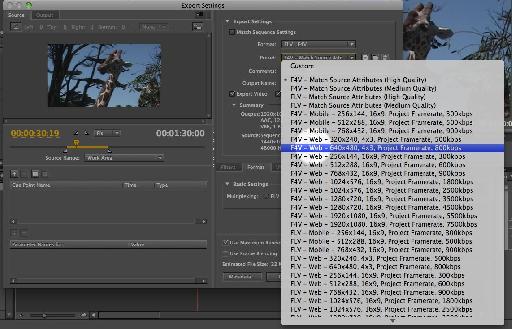 Nome del file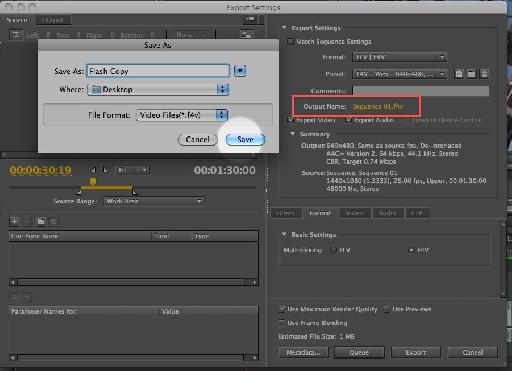 Scegliere di esportare video e audio per questo.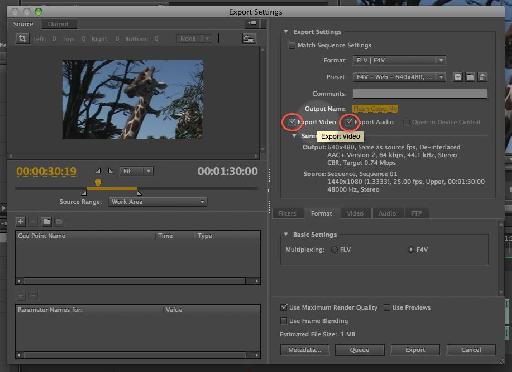 I cue point in Flash funzionano in modo simile a marcatori di capitolo di un DVD. Per impostare la navigazione nel file Flash, giocare o trascinare l'indicatore di riproduzione fino al punto desiderato nella finestra di anteprima video e scegliere "" per aggiungere un punto cue.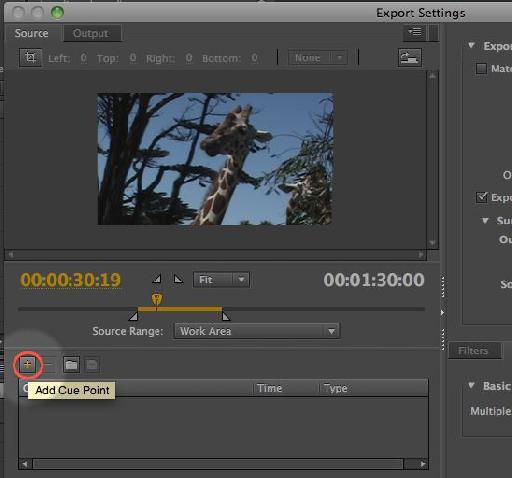 Assegnare un nome al cue point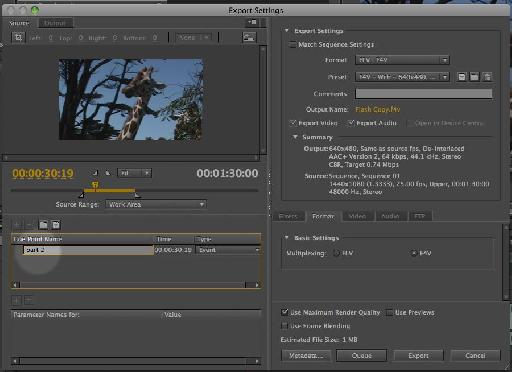 Il filtro di sfocatura gaussiana è un ottimo modo per appianare qualsiasi rumore sul video, che a sua volta creerà un'immagine più morbida per la compressione. Come stiamo significativamente comprimendo la qualità di questa immagine, aggiungendo un valore di sfocatura di 2-3 dovrebbe essere sufficiente. Utilizzare la finestra di anteprima di output per tenervi qui.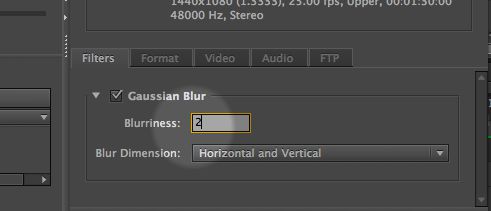 Aggiungi questa impostazione per la coda.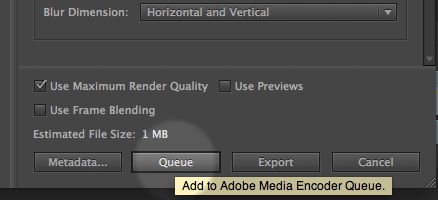 Fase 6 - Batch Export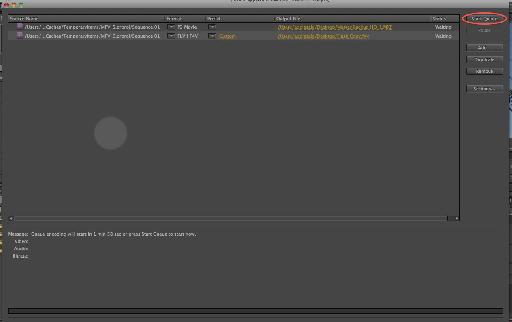 In Device Central, entrambe le impostazioni di esportazione sono elencati. Fare clic su Start coda per iniziare il rendering ed esportare l'elenco batch. Il vostro progresso è monitorato dalla barra di colore giallo nella parte inferiore della finestra Media Encoder.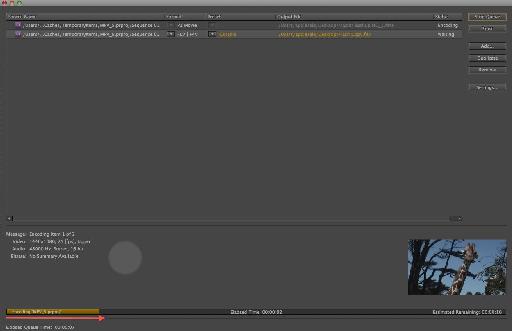 Una volta completato, controllare il desktop per entrambi i video esportati e riprodurli.
Se si è soddisfatti dei risultati, tornare indietro e ripristinare l'area di lavoro per la sequenza ed esportare tutti i media. In questo modo un sacco di tempo possono essere salvati evitando le impostazioni sbagliate. Provate alcune altre impostazioni