Are you a video editor using Premiere Pro via Production Premium CS6 or Creative Cloud? If so you have Adobe Audition CS6. Make the most out of it with these tips by Clay Asbury.
If you are using Production Premium CS6 (Illustrator, Photoshop Extended, Prelude, Premiere Pro, Audition, After Effects, Encore) or Adobe Creative Cloud, then you have Adobe Audition.

Audition extends what you can do with audio in Premiere Pro. Audition is a specialized tool for audio, as is After Effects for Motion Graphics. Both Audio Post and Motion Graphics can be done in Premiere Pro, but Audition & After Effects gives you specialized tools that you won't find in Premiere Pro.
Why Use Audition?
You can perform Signal Processing (EQ, Amplitude/Compression, Reverb), Restoration (reduce noise/hiss/clicks), Sound Design (manipulate and create sounds), and Create Music (download free libraries of music loops and sound effects).
You can send a Sequence or individual clips from Premiere Pro to Audition.
Hollin Jones has an article on Editing a Clip in Audition.
Edit Clip in Adobe Audition
If you want to send individual clips to Audition and then finish editing in Premiere Pro, use 'Edit Clip in Adobe Audition' (editing a clip to Audition is a roundtrip process). You make your changes in Audition, save them and when you go back to Premiere Pro they are updated (the clip audio in Premiere Pro is replaced with the Audition file).
Edit Sequence in Adobe Audition
You have finished your edit in Premiere Pro, but now you want to clean up audio, add music and sound effects. Unlike sending a clip to Audition, Editing a Sequence is not a roundtrip process.
After completing your audio work in Audition, you then export the audio back to Premiere Pro.
Edit in Adobe Audition > Sequence
Select the Sequence in the Project, right-click and select Edit in Adobe Audition > Sequence. A dialog box opens and you have several choices to make here.
I go with the defaults for 'Name' and 'Selection', check export video (renders a movie so you can see the video reference), uncheck 'Render Audio Clip Effects' (this would send audio effects over) and leave the last 2 boxes checked.
Select 'Edit Audio to Video' Workspace
Audition opens with all your audio on separate tracks, and a Rendered video clip in the 'Video' Panel on the bottom left. Select 'Edit Audio to Video' Workspace from the Workspace pull-down so you can see your reference video easier.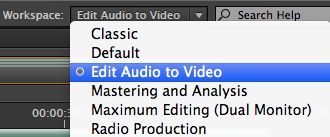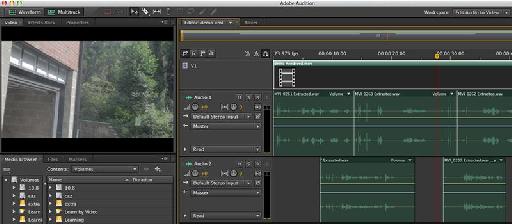 Download Loops/Sound effects for Free
In Audition go to Help > Download Sound Effects and More...
This takes you online, and you can now download Music Loops & Sound Effects (you have to register, but it is free). There is a lot of usable content here and this will save you money (stock audio libraries can be expensive).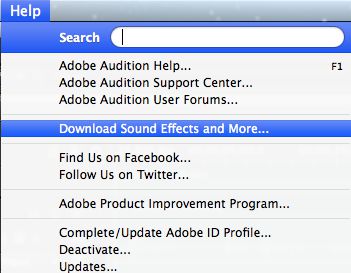 Getting Back to Premiere Pro
After you clean up, audio, add music, etc., you need to get your Sequence back to Premiere Pro.
Multitrack > Export to Premiere Pro
Click the 'Mixdown session to' button and select 'Stereo File'. Leave 'Open in Adobe Premiere Pro' checked.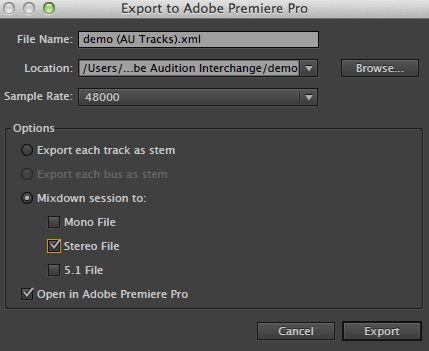 Premiere Pro launches, and a 'Copy Adobe Audition Tracks' dialog appears. Click OK to put the mix from Audition to a new track. Then turn off the speaker for the original audio tracks in Premiere Pro.
With our mix mix back in Premiere Pro, we can now export our finished Sequence.