InDesign can do much more than prepare your publication for the print world... Adobe's Digital Publishing Suite makes it possible to publish your magazine or book on today's crop of tablets, too.
When the iPad was released, many in the publishing realm saw it as their saviour. Steve Jobs certainly expressed a willingness to help the industry, and the iPad gained a showcase for publications in Newsstand, as well as iBooks and its accompanying iBookstore. Magazine publishers needed an option, and when Wired launched on the iPad, they used the first beta version of Adobe's Digital Publishing Suite, additions to InDesign to enable tablet publishing. Let's look more at how it all works, and the state of it today.

Creative Cloud brings options
One issue for smaller publishers is that the Digital Publishing Suite (DPS) was not cheap. For a larger magazine, the ongoing costs of at least US$500/month were OK, but for free magazines, and especially those that publish less frequently, it was a serious chunk of change. Luckily, a few short months ago, a long-rumored update to Adobe's Creative Cloud subscription service brought a new feature: Digital Publishing Suite Single Edition (i.e. one-off iPad apps) free for Creative Cloud subscribers. Those needing a subscription option still need to pay monthly fees, but for the occasionaly periodical release, for the yearbook? This is perfect.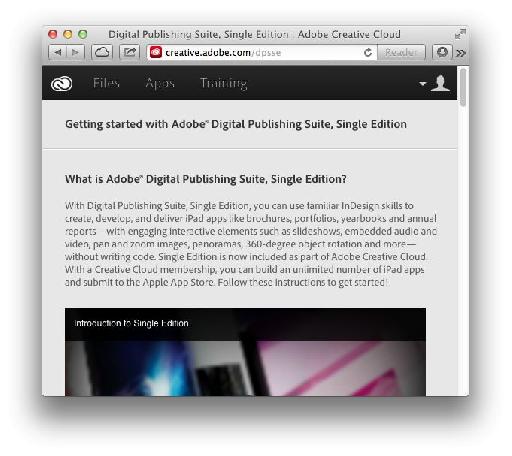 What's it all about?
How it works
If you haven't upgrade and still use InDesign CS5 or CS5.5, you need to install the Folio Producer Tools. InDesign CS6 includes them already. Once installed, you'll gain additional panels (Folio Builder and Folio Overlays) which let you create a Folio (a publication) and add Articles (sections within the publication) to it. In a simple publication, you might include just a single article, but most magazines would include several articles. An InDesign document corresponds to an article, so if you're using the Book functionality to join several documents in one publication, a Book corresponds nicely to a Folio. Originally, every page was converted to a PNG file, but PDF is now, thankfully, an option.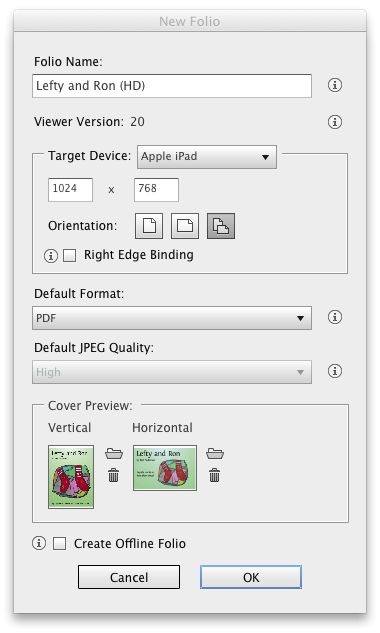 Choose PDF if you want to painlessly support iPads with Retina displays and allow zooming.
Interactivity
There's a selection of interactive 'overlays' which you may have seen in magazines on the iPad already. You can include a slideshow or a flipbook-style animation, a 360° panorama, a pannable, zoomable image, a web site or local HTML content, or an area of the screen which can be scrolled independently of the rest of the screen. This last option enables the biggest shift from paper-based publishing: it no longer matters how long an article is. We can still design for a known page size, but we can accommodate any amount of content.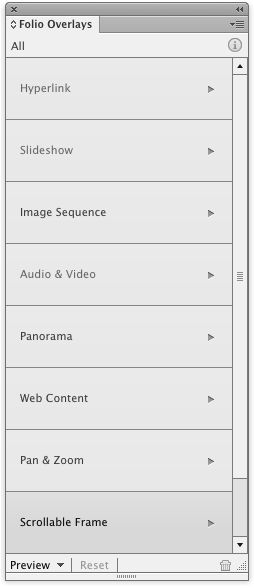 Scrollable Frame gives some interesting options.
Rich Media
It's also pretty easy to include audio or video files, either locally or as links to the web. These certainly enable the moving advertisements that have been predicted by movies like Minority Report and Harry Potter, but they can add significantly to your download size. One key criticism of the original Wired magazines was their 500 MB+ weight; beware.
What you can't do (easily)
Animation is currently the biggest issue. InDesign's built-in Animation panel is of no use; it's limited to PDFs viewed with the Adobe Acrobat Reader only. There is a way, though. Using the Web View overlay, you can include HTML5 animation which plays just fine as part of an iPad publication. I've had good results with Tumult's Hype, but the products in this space (including Adobe's own Edge Animate) are still evolving.

Hype's animation works well, but the workflow is a long way from ideal.
What you must do
You have to make your publication 'app-like'. If you submit a simple PDF, you're very likely to be rejected. Make sure it's sufficiently interactive, or you'll be advised to use the iBookstore instead. Of course, you can always distribute a free PDF on the web as-is.

Make sure you make something interactive, or you could be rejected.
What you need
For the whole iPad publishing solution, you'll need an iPad, a Mac, an Apple Developer Account (US$99/year), and a Creative Cloud subscription with InDesign CS6. Instructions are available, but we'll go into more detail here in future articles. If you want to get started now, create a few overlays and get previewing!