No matter what camera you use, the footage you capture will not always be perfect. Clay Asbury shows how to improve footage using Premiere Pro CS6's Warp Stabilizer and Adjustment Layers.
In this article, we will look at improving footage with two new features in Premiere Pro CS6: Warp Stabilizer and Adjustment Layers.

Instead of just going over the new features, I thought we would look at practical ways that you can use them, and any issues and workflows when using them. The footage I'm using is from Canon 5D and T2i DSLR's and has common issues you will often run into (handheld, underexposed, mixed frame sizes).
Here's the raw footage:
Example 1 - Removing camera shake to create a locked down shot
I shot some footage for a mini-doc, and it was a quick shoot without lights and handheld footage. I had a shot of a house porch that I needed to use for an establishing shot.
First, I applied the the Warp Stabilizer effect to the clip. A new feature in CS6 is that you don't have to drag effects onto clips, just select the clip in the timeline and double-click on the effect in the Effects Tab to apply it.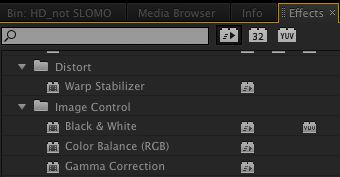 When you apply the warp stabilizer, it runs in the background so you can keep working.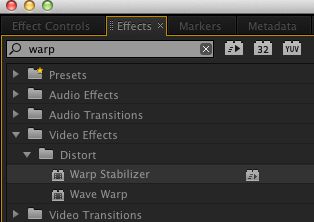 In my case, I was using 1920 x 1280 Pro Res LT, 23.94 (transcoded from H.264 Red Giant's Grinder app).
It took 54 seconds to analyze and stabilize the 4 second clip (2009 8-core Mac Pro, 16 GB ram, Nvidia Graphics GPU). I mention my specs as the Warp stabilizer is accelerated if you use a supported Nvidia Card (CUDA) or ATI Card (OpenCL). You can see what effects are accelerated by clicking 'accelerated Effects' button in the Effects Panel.
Here is a link to the Adobe page that goes in the technical details.
http://blogs.adobe.com/premiereprotraining/2012/05/opencl-and-premiere-pro-cs6.html
The default stabilization result for is Smooth Motion. I didn't want any movement in my shot, as I wanted it to appear like I used a tripod. I changed the Result to No Motion using the defaults and surprisingly I got a very usable result. Your results will depend on how shaky the footage is. The auto-scale was 103.4, and generally anything below 110 will work without noticeable quality issues.
Example 2 - Keeping the movement of the handheld shot
In this shot I wanted to keep the movement of the shot as it was a handheld dolly move. I changed the Smoothness to 125%, which added less than 1% to the Auto-scale amount, but looked noticeably better.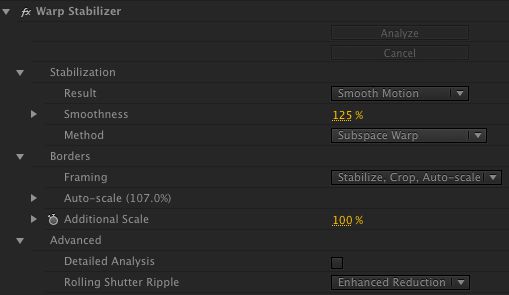 I clicked on the Advanced triangle and set Rolling Shutter Ripple to Enhanced Reduction to reduce the amount of warping or 'jello effect'. As my footage was from a DSLR with a CMOS chip, it is common to see warping and skewing of straight lines.
I also wanted to slow down the footage, as the shot was too quick. You can't apply a speed effect to a warp stabilized clip (you will get a red bar warning if you do this), so the workaround is to Nest the clip first. Right-click on the clip and select Nest, and the clip is put inside a new sequence. You can now apply the speed change to the new sequence.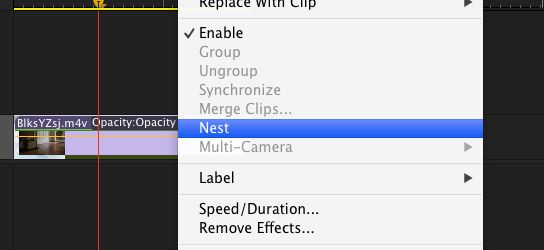 Another Gotcha to be aware of is that you can't use Warp Stabilizer on a clip that doesn't match the sequence settings. I shot slow motion at 1280x720 and regular speed at1920x1080, and I had both in a 1280x720 sequence. The workaround is to Nest the clip and then apply the Warp Stabilizer. As I was working in a 1280x720 sequence, when I nested the 1920x1080 clip, it put into a new 1280x720 sequence. To adjust the framing of the shot, I double-clicked on the nest to step into it and adjusted the scale of the original clip to 67%
Example 3 - Compromising
I had a shot of some notes that I wanted to use but it was very shaky.
I tried the defaults but was unhappy with the result, so I turned on Enhanced Reduction & Detailed Analysis, and raised smoothing to 125%. This more than doubled the amount of time requires to apply the effect to 2 minutes and 7 seconds, and the scaling came to 114.9%.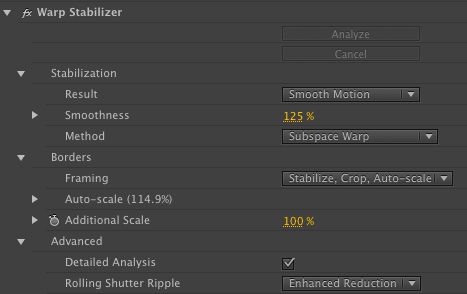 You may find yourself in a similar situation where the results are a compromise, and I would use this shot only if I had no other clips to use. If you are doing a lot of handheld work, I suggest investing in a shoulder rig or a monopod as it will improve the quality of your warp stabilized shots when you don't have a tripod, or camera stabilizer.
Example 4 - Treating Unlit Footage with Adjustment Layers
Adjustment Layers are a new feature in CS6, and they are handy when you want to apply an effect to multiple clips in a sequence. In this example, we will use an old Photoshop trick to make the footage pop and look better. From the Project click on the 'New Item' icon, and select Adjustment Layer.
Drag the adjustment layer into the sequence, and put it above any clips you want to effect.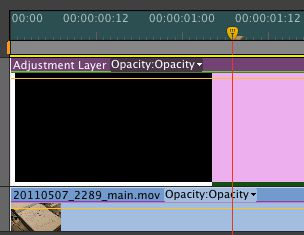 Apply the Fast Blur, set blur to 30, and click the box for repeat edge pixels. Then click the triangle for Opacity (for the Adjustment Layer), and change the Blend Mode from Normal to Soft Light/Add/Multiply. The Mode that works best will depend on the footage. You can also adjust the Opacity for the adjustment Layer of the effect is too strong.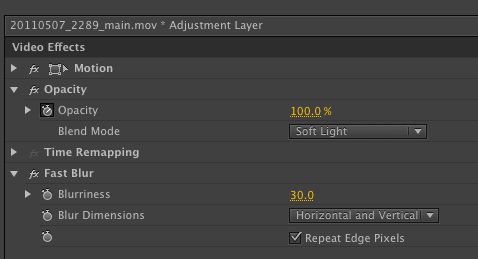 What about the Rolling Shutter Repair Effect? - Another new effect, and is useful when you need to fix rolling shutter but don't need to stabilize the footage. It can also be used with the Warp Stabilizer if the Jello Effect is too much for the Warp Stabilizer's basic repair settings. It gives you additional control for the Rolling Shutter Rate (0-50 is good for DSLR, 50-100 for smartphones). You can also change the scan direction, which is useful when you turn your camera sideways or upside down.
Here's the stabilized footage: