Every year NAB showcases the coolest new gear for film-makers & photographers. 2016 was no different. Iain Anderson provides a recap of the best and most interesting new tech introduced in Las Vegas.
Every year in Las Vegas, the latest film-making gear is shown to a huge army of visitors, and while I was there last year, this year I'm watching from afar. Still, as the show's all about getting information out there, it's not hard to find out the key points without walking through the very, very large halls. Here are a few of the most interesting developments presented at NAB this year.
Lytro's new cinema camera tech
While you might remember Lytro's first camera as a small long box that took weird low-resolution focus-shiftable photos, their newly announced cinema camera is an entirely different beast. Capturing 755 raw megapixels of everything in front of it as a "light field" means that shutter speed, focal point and frame rate can be changed and re-chosen in post production. The depth of every individual surface is also captured, so it's possible to remove the background without a green screen simply because it's behind your subject.
Too good to be true? While throwing away all our existing cameras and lenses would be premature, this looks like a miracle for special effects, and hopefully someday it'll trickle down to consumer level cameras so we can all have a go. Keep a close eye on this one.
High Dynamic Range and Wide Color Gamut
While we've seen 3D in the past, 4K more recently, and VR right now, the next potential revolution that's all over NAB is in wide gamut and HDR capture and post production. Current screens are limited in how deep blacks can be and how bright highlights can be, but future screens promise to be able to show more detail at both ends, as well as a wider range of colors.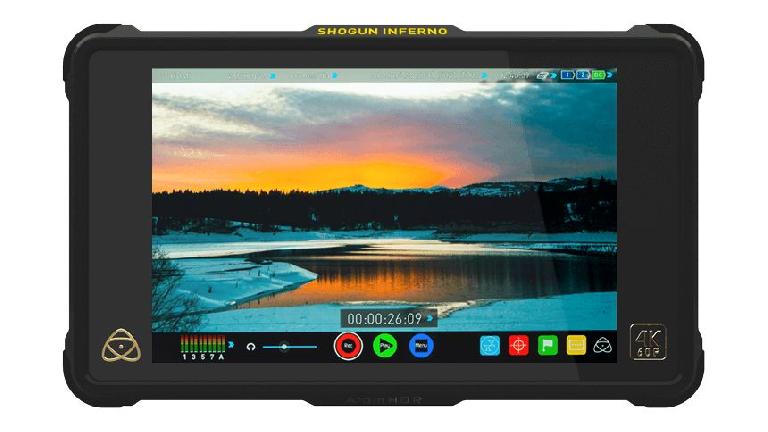 The new Shogun Inferno is just one way to monitor HDR video
The reason this one is likely to succeed is that it requires little change on the part of the viewer—no fancy glasses, no goggles. Michael Cioni from Light Iron presented on this topic recently, and you can see "HDR" on all kinds of camera and display announcements this year at NAB. (The "Rec. 2020" standard and "DCI-P3" color profile also include a higher dynamic range than the older "Rec. 709" standard.)
Sadly, it's another one of those technologies that can't really be seen on older displays, but it should make the next 4K TV you buy look noticeably better, and may affect your video workflow in years to come. For more info on what the current 5K iMac can do, read more here.
Ang Lee makes a new kind of movie
Billy Lynn's Long Halftime Walk is a film by Ang Lee that was shot in 4K, 3D, and at 120 frames per second. Going way beyond The Hobbit's 48 frames per second, there's the potential for something truly new: far more immersive and realistic images. While this does pull us further away from the current cinematic ideal of beautiful (but flat) images at 24 frames, it's such a jump forward that it may well be able to dodge the "real, but cheap" look of footage around 60fps. Even though current projection technology won't be able to show this to a wide audience at 120fps, it's definitely one to keep an eye on.
Adobe's updated video apps
As they did last year, Adobe have announced updates to Premiere and After Effects just prior to NAB. While the updates will be shown on the floor, they'll be delivered to users in the next update release—potentially a month or two away. So what's new?
First off, automatic proxy generation and management, somewhat similar to what FCP X offers. While in most cases (in both apps) you can work directly with native media, if you're pushing 6K RED files around or cutting remotely, editing will be much faster if you can work with smaller proxy files until the final export. Second, media management, again similar to what FCP X (and Avid) offer, which lets Premiere copy your media to a specified location at ingest time.
It's not all catch-up though—also included are new keyboard shortcuts for keyframing, a Remove Effects dialog (which FCP X could do with), HSL secondary color correction for Lumetri, and support for VR and 3D workflows. After Effects gains Lumetri Color as an effect, and cached frames should see better playback performance too.
Blackmagic Design—no new cameras, but…
Resolve 12.5 has been released with "over 1000 enhancements and 250 new features". They include on-timeline keyframe control and retiming, including on-clip curves for both, many new editing operations (some of which will seem familiar to FCP X editors) and HDR support for grading. There's better integration with Fusion, better metadata control, improved media management, improved edit overlay (another FCP 7 flashback), Resolve FX for easy filter access, a new single point tracker, and improved node organization. If you have a Studio license (or dongle) there's improved noise reduction and new distortion removal tools as well.
While the non-Studio version remains free, it's still a beast of a program to learn with many, many options. Time (and the final release later this year) will tell if they've managed to squash the lingering performance and stability issues in version 12.
In hardware, there's new (free) firmware with a new fancy UI coming out later this year for the URSA mini, and there's a new additional URSA Studio Monitor (with knobs, buttons and a swiveling mount) to turn an URSA mini into a live studio camera.
The Video Assist monitor/recorder now has a 4K brother that's actually shipping now for $895. There are also new HDMI-SDI and SDI-HDMI adapters for $85, the new Blackmagic Duplicator which can write video to 25 SD cards at once for high-quality video sales at live events. There's more, and you can check it all out here.
VR
Shooting in VR remains somewhat tricky, first and foremost because the crew can't hide "behind" a 360° camera. It's also still expensive to do well. 360° Heros has a new 360° solution using BM cameras which is well into five figures just on the cost of the cameras, but also offer cheaper GoPro-based options.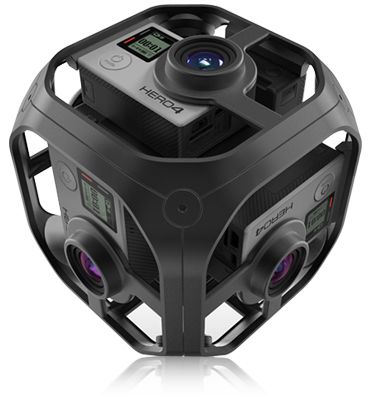 GoPro's Omni is a six-way beast
GoPro themselves offer the Omni (six cameras in a cube) and the Odyssey (16 cameras in a circle) and Samsung have their Gear 360° (which uses just two cameras) coming out this year too. It's going to get crowded.
In post, the next Premiere can work with VR, but if you prefer FCP X, the Dashwood 360VR Toolbox, updated at NAB, is what you're looking for.
Canon
A few months back, Canon teased their ME20F-SH with amazing low-light capabilities, and they're now announcing a cheaper version, the ME200S-SH.
Like Blackmagic's Micro cameras, it's just a sensor and a lens mount, needing all kinds of external boxes to get anything done, but giving versatility in mounting options. Low light capability is around 200,000 ISO, impressive, but nowhere near the 4,000,000 ISO of the ME20F-SH. A possible deal killer is that it's only HD, at up to 60fps, but at $5,000 it'll be a great complement to anyone shooting with Canon cinema cameras like the C100 and C300.
FCP X Goodies
No new FCP X release just yet, but there are a few new additions to the ecosystem. The FCP X logging system Lumberjack, which aids the editing process by helping you access metadata gathered on set, has gained a new feature to automatically extract "Magic Keywords" from transcripts of your clips. For documentary makers, this could be a key part of the puzzle—you can instantly use FCP X to find the clips in which certain topics are mentioned.
Xsend Motion fills a hole which users have been asking to plug for years: round-tripping to Motion. An entire project timeline can be sent to Motion, and then shared back to FCP X as a Generator, or exported directly from Motion itself. Most things come across to Motion, including text position, video clips, and even many generators. It's now much easier to start a project in FCP X, then finesse it further using the fine-grained keyframing and powerful effects available in Motion. Xsend Motion is still in development, so expect further improvements and a release soon. I'm under NDA and can't tell you more (spoilers!), but you can listen to the Final Cut Pro Radio show to hear more from Wes Plate himself, or read more here.
Shared storage is rarely something drool-worthy, but Lumaforge's new ShareStation Jellyfish, Indie and Studio models are pretty appealing. Suitable for FCP X and other NLEs, the different models support increasing amounts of very fast storage for large workgroups. Check it out here.
Finally, while I can't talk about this objectively as I was (somewhat) involved in its development and release, CoreMelt have released their new LUT loading utility, LUTx.
Craft Camera
As a last bonus, it's worth taking a look at an announcement not made at NAB, but timed with NAB. The new Craft Camera lets you assemble your own custom camera from separately available "elements", including switchable mounts, a recorder, a flip screen, batteries, ND and various output options.
You could choose to build a 4K action camera with no screen, an HD studio camera with a live feed but no on-board recording, or put together a general purpose camera with all the options. You could even add third-party gear—like the BlackMagic or Atomos recorder/screen combos—into the mix. It looks very promising, but without sample footage, I'm not going to get too excited just yet. Check out more info (and pre-order if you're brave) here.
Conclusion
As ever, it's a massive show, and I can only list a few of the highlights here. Many more products were announced, and it's worth taking a quick trip to the websites of your favorite gear suppliers to see what they're offering. Despite the release of relatively few new cameras, between VR, HDR, HFR and light field recording, it's a pretty exciting time to be in the industry.
Learn about film making in the Film Craft series of courses here at macProVideo.com