Daft Punk's "Around The World", released in the late 90s was a big hit. As well as inspiring countless tunes & remixes, it inspired Richard Lainhart to recreate the key synth hook.
In this tutorial we'll be recreating the main melodic synth sound from Daft Punk's Around the World, the one that begins at 0:26 in this video:
We'll be using Logic's ES 2 here, along with an effect plugin or two, so let's get started.
Step 1 - Set Up the Logic Project
Fire up Logic and start with a new empty project containing one Software Instrument track: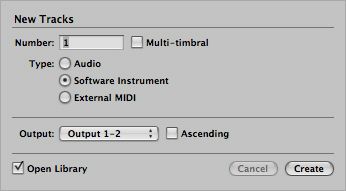 Click and hold the default EVP88 instrument at the top of the channel strip and choose 01 Logic Instruments > ES 2 Hybrid Synth from the pop-up menu: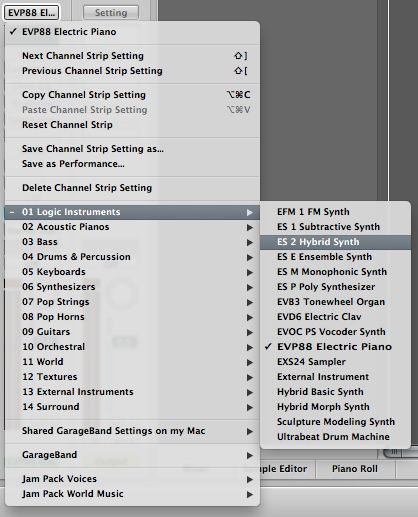 This opens the default ES 2 window: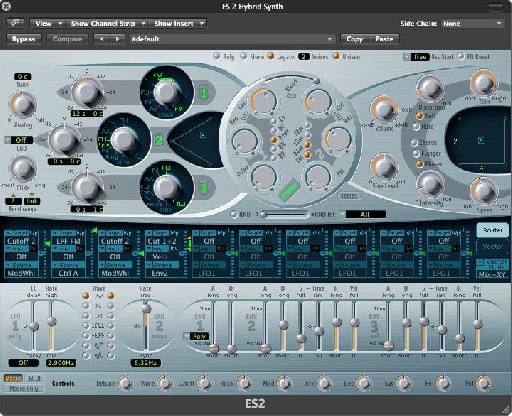 Step 2 - Analyze the Sound
First, here's the melodic riff (or repeating figure) displayed using Logic's Score Editor for those of you who read music:

It just repeats over and over at a tempo of about 130 bpm, with only a couple of breaks, so once you've got it down, you can easily loop it.
Now, for the sound itself, close listening reveals that it has a short, sharp attack and is mostly played staccato, although at the end of each 4-bar phrase it's held for three beats, roughly. During that held note, you can just hear a little bit of vibrato added to the sound as it decays. It's a fairly mellow sound, as opposed to bright and buzzy, and has the slight hollowness that is characteristic of square or pulse waves, which is what we'll be using to create it. You can also hear the classic "dwoink" sound of a resonant low-pass filter rapidly opening and closing down under the control of a fast envelope, so we'll need some filtering, with a second envelope, to recreate this sound as well.
Finally, you can also hear subdued 16th- and 8th-note echoes that die away fairly quickly in the spaces between the notes. Since we can't create that echo directly in ES 2, we'll add a synced delay effects plugin as the final step in our sound design.
Step 3 - Create the Basic Sound
Without further ado, here's my ES 2 version of the patch (click on the image to see a larger version):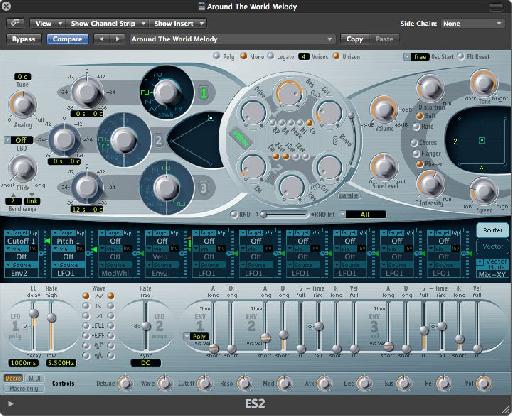 Naturally, you should try to reproduce these settings as closely as you can to create the sound. Since there are some important sound design details in this patch I want to be sure you catch, I'll go over the settings in detail, reading from top to bottom and left to right.
At the top of the window, note that the sound is set to Mono with 4 voices and Unison enabled. This is a solo melody line, so polyphony isn't needed, and the Mono Unison mode provides more power to the single voice while allowing the envelopes to re-trigger for every note.
Next, note that I'm using only Oscillator 1, and it's set to a straight square wave, which to my ears recreates the original sound most closely. I've also set the Analog control to the left of Oscillator 1 to 12 o'clock, to add a little bit of variety to the digital waveform. Next, I've set Filter 1 to Lo (Low Pass), with the Filter Blend set all the way to Filter 1 (since we won't be using Filter 2). Filter 1's Res (Resonance) is set high, to about 3 o'clock and the Cut (Cut-off Frequency) fairly low, to about 9 o'clock. We'll be using an envelope to open and close the filter and so we need to have its initial frequency set low to give the control envelope room to work.

Next, Volume is set all the way up, and Distortion is set to about 10 o'clock, with the Distortion switched to Soft, just to add a little grit to the sound. Tone is set to Bright to brighten up the patch a bit. Below that, I've enabled the Phaser, and set its Intensity to about 1 o'clock and its Speed to 9 o'clock, which adds a little further variety and motion to the sound. The original patch sounds like it has some sort of processing that varies the overtone structure of the square wave a bit as it plays, and I think the Phaser produces that effect nicely.

In the Router section, the first slot has a Source of Env2 and a Target of Cutoff 1, so that Envelope 2 will open and close our low-pass filter. The Control Amount (the green arrowhead) is set to about halfway-up in the positive direction, but you can (and should) adjust this to see how it affects the overall sound. This enveloped filter control is one of the most important features of this particular sound.

Next to that, in the second slot in the Router, the Source LFO1 is set to the Target Pitch 1, which will add a little vibrato to the melody sound. Right below that, note that LFO 1 is set to a Delay value of 10000ms (1 second) so the LFO doesn't begin to modulate the pitch of Oscillator 1 until a second after the sound is triggered. This way we only hear a vibrato on the longer held notes, not the shorter ones. LFO 1's Rate is set to 5.5 Hz, which is a good vibrato speed. Also note that the waveform for LFO 1 is set to Triangle, for a symmetrical vibrato.

Continuing on, Envelope 2, which is controlling our filter, has an A (Attack) value of 31ms (you can't see it in the window, but you will when you drag the slider), and a D (Initial Decay) value of 99ms. These two values are critical to reproducing our sound, so you want to get those right; this is what creates the "dwoink" part of the sound. But you should definitely play with those values to see how adjusting them even slightly changes the sound significantly.

Finally, Envelope 3, which controls our sound's amplitude, has an Attack setting of 0.11ms, just above zero, no Initial Decay, an S (Sustain) level of 0.161, and an R (Release) value of 24ms. These settings give us a sharp attack and decay when the notes are played staccato, as they are most of the time, but allow for a little sustain on the longer notes so you can hear the vibrato tail on those notes.

Step 4 - Add The Synced Delay
The final step is to leave ES 2 and add the synchronized delay which is an important part of this sound. To do that, click on the first Insert button in the ES 2 channel strip and choose the Stereo Delay effect: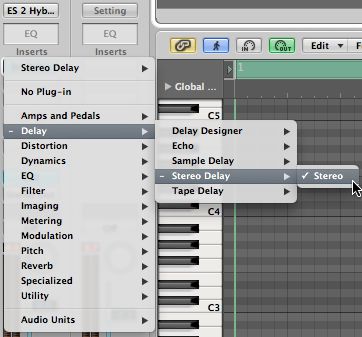 In the Stereo Delay window, apply these settings: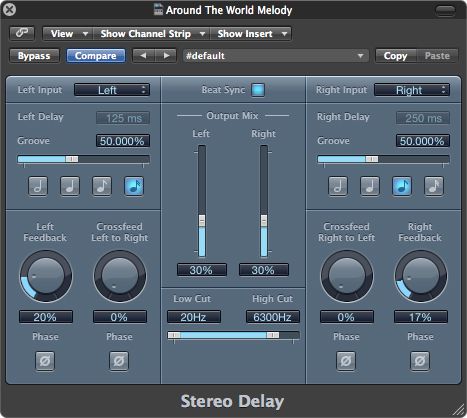 Note in particular that Beat Sync is enabled, so the delays will be in sync with our tempo. Once it is, set the Left Delay to a 16th-note, so you'll hear fast echoes in the left channel, and the Right Delay to an 8th-note, for a different echo in the right channel. (In the original sound, it sounds to me like the right channel echoes longer and slower than the left, but that might just be an artifact of the YouTube video's audio). At any rate, we're going to try to recreate the sound as closely as we can, so let's use these asymmetrical echoes for now; you can always modify these settings if you choose.
Also note the reduced feedback settings for the left and right delays, and the relatively low output mix for each. We don't want to hear too much of these echoes, or they'll overwhelm the sound.
Final Thoughts
And that's basically it. If you follow these settings, you should get a sound very much like this, to which I've added a kick drum to help emphasize the beat:
Once you've recreated the sound, you should of course play with all these settings to see what they do and to come up with your own variations.
I hope you've found this sound design lesson useful. As always, experiment and have fun!
Learn more about everything the ES 2 can do with Steve H in Logic 206 - ES 2 Exposed.