12 Wege, um in Ableton Live Stereoize und Steuern Sie Ihren Mix
Learn how to control the stereo dimension of your Ableton Live mix thanks to this in-depth tutorial from The Sound Tutor. You can also work through and download the included project on Splice.com.
Während meiner langjährige Unterrichts, Ive festgestellt, dass genau zu wissen, wie wichtig die Stereo-Design in einer Mischung ist das Schwierigste, was für meine Schüler zu begreifen. Aus der Analyse der Stereo-Inhalte von Referenzmaterial für das Verständnis der Vielzahl von Techniken zur Verfügung, um die eigene Arbeit stereoize, zu verstehen, wie wesentlich ein dynamischer Stereo-Mix ist in der heutigen Welt ist kritisch.
Ableton Live hat viele verschiedene Tools für die Erstellung und Steuerung des Stereo-Dimension Ihrer Mischung. Fast alle Tipps Im Austausch unten sind nicht Teil Lives Bibliothek als Voreinstellungen, also ergreifen Sie ein Gebräu und geben Sie diese ein gutes Buch, um vollständig zu absorbieren einige detaillierte Konzepte für die Stereo-Aspekt der Misch Live zu nutzen.
Um es so einfach wie möglich zu verstehen und zu erforschen, diese Techniken in Inhalt Ive hat ein Live-Projekt, das jeder kann über den Zugriff auf gemeinschaftliche Scheibe Plattform.
Mid und Side Abgleich
Egal, ob Sie ein Stereosignal an der Quelle oder in stereo youve sie mit diesen Techniken, muss eine Konstante Beurteilung der Balance zwischen der Mitte (Mitte) der Mischung und alle Stereo-Informationen (Seiten) vorgenommen werden. Mit einem höheren Saldo der Mitte, werden Sie bringen den Fokus einer Schall Richtung Zentrum Ihrer Mischung. Eine höhere Gleichgewicht der Seiten wird Push-Sounds aus der Mitte und an extremen Einstellungen, lassen Sie die Mitte frei für andere Klänge im Mix zu besetzen.
Lebt Programm kommt zur Rettung wieder hier als die Breite Parameter ist rein die Mitte bei 0% und nur die Seiten bei 200%. Achten Sie darauf, nicht zu weit in Richtung 200%, obwohl diese Angaben bei der Wiedergabe Ihrer Mischung in Mono verschwinden.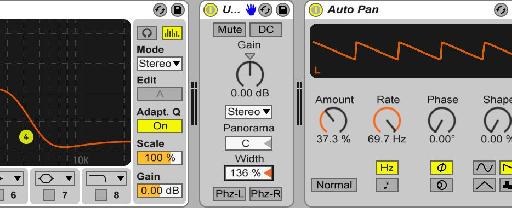 Ive verwendet eine Utility-Gerät in meinem Projekt zu schieben meine Pad Sound aus der Mitte der Mischung zu den Seiten hin. So bleibt mehr Platz für meine Trommeln und anderen Mix-Elemente, um zu leben.
Mid und Side EQ Shaping

Wie die vorherige Spitzen Diese Technik erfordert auch eine Stereoton zu beginnen. Dann EQ Eight kann auf die Mitte und die Seitenelemente des Signals separat EQ werden. Schalten Sie den Modus auf der oberen rechten Ecke des EQ Eight von Stereo auf der M / S, dann die Bearbeiten-Schalter kann die M oder S unabhängig EQ werden.
Ich mag, um den Luftgehalt der Seiten zu erhöhen mit einem High Shelf EQ-Filter, die dann entsteht ein breiter, aber nicht zu dominanten Stereobreite in der Mittelklasse. Es ist auch sinnvoll mit einem Low Cut in den Seiten sowie jede Low-End-Energie zu entfernen, die Sie schnell matschig die Stereo-Inhalte Ihrer Mischungen.

Auf der Strecke Pause M / S EQ Ive diese Technik einen Schritt weiter die Mitte und an den Seiten aufgenommen und EQD ganz anders, um den Breakbeat eine einzigartige Platzierung in meinem Mix für beide Mitte und Seitenteile geben.
Entgegengesetzte Phase der linken und rechten Kanal
Eine der wildesten Auswirkungen für die Schaffung eines aus den Lautsprechern oder in Ihrem Kopf Effekt für Lautsprecher und Kopfhörer bzw. ist, um die Phase des linken oder rechten Kanal umgekehrt. Stereo Informationen benötigt Informationen über den linken Lautsprecher auf der rechten Seite, anders zu sein und hat eine Form der gegnerischen Phaseninformation immer. Dieser Effekt ist eine absolute Opposition in der Phase so ziemlich extrem. Aktivieren Sie einfach Phz-L am Leben Dienstprogramm Gerät, um die Phase auf dem linken Kanal zu widersetzen.
Der Nachteil dieses Ansatzes ist, dass der Ton verschwindet 100%, wenn auf Mono summiert das heißt, es muß sparsam verwendet werden. Aber es ist eine coole Art, Klänge, die geheim gehalten werden mono Zuhörer hinzufügen oder fügen Sie einige zusätzliche Stereobreite, wenn sie einen Teil einer bis geschichtet Klang angewendet.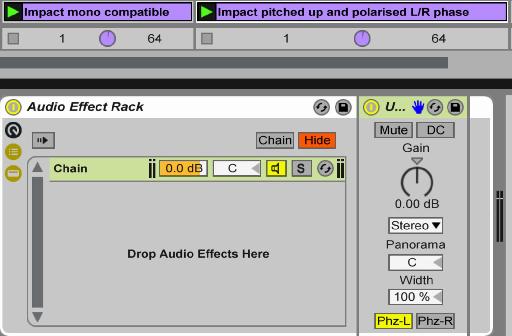 Diese Technik der gegnerischen Phase auf der einen Seite hält wenig Standortinformationen so ich nicht verwenden Sie es für alle konstant, dominant Geräusche in meinem Mischungen, aber es ist großartig für sporadische SFX Sounds.
Haas-Effekt
Haas ist ein psychoakustischen Effekt, der Tricks das Gehirn zu hören, ein Gefühl von Raum und Richtungsabhängigkeit bei einem Kanal eines Mono-Signal in Stereo abgespielt fraktioniert hintereinander verzögert. Das Gehirn kann nicht diese beiden Signale als getrennte Ereignisse zu erkennen, wie die Verzögerung so kurz, es stattdessen nimmt seine Umgebung, Richtungsinformation und bearbeitet den Klang als mit Raum um sich herum.
Der einfachste Weg, um diesen Effekt zu erzeugen, ist durch Lives Simple Delay, wenn Sie beide Verzögerungsarten von Sync-Schalter, um Zeit und schauen Sie sich kleine Messungen in Millisekunden zu verwenden. Mit Dry / Wet auf 100% gesetzt, stellen Sie einen Kanal auf den niedrigsten Wert von 1 ms für eine minimale Verzögerungszeit und das Recht überall oben bis etwa 40/50 ms. Youll hören, wie die Klänge Ort und Raum betroffen ist, während Sie den zweiten Wert zu erhöhen. Behalten Sie die Kontrolle Monokompatibilität wie dieser Effekt stark Kammfilterung in Mono zu produzieren, so neige ich dazu, zwischen Stereo- und Mono-Wiedergabe zu optimieren, um eine glückliche Balance zu finden.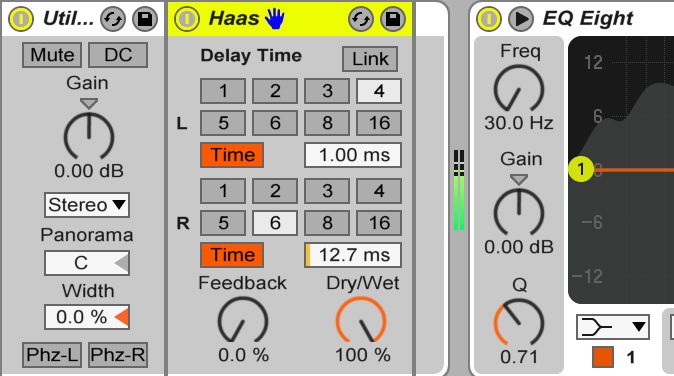 Eine geringere Verzögerungszeit wird ein enger und besser definierten Stereo-Effekt zu erzeugen und vermeidet auch die Aufdeckung von Flam mit Transienten in einem Ton zu hören.
Reverb für Stereo Spread
Obwohl Hall als Werkzeug bekannt, Ambiente hinzu, ich benutze es oft einen sehr geringen Sinn für Stereo mit minimalem Abfallzeit erstellen. Durch Setzen Lives Reverb Mindest Predelay, Decay Time, Form und Diffuse Werte bei gleichzeitiger Erhöhung Stereo und reflektieren ihre maximale finden Sie eine kurze und diskrete Stereobild zu erhalten, um mit dem Original-Sound mit Dry / Wet verschmelzen.
Die Einstellungen können für weitere Klangformung untersucht werden, aber ich in der Regel beginnen, wie oben und schalten Sie alle Eingabeverarbeitung, Spin, Diffusion und Chorus Elemente wie sauber ein Stereo-Sound wie möglich zu erhalten. Der Sound ist dicht genug, mit diesem Ansatz, dass ich ziemlich nass Abgleich häufig verwenden, ohne dabei zu viel Definition, um den Klang.

Diese enge Reverb Technik zur stereoizing Klänge ein wenig Low-End-Trübung in der Seitensignal zu erzeugen. Aus diesem Grund habe gewöhnlich fügen Sie ein EQ Eight, eine Menge von diesen Problemfrequenzen, die Ive auf meinem Haupt-Trommel-Bus durchgeführt geschnitten.
Haas mit mehr Kontrolle
Das Haas-Technik bereits erwähnt bietet eine schnelle und einfache Möglichkeit, um ein Gefühl von Stereo auf eine Monoquelle zu schaffen, sondern wird durch die Tatsache, dass es die volle Frequenzspektrum eines Kanals verzögert begrenzt. Wie bereits erwähnt kann eine starke Kammfiltereffekt erstellen, wenn auf Mono summiert, damit ich dieses Problem umgehen, indem Sie eine Anpassung der Effekt mit Lives Filter Verzögerung statt.
Ich wende mich zunächst von der LR-Kanal so Im links mit unabhängigen linken und rechten Delay-Lines. Anstatt Verlassen einer Seite bei 1 ms, um zu versuchen und haben keine Verzögerung auf der einen Seite, ich stattdessen erhöhen die chemische Parameter zu voll, so dass meine ursprüngliche Signal unverändert durchläuft. Dann kann ich die Verzögerungsleitungen für zwei der längeren Verzögerungsleitungen bis zu etwa 50 ms zu verwenden. Der Vorteil hierbei ist, wobei jede Verzögerungsleitung kann mit einem Bandpass so eine enge Gruppe von Frequenzen pro Seite verzögert gefiltert werden. Dies minimiert Kammfilter, wenn auf Mono summiert.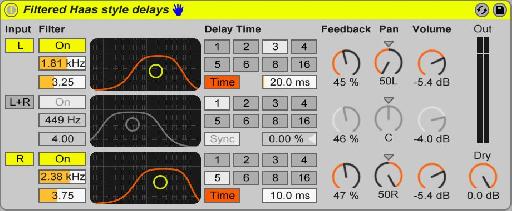 Die Bandpassfilter können Sie den Kammfilterwirkung von einem normalen Haas-Effekt erstellt zu minimieren, wenn auf Mono summiert. Sie ermöglichen es Ihnen auch, auf dem keine vorübergehende Frequenzen von perkussiven Klängen jede flam Effekt, der durch den verzögerten Signalen zu vermeiden, konzentrieren.
Frequency Shifter für Breite
Ich glaube mich zu haben eine starke Liebesaffäre mit Lives Frequenzschieber in diesen Tagen und ein Grund dafür ist seine Breite Schalter, der das bearbeitete Signal auf dem rechten Kanal auf der linken Seite für einen Superweit Effekt, das ist sehr Mono kompatibel invertiert.
Aktivieren Weit dann absenken oder anheben die Fein Menge, um ein Klangspektrum Stereo-Effekt zu hören. Die Verarbeitung wirklich beginnt zu reagieren, wenn Sie ändern das Dry / Wet Balance zu schmecken.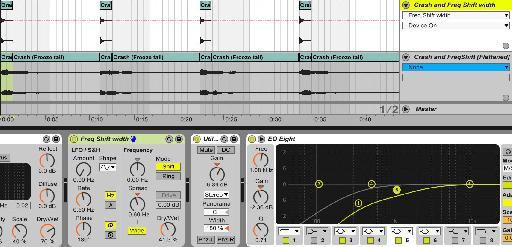 Der Zeitpunkt der Frequency Shifter Effekt kann nicht Syncd werden, um das Tempo so dass ich oft einfrieren und Flatten ein paar Durchläufe, um dann die besten Teile zu bearbeiten in meine Arbeit.
Modulationseffekte
Lebt Chorus, Flanger und Phaser-Geräte sind alle brillant Tools zum Erstellen Stereo-Informationen, die auch ihren eigenen Charakter zu verleihen, auf Ihre Sounds. Ich finde, die beste Technik ist zu stimmen diese Effekte musikalisch mit der Klangquelle durch die Erforschung der XY-Controller für eine Sweet-Spot zu arbeiten. Dann stellen Sie den Dry / Wet Balance für einen Stereo-Effekt, überwältigen den Charakter des Originals tut.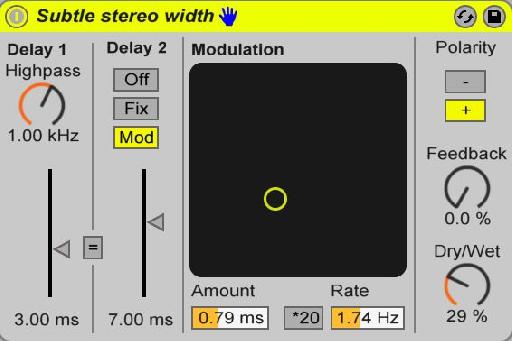 Die subtilste Modulationseffekt ist Chorus und hilft, den Frequenzgehalt eines Klangs leicht erweichen zugleich.
Layering und Schwenken
Es sei denn, eine Schallquelle ist bereits Stereo, neigen die meisten Menschen die beste Möglichkeit, ein Stereo-Signal zu erstellen gehen davon ist durch die Verarbeitung. Aber Stereo kann auch durch die Überlagerung von Klängen ähnlich wie der Ansatz der verrissen und zweigleisig Gitarre in der Rockmusik, erreicht werden.
Dies kann leicht durch die Instrument-Racks in Live- oder durch Schichtung Audio-Clips nebeneinander auf verschiedenen Spuren erreicht werden. Ich habe oft Eintrag gefunden Klänge mit meinem mobilen Aufnahme bearbeiten verschiedene braucht, um gleichzeitig sequenziert werden und schwenken Sie auf der Stereofeld dann. Dadurch entsteht ein massiver Sound als die Teile gemeinsam zu spielen und weil theyre von Aufnahmen gemacht einschließlich ihrer eigenen Grund Ambiente bieten sie einen guten Kontrast zu der mehr synthetische Sound dominieren das meine Arbeit.

My Pad-Sound besteht aus vier verschiedenen Instrumenten Schichten, die in verschiedene Positionen im Stereofeld geschwenkt werden gemacht.
Stereo Rausch
Wenn youre mich mögen, wird das Handels Missbrauch der Vocoder-Effekt in den 1990er und 2000er Jahren die Sie aus der Verwendung Lives eigenen Vocoder-Gerät zu verhindern. Aber ist dieses Gerät wirklich ein sehr nützliches Werkzeug für ein Gefühl der Stereo durch seine Geräuschträgersignals.

Der Carrier to Noise voreingestellt, aber Sie brauchen, um Bands zu 40 und Bereich 20 Hz bis 18 kHz für die beste Wiedergabetreue Lärm wie möglich zu erhöhen. Entdecken Tiefe bei Werten unter 100% und optimieren den Release-Parameter zu steuern, wie auch der Lärm verfolgt die Form Ihrer Sound. Dann nutzen Sie Formant um die Tonhöhe der Geräusche und in die Filterbank zu ziehen, um unerwünschte unteren Ende aus dem Signal und vielleicht ein kleines Top-End zu entfernen, um die Sprödigkeit zu vermeiden.
Jetzt ist der Dry / Wet kann die kleinste Menge dieses Signal mit dem Original für einen sehr einzigartigen Sinn für Stereo zuzuführen. Wenn sparsam verwendet, kann dies ein paar Mix-Elemente für alle anderen Töne geben einen einzigartigen Gefühl der Trennung.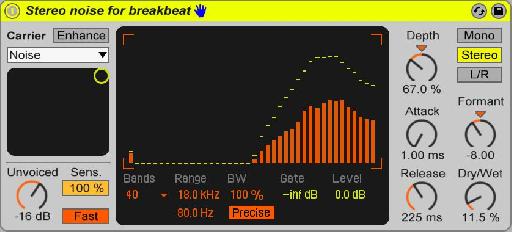 Ive hinzugefügt ein wenig tiefer Ton zu hören, meine Breakbeat Track ergänzen und fegte die Formant-Regler, bis die Stimmung klang musikalisch mit der allgemeinen Stimmung der Pause.
Autopanning
Lives Auto Pan ist eine offensichtliche Wahl für das Hinzufügen von Stereobewegung in eine Sound und ihre oft langsamere, Musik Panning Sweeps zwischen dem linken und rechten Kanal verwendet. Wenn ich diesen Ansatz bevorzuge ich ein mildes Gefühl der Stereo- und bin sehr schüchtern mit dem Amount-Parameter, so dass die Pan-Effekt ist für den Hörer weniger offensichtlich und hält ein stabiles Bild in die Mitte der Mischung.
Wenn die Rate Kontrolle Hz über Sync eingestellt ist, kann die höhere Mengen verwendet, um eine Stereo-Geschmack der Amplitudenverzerrung einzuführen. Stellen Sie den Betrag, um recht hoch und stimmen die Rate, mit der Quelle klingen musikalisch, dann die Kamera aus der Höhe, bis die Verzerrung sitzt diskret hinter dem Originalton.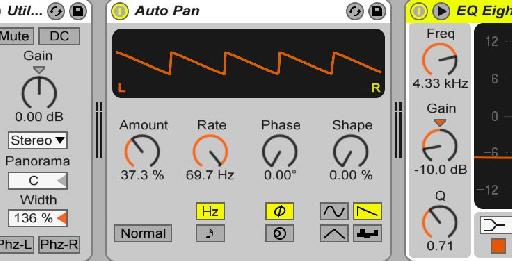 Amplitudenverzerrung ist über Lives Auto Pan möglich und der Ton der Verzerrung kann durch die Erkundung der verschiedenen LFO Waveform Formen an der rechten unteren Ecke des Geräts geformt werden.
L / RM / S Verarbeitung
Dieser letzte und stärkste Spitze ist mein Favorit, da es erlaubt Ihnen, Ihre Signal entweder in linken und rechten Kanal oder Mitte und Nebenkomponenten dann unabhängig verarbeiten aufgeteilt. Die Verarbeitung dieser Elemente getrennt ist, wo die wirkliche Kreativität beginnt, theres keine Regeln hier und es ist ein fantastisches Konzept für Sounddesign.
Um zu beginnen, fügen Sie ein Utility-Gerät und dann Gruppe aus dem Menü Bearbeiten. Anschließend müssen Sie die Karte zeigen die Kettenlisten-Editor, so dass Sie die bestehende Kette kann zu duplizieren. Eine Kette ist ein Audio-Kanal in einem Rack und das Kopieren des ersten Kette erzeugt, um die Kanäle parallel zu einem Dienstgerät auf jedem.
Für Links- und Rechts-Verarbeitung setzen Sie den ersten Utilitys Channel-Modus nach links und die zweite nach rechts. Dann schwenken die Ketten an ihren jeweiligen Seiten, so dass die Kanäle korrekt am Ausgabe Racks verrissen.
Für mittlere und Seitenverarbeitung, sondern stellen Sie den ersten Utilitys Breite auf 0% und die Sekunden auf 200% auf.

L / R und M / S-Bearbeitung kann höchst experimentell und kreativ sein, aber Sie tun müssen, um das Gleichgewicht der beiden Elemente in Schach zu halten. Ein schiefes L / R-Balance wird nur das entspricht einer Pfanne zu schaffen, um einen oder der anderen Seite aber zu viel Seitensignal bedeutet, ein großer Teil der Sound verschwindet, wenn auf Mono summiert.
Listen to the stereo mix:
Listen to the mono mix: