12 maneras de Stereoize y controlar su mezcla en Ableton Live
Learn how to control the stereo dimension of your Ableton Live mix thanks to this in-depth tutorial from The Sound Tutor. You can also work through and download the included project on Splice.com.
A lo largo de mis muchos años de enseñanza, he observado que comprender plenamente la importancia del diseño estéreo en una mezcla es lo más difícil para mis estudiantes a comprender. Desde el análisis del contenido estéreo de material de referencia para entender la gran cantidad de técnicas disponibles para stereoize su propio trabajo, la comprensión de lo esencial que una mezcla estéreo dinámico está en el mundo de hoy es crítico.
Ableton Live tiene muchas herramientas diferentes para crear y controlar la dimensión estéreo de su mezcla. Casi todos los consejos Im compartiendo a continuación no son parte de la vida de la biblioteca como preajustes, así que coge una cerveza y da a este una buena lectura de absorber por completo algunos enfoques en profundidad para aprovechar el aspecto estéreo de mezcla en vivo.
Para que sea lo más fácil posible para entender y explorar estas técnicas en el contenido que he creado un proyecto vivo que todo el mundo puede acceder a través de la plataforma de la rebanada de colaboración.
Central y lateral de Balance
Ya sea que su señal es estéreo en la fuente, o has stereoized que el uso de estas técnicas, una evaluación constante debe ser de un equilibrio entre el medio (medio) de la mezcla y toda la información estéreo (lados). Con un mayor equilibrio de la mitad, interminables poner el foco de un sonido hacia el centro de la mezcla. Un mayor equilibrio de los lados empujará suena desde el centro y con ajustes más extremos, dejar el centro libre para otros sonidos que ocupan en la mezcla.
Vive Utilidad viene al rescate de nuevo aquí como el parámetro de ancho es puramente la mitad en el 0% y sólo las partes en un 200%. Tenga cuidado de no ir demasiado lejos hacia el 200% a pesar de que esta información va a desaparecer cuando se juega su mezcla en mono.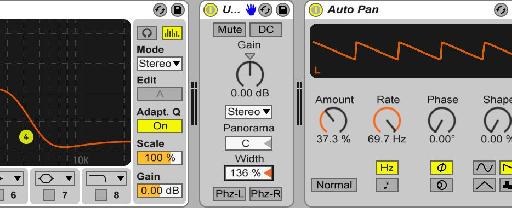 Ive utiliza un dispositivo de utilidad en mi proyecto para empujar mi pad suene desde el centro de la mezcla hacia los lados. Esto deja más espacio para mis tambores y otros elementos de la mezcla de vida.
Central y lateral EQ Shaping

Al igual que el consejo anterior, esta técnica también requiere un sonido estéreo, para empezar. Entonces EQ Eight se puede configurar para ecualizar central y lateral de los elementos de la señal por separado. Cambiar el modo en la parte superior derecha de EQ Eight de Estéreo a M / S, entonces el Editar interruptor se puede utilizar para ecualizar la M o S independiente.
Me gusta para aumentar el contenido de aire de los lados utilizando un filtro EQ de alta Shelf lo cual crea una imagen estéreo más amplia, pero no demasiado dominante en la gama media. Su también vale la pena usar un corte de graves en los lados así eliminar cualquier energía de gama más baja que rápidamente puede enturbiar el contenido estéreo de sus mezclas.

En las vacaciones de pista M / S EQ he tomado esta técnica un paso más y EQD la mitad y los lados de manera muy diferente a dar el breakbeat una colocación única en mi mezcla de ambos mediados y elementos secundarios.
Fase de oposición de canales izquierdo y derecho
Uno de los efectos más salvajes para la creación de una de las bocinas o dentro de su efecto cabeza para altavoces y auriculares respectivamente es invertir la fase del canal izquierdo o derecho. Información estéreo requiere información a ser diferentes en el altavoz izquierdo al derecho y siempre tiene algún tipo de información de la fase de oposición. Este efecto es una oposición absoluta en fase así es bastante extrema. Solamente es necesario activar PHZ-L en el dispositivo Vidas Utilidad para oponerse a la fase en el canal izquierdo.
El lado negativo de este enfoque es que el sonido desaparece el 100% cuando se suman a mono que significa que debe utilizarse con moderación. Pero es una manera fresca de agregar sonidos que se mantienen en secreto de los oyentes mono o añadir un poco de amplitud estéreo adicional cuando se aplica a una parte de un sonido en capas para arriba.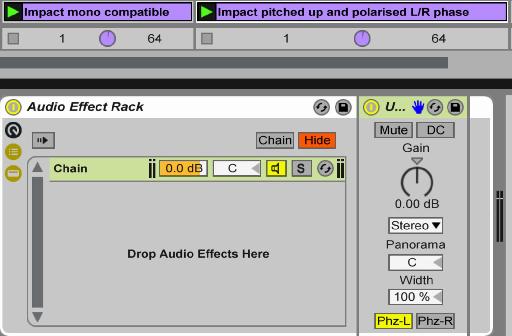 Esta técnica de la fase de oposición, por un lado tiene poca información sobre la ubicación, así que no lo use con otro sonidos constantes, dominante en mis mezclas, pero es genial para esporádica SFX suena.
Efecto Haas
Haas es un efecto psico-acústica que engaña al cerebro haciéndole escuchar una sensación de espacio y la direccionalidad cuando un canal de una señal mono jugó en estéreo se retrasa fraccionadamente detrás del otro. El cerebro no puedo discernir estas dos señales como eventos separados, como el retraso es tan corto, que en vez asume su ambiente, la información direccional y procesa el sonido como tener espacio a su alrededor.
La forma más fácil de crear este efecto es a través de las vidas de retardo simple cuando se cambia tanto los modos de retardo de sincronización de tiempo para que pueda utilizar medidas pequeñas en milisegundos. Con Dry / Wet conjunto al 100%, establecer un canal con el valor más bajo de 1 ms de tiempo de retardo mínimo y el derecho en cualquier parte de arriba hasta hasta alrededor de 40/50 ms. Youll oye cómo se ve afectada la ubicación sonidos y el espacio a medida que aumenta el segundo ajuste. Mantenga control de compatibilidad mono ya que este efecto puede producir una fuerte filtro de peine en mono, por lo que tienden a modificar entre tanto reproducción estéreo y mono para encontrar un buen equilibrio.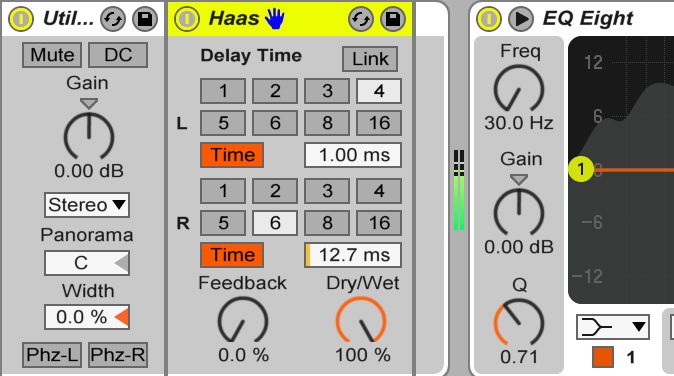 Un tiempo de retardo menor creará un efecto estéreo más apretada y más definido y también evita la detección de cualquier flam siendo escuchado con transitorios en un sonido.
Reverb para Stereo Spread
Aunque reverb es conocido como una herramienta para añadir ambiente, a menudo utilizo para crear una muy ligera sensación de estéreo con un tiempo mínimo decadencia. Al establecer Vidas reverberación a mínimo Predelay, Decay Time, Forma y valores difusos al tiempo que aumenta estéreo y reflejan a su máximo obtendrá una imagen estéreo corta y discreta para mezclarse con el sonido original usando Dry / Wet.
Los ajustes se pueden explorarse más a fondo para modelado tonal pero generalmente comienzan como antes y también se desactivan todos los elementos de procesamiento de entrada, de Spin, Difusión y Chorus para conseguir un sonido estéreo lo más limpio posible. El sonido es lo suficientemente estrecha con este enfoque que a menudo puedo usar un buen ajuste de balance de mojado sin perder demasiada definición al sonido.

Esta técnica reverb apretado para stereoizing sonidos puede producir un poco de turbidez de gama baja en la señal lateral. Por esta razón, habitualmente agrego un EQ Eight para cortar una gran cantidad de estas frecuencias problemáticas que he hecho en mis los autobuses tambor.
Haas con más control
La técnica de Haas se mencionó anteriormente ofrece una forma rápida y fácil de crear una sensación de estéreo a una fuente mono, pero está limitada por el hecho de que retrasa el espectro de frecuencia completo de un canal. Como ya se ha mencionado esto puede crear un fuerte efecto de filtro de peine cuando se suman a mono así que trabajo en torno a esto creando una adaptación del efecto usando Vidas filtro de retardo en su lugar.
La primera vez que apago el canal LR tan Im dejó con independientes de izquierda y derecha líneas de retardo. En lugar de dejar un lado a 1 ms para tratar de tener ningún retraso por un lado, me levanto en lugar del parámetro en seco al pleno por lo que mi señal original pasa a través de cambios. Entonces puedo usar las líneas de retardo de dos de las líneas de retardo más largos hasta alrededor de 50 ms. La ventaja aquí es cada línea de retardo se puede filtrar con un paso de banda por lo que un conjunto limitado de frecuencias se retrasa por lado. Esto minimiza peine de filtrado cuando se suman a mono.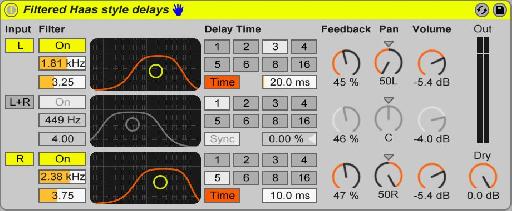 Los filtros de paso de banda le permiten minimizar el efecto peine de filtrado creada a partir de un efecto normal Haas cuando se suman a mono. También permiten que usted se centre en la que ninguno frecuencias transitorias de sonidos de percusión para evitar cualquier efecto flam creado por las señales retardadas.
Frequency Shifter para Ancho
Me parece que tienen una fuerte historia de amor con Vidas Frecuencia Shifter estos días y una de las razones de esto es su interruptor Ancho que invierte la señal procesada en el canal derecho de la izquierda con una super gran efecto eso es altamente compatible con mono.
Habilitar Amplia luego bajar o subir la cantidad de Bellas escuchar un efecto desfasados ​​estéreo. El procesamiento realmente comienza a reaccionar cuando se altera el equilibrio Dry / Wet al gusto.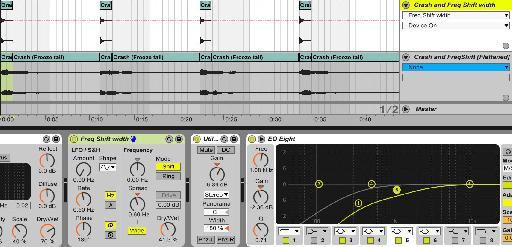 El momento en que el efecto de frecuencia Shifter no se puede Syncd al tempo así que a menudo congelar y aplanar unos pases para luego editar las mejores partes en mi trabajo.
Efectos de modulación
Vidas Chorus, Flanger y Phaser dispositivos son herramientas brillantes para crear información estéreo que también imparte su propio carácter en sus sonidos. Creo que la mejor técnica es para sintonizar estos efectos para trabajar musicalmente con el sonido de la fuente mediante la exploración del controlador XY para un punto dulce. A continuación, establezca el / equilibrio seco mojado para un efecto estéreo que imposible dominar el carácter del original.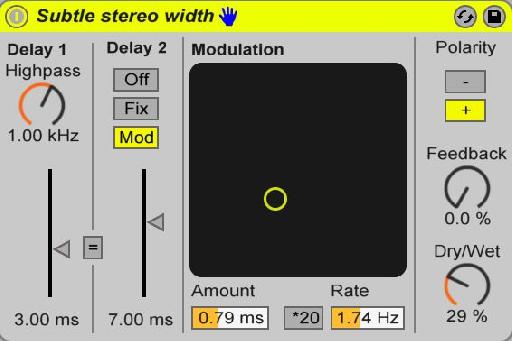 El efecto más sutil modulación es Chorus y ayuda a ablandar ligeramente el contenido de frecuencia de un sonido al mismo tiempo.
Estratificación y vista panorámica
A menos que una fuente de sonido ya es estéreo, la mayoría de la gente tiende a asumir la mejor manera de crear una señal estéreo es a través de su procesamiento. Pero estéreo también se puede lograr a través de la superposición de sonidos, al igual que el enfoque de las guitarras rastreados paneo o dobles en la música rock.
Esto se puede conseguir fácilmente a través de bastidores de instrumentos en vivo o por capas de clips de audio uno junto al otro en diferentes pistas. A menudo me registro encontré sonidos con mi grabadora portátil, editar diferente tarda en ser secuenciado, al mismo tiempo y luego el panorámico alrededor del campo estéreo. Esto crea un sonido más masivo que desempeñan las partes al unísono y porque theyre hechos de grabaciones incluyendo su propio ambiente real, proporciona un buen contraste con el más sintético suena la dominan mi trabajo.

Mi sonido de colchón se compone de cuatro capas de instrumentos diferentes que se paneo a diferentes posiciones en el campo estéreo.
Ruido estéreo
Si eres como yo, el abuso comercial del efecto vocoder en los años 1990 y 2000 le desalentar el uso de Vidas propio dispositivo Vocoder. Pero, este dispositivo es en realidad una herramienta muy útil para crear una sensación de estéreo a través de su señal Carrier ruido.

El Transportista se establece en ruido por defecto, pero usted tendrá que aumentar Bandas el 40 y el rango de 20 Hz a 18 kHz para la mejor fidelidad ruido posible. Explorar Profundidad para valores inferiores a 100% y ajustar el parámetro de lanzamiento para controlar qué tan bien el ruido rastrea la forma de su sonido. A continuación, utilice formantes para afinar el tono del ruido y dibujar en el banco de filtros para eliminar el fondo de fin deseado de la señal y quizás un poco de gama alta también para evitar la fragilidad.
Ahora el seco / húmedo se puede utilizar para alimentar la cantidad más pequeña de esta señal con la original para un sentido muy única de estéreo. Cuando se usa con moderación, esto puede dar algunos elementos de la mezcla un sentido único de la separación de todos los demás sonidos.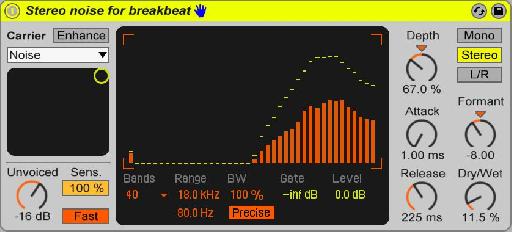 Ive añade ruido un poco más bajo acamparon para complementar mi pista breakbeat y barrieron el control de formantes hasta la puesta a punto sonaba musical con la puesta a punto general de la ruptura.
Autopanning
Vive Auto Pan es una opción obvia para añadir movimiento estéreo para un sonido y su uso frecuente para los más lentos, barridos paneo musicales entre los canales izquierdo y derecho. Cuando utilizo este enfoque prefiero una leve sensación de estéreo y soy muy tímido con el parámetro de cantidad por lo que el efecto de pan es menos evidente para el oyente y mantiene una imagen estable en el centro de la mezcla.
Cuando el control de la frecuencia se establece en Hz sobre Sync, los importes de tasas más altas se pueden usar para introducir un sabor estéreo de distorsión de amplitud. Establezca la cantidad a bastante alto y sintonizar la Tasa al sonido musical con la fuente y entonces bajar la cantidad hasta que la distorsión se sienta discretamente detrás del sonido original.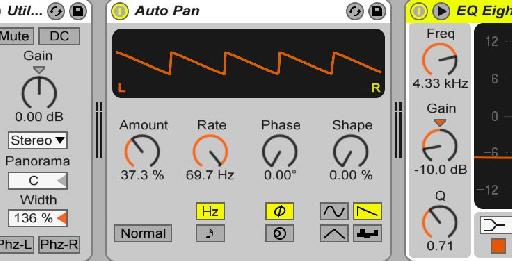 Distorsión de amplitud es posible a través de Vidas Auto Pan y el tono de distorsión puede ser en forma aún más mediante la exploración de las diferentes formas LFO Waveform en la parte inferior derecha del dispositivo.
L / RM / procesamiento S
Este último consejo y poderoso es mi favorito, ya que le permite dividir su señal en cualquiera de los canales izquierdo y derecho o componentes central y lateral luego de procesar de forma independiente. El procesamiento de estos elementos separados es donde la verdadera creatividad comienza como theres no hay reglas aquí y es un enfoque fantástico para de diseño de sonido.
Para empezar, añadir un dispositivo de utilidades, luego Grupo desde el menú Editar. A continuación, deberá revelar la Mostrar el editor de Lista de la cadena para que pueda duplicar la cadena existente. Una cadena es un canal de audio en un rack y la duplicación de la primera cadena crea a los canales en paralelo con un dispositivo de utilidad en cada uno.
Para Izquierda y Derecha procesamiento establecer el primer modo utilitys Canal a la izquierda y la segunda a la derecha. Entonces sartén las Cadenas a sus respectivos lados por lo que los canales se panoramizan correctamente en la salida Bastidores.
Para mediados y procesamiento de lado, en lugar establecer la primera utilitys Ancho al 0% y los segundos y 200% respectivamente.

L / R y M procesamiento / S pueden ser altamente experimental y creativa pero sí es necesario para mantener el equilibrio de ambos elementos en cheque. Un balance L / R desequilibrada sólo creará el equivalente a una sartén a un lado u otro, pero demasiada señal lado significará una gran parte de su sonido desaparecerá cuando se suman a mono.
Listen to the stereo mix:
Listen to the mono mix: