12 façons de Stereoize et contrôler vos Mix dans Ableton Live
Learn how to control the stereo dimension of your Ableton Live mix thanks to this in-depth tutorial from The Sound Tutor. You can also work through and download the included project on Splice.com.
Tout au long de mes nombreuses années d'enseignement, Ive a observé que bien comprendre l'importance du design dans un mélange stéréo est la chose la plus difficile pour mes élèves à saisir. De l'analyse du contenu stéréo de matériel de référence pour comprendre la myriade de techniques disponibles pour stereoize votre propre travail, essentiel de comprendre comment un mixage stéréo dynamique est dans le monde actuel est essentielle.
Ableton Live dispose de nombreux outils différents pour la création et le contrôle de la dimension de votre mix stéréo. Presque tous les conseils Im partageant ci-dessous ne font pas partie de la bibliothèque de vies sous forme de presets, alors prenez une bière et donner ce une bonne lecture pour absorber entièrement certaines approches en profondeur pour exploiter l'aspect stéréo du mélange dans Live.
Pour le rendre aussi facile que possible de comprendre et d'explorer ces techniques dans le contenu Ive créé un projet en direct où chacun peut accéder via le plate-forme de collaboration Slice.
Mid et Side balance
Que votre signal est stéréo à la source, ou que vous avez stereoized en utilisant ces techniques, une évaluation constante doit être faite de l'équilibre entre le milieu (mi) du mélange et toutes les informations stéréo (côtés). Avec un solde plus élevé de mi, vous aurez mettre l'accent d'un son vers le centre de votre mix. Un équilibre plus élevé de côtés va pousser des sons à partir du centre et à des réglages plus extrêmes, quitter le centre libre pour d'autres sons d'occuper dans le mélange.
Vit Utility vient à la rescousse de nouveau ici que le paramètre Width est purement le milieu à 0% et que les côtés à 200%. Attention à ne pas aller trop loin vers 200% même si, comme cette information disparaîtra lorsque vous jouez votre mix en mono.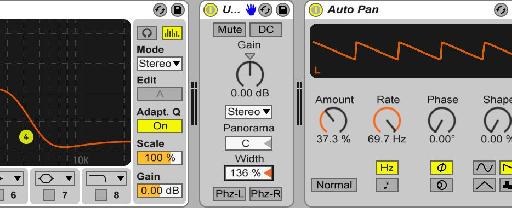 Ive utilisé un dispositif utilitaire dans mon projet de pousser mon bloc sonore à partir du centre du mix vers les côtés. Cela laisse plus d'espace pour mes tambours et d'autres éléments du mix à vivre.
Mid et Side EQ Shaping

Comme le conseil précédent, cette technique nécessite également un son stéréo pour commencer. Puis EQ Eight peut être réglé pour égaliser les éléments de milieu et latéraux du signal séparément. Changer de mode sur le coin supérieur droit de l'égalisation Huit du stéréo au M / S, alors le bouton Edit peut être utilisé pour égaliser M ou S indépendamment.
Je aime augmenter la teneur en air des côtés en utilisant un filtre EQ High Conservation qui crée alors une largeur stéréo plus large, mais pas trop dominant dans le milieu de gamme. Il est aussi utile de recourir à un coupe-bas sur les côtés ainsi pour enlever toute l'énergie bas de gamme qui peut rapidement boueux le contenu stéréo de vos mixes.

Sur la rupture de la piste M / S EQ Ive pris cette technique un peu plus loin et eQD le milieu et sur les côtés tout à fait différemment pour donner le breakbeat un placement unique dans mon mix pour les deux mi et les éléments secondaires.
Phase adverse des canaux gauche et droit
Un des effets les plus fous pour la création d'un des haut-parleurs ou à l'intérieur de votre tête pour effet de haut-parleurs et écouteurs respectivement est d'inverser la phase du canal gauche ou la droite. Informations stéréo exige qu'une information soit différent dans le haut-parleur gauche vers la droite et a toujours une certaine forme de se opposer à l'information de phase. Cet effet est une opposition absolue en phase de sorte est assez extrême. Juste permettre PHz-L sur le dispositif vies utilitaire pour se opposer à la phase sur le canal gauche.
L'inconvénient de cette approche est que le son disparaît 100% lorsque sommés en mono qui signifie qu'il doit être utilisé avec parcimonie. Mais ce est une façon cool pour ajouter des sons qui sont tenus secrets des auditeurs mono ou ajouter une certaine largeur stéréo supplémentaire lorsqu'il est appliqué à une partie d'un son en couches jusqu'à .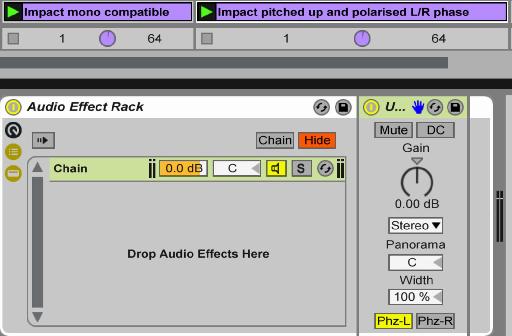 Cette technique de opposition de phase sur un côté détient peu d'informations de localisation, donc je ne l'utilise pas pour toutes, sons dominants constants dans mes mixes, mais sa grande sporadique SFX sons.
Effet Haas
Haas est un effet psycho-acoustique qui trompe le cerveau en entendant un sens de l'espace et la directionnalité quand un canal d'un signal mono en stéréo joué fractionnée retardé derrière l'autre. Le cerveau ne peux pas discerner ces deux signaux comme des événements distincts que le délai est si court, il assume à la place de son ambiant, des informations directionnelles et traite le son comme ayant espace autour d'elle.
La meilleure façon de créer cet effet est par Lives Simple Delay lorsque vous passez la fois Retard modes de synchronisation en temps afin que vous pouvez utiliser de petites mesures en millisecondes. Avec jeu Dry / Wet à 100%, réglez un canal à la plus faible valeur de 1 ms pour un temps de retard minime et le droit ne importe où dessus jusqu'aux alentours de 40/50 ms. Vous entendrez comment l'emplacement des sons et de l'espace est affectée que vous augmentez le deuxième réglage. Garder le contrôle de compatibilité mono que cet effet peut produire forte peigne filtrage en mono, donc je ai tendance à tordre entre les deux lecture stéréo et mono de trouver un équilibre heureux.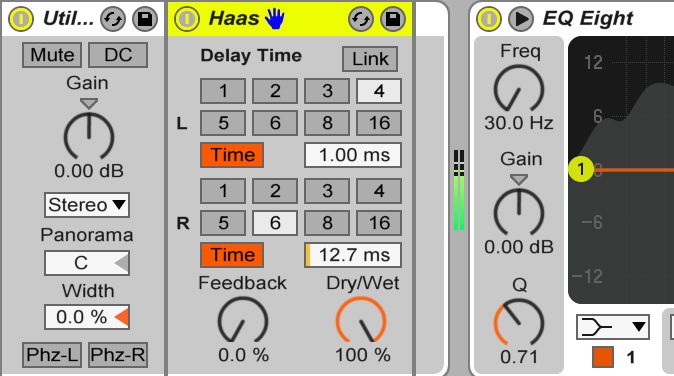 Un temps de retard inférieure va créer un effet stéréo plus serré et plus défini et évite également la détection de toute flam étant entendu avec transitoires dans un son.
Reverb pour Stereo Spread
Bien que la réverbération est connu comme un outil pour ajouter de l'ambiance, je l'utilise souvent pour créer une très légère sens de stéréo avec temps de décroissance minimal. En mettant des vies au minimum Reverb Predelay, Decay Time, la forme et les valeurs diffuses tout en augmentant stéréo et de réfléchir à leur maximum, vous obtiendrez une image stéréo à court et discret pour se fondre dans le son original en utilisant Dry / Wet.
Les réglages peuvent être explorées plus loin pour tonale mise en forme mais je commencent généralement comme ci-dessus et également désactiver tous les éléments de traitement d'entrée, Spin, la diffusion et Chorus pour obtenir un son aussi propre que possible stéréo. Le son est assez serré avec cette approche que je peux souvent utiliser un bon réglage de la balance humide sans perdre trop de définition au son.

Cette technique de réverbération serré pour stereoizing sons peut produire un peu de turbidité bas de gamme dans le signal de côté. Pour cette raison, je ajoute habituellement un EQ Huit de couper beaucoup de ces fréquences de problèmes qui Ive fait sur ma principale tambour bus.
Haas avec plus de contrôle
La technique Haas mentionné précédemment offre un moyen rapide et facile de créer un sentiment de stéréo à une source mono, mais est limitée par le fait qu'il retarde le spectre de fréquences d'un canal. Comme déjà mentionné, cela peut créer un fort effet de filtre en peigne lorsque sommés en mono donc je travaille autour de ce en créant une adaptation de l'effet en utilisant vies Filtrez Retard place.
Je me tourne d'abord le canal LR afin Im gauche avec des lignes de retard gauche et droit indépendants. Au lieu de laisser un côté à 1 ms pour essayer et ne ont pas de retard sur un côté, je lève la place le paramètre Sec au complet, donc mon signal original passe par inchangée. Ensuite, je peux utiliser les lignes à retard pour deux des lignes à retard plus jusqu'à environ 50 ms. L'avantage ici est chaque ligne de retard peut être filtrée avec un passe-bande de sorte qu'un ensemble restreint de fréquences est retardée par côté. Cela minimise peigne filtrage lorsque sommés en mono.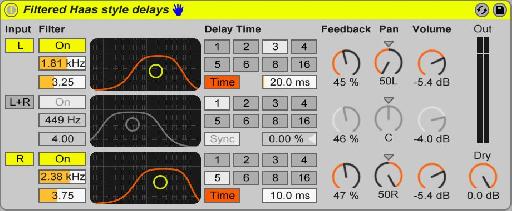 Les filtres passe-bande vous permettent de minimiser l'effet de peigne filtrage créé à partir d'un effet Haas normal lorsque additionnées pour mono. Ils permettent également de vous concentrer sur le aucune fréquences transitoires de sons percussifs pour éviter tout effet de flam créé par les signaux retardés.
Frequency Shifter pour Largeur
Il me semble avoir une histoire d'amour forte avec Lives décalage de fréquence de nos jours et une raison à cela est son commutateur Largeur qui inverse le signal traité sur le canal droit vers la gauche pour un super grand effet des thats très compatible mono.
Activer large alors diminuer ou augmenter le montant fine pour entendre un effet phasey stéréo. Le traitement commence vraiment à réagir lorsque vous modifiez la balance Dry / Wet au goût.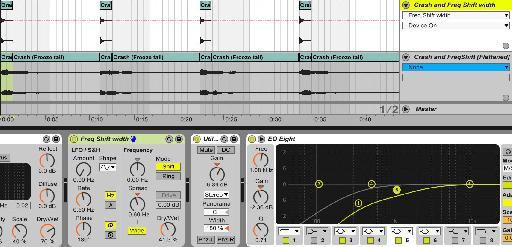 Le moment de l'effet de Frequency Shifter ne peut pas être SYNCD au tempo alors je gel souvent et aplatir quelques passes à modifier, puis les meilleures parties dans mon travail.
Effets de modulation
Vit Chorus, Flanger et Phaser dispositifs sont tous des outils pour créer des brillants informations stéréo qui confèrent aussi leur propre caractère sur vos sons. Je trouve la meilleure technique est de régler ces effets de travailler musicalement avec le son de la source en explorant le contrôleur XY pour un sweet spot. Réglez ensuite le / la balance Wet Dry pour un effet stéréo qui ne marche pas maîtriser le caractère de l'original.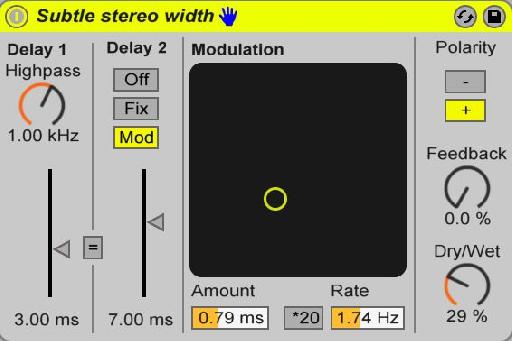 L'effet le plus subtile de modulation est Chorus et contribue à adoucir légèrement le contenu de fréquence d'un son en même temps.
Superposition et panoramique
Sauf une source sonore stéréo est déjà , la plupart des gens ont tendance à prendre la meilleure façon de créer un signal stéréo est fait par traitement. Mais stéréo peut également être obtenue par la superposition de sons, un peu comme l'approche de guitares suivis Enrobés et doubles dans la musique rock.
Ceci peut être facilement atteint par racks d'instruments en Live ou en superposant des clips audio côté de l'autre sur différentes pistes. Je ai souvent trouvé fiche sons avec mon enregistreur portable, éditer différente prend à séquencer en même temps, puis un panoramique autour de la champ stéréo. Cela crée un son massif que les parties jouent à l'unisson et parce que theyre fait à partir d'enregistrements y compris leur propre ambiance réelle, ils fournissent un bon contraste avec la plus synthétique sonne le dominer mon travail.

Mon pad son est constitué de quatre couches d'instruments différents qui sont balancées au différentes positions dans le champ stéréo.
Bruit stéréo
Si vous êtes comme moi, l'abus commercial de l'effet de vocodeur dans les années 1990 et 2000 vous dissuader d'utiliser Lives dispositif de Vocoder propre. Mais, ce dispositif est en fait un outil très pratique pour créer un sentiment de stéréo via son signal bruit de Carrier.

Le Transporteur est réglé sur bruit par défaut, mais vous aurez besoin d'augmenter à 40 bandes et Range 20 Hz à 18 kHz pour la meilleure fidélité de bruit possible. Explorez Profondeur à des valeurs inférieures à 100% et de modifier le paramètre de sortie pour contrôler la façon dont le bruit suit la forme de votre son. Ensuite, utilisez Formant de régler la hauteur du bruit et attirer dans la banque de filtres pour éliminer les indésirables extrémité inférieure du signal et peut-être un peu trop haut de gamme pour éviter fragilité.
Maintenant, le Dry / Wet peut être utilisé pour alimenter la plus petite quantité de ce signal avec l'original pour un sens unique de la stéréo. Lorsqu'il est utilisé avec parcimonie, ce qui peut donner quelques éléments de mélange un sens unique de la séparation à tous les autres sons.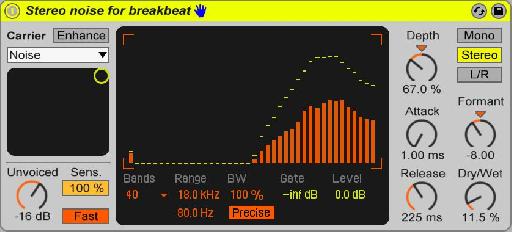 Ive a ajouté un peu plus bas campèrent bruit pour compléter ma piste de breakbeat et balayé le contrôle Formant jusqu'à ce que le tuning sonnait musicale avec l'accord général de la rupture.
Autopanning
Vit Auto Pan est un choix évident pour ajouter mouvement stéréo à un son et son souvent utilisé pour les plus lents, balayages panoramiques musicales entre les canaux gauche et droit. Lorsque je utilise cette approche, je préfère un sentiment doux de la stéréo et je suis très timide avec le paramètre Montant donc l'effet panoramique est moins évidente à l'auditeur et maintient une image stable dans le centre du mixage.
Lorsque la commande Rate est réglé sur Hz sur Sync, les montants des taux plus élevés peuvent être utilisés pour introduire une saveur stéréo de distorsion d'amplitude. Réglez le Montant assez élevé et réglez le Taux sur son musical avec la source, puis revenir le montant jusqu'à ce que la distorsion est assis discrètement derrière le son original.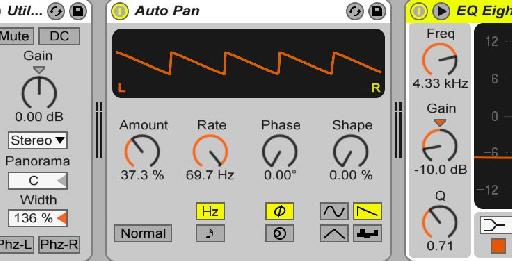 Distorsion d'amplitude est possible grâce vies Auto Pan et le ton de distorsion peut être encore en forme en explorant les différentes formes LFO Waveform en bas à droite de l'appareil.
L / RM / traitement de S
Ce dernier conseil et le plus puissant est mon préféré car il vous permet de diviser votre signal en soit canaux gauche et droit ou milieu composants et secondaires à traiter ensuite de façon indépendante. Le traitement de ces éléments séparés est là la vraie créativité commence comme theres pas de règles ici et ce est une approche fantastique pour sound-design.
Pour commencer, ajouter un dispositif Utilitaire, puis Groupe dans le menu Modifier. Vous devez ensuite de révéler le Salon de l'éditeur de liste de chaîne de sorte que vous pouvez dupliquer la chaîne existante. Une chaîne est un canal audio dans un rack et dupliquer la première chaîne crée à canaux en parallèle avec un dispositif utilitaire sur chaque.
Pour Gauche et le traitement droit définir le premier mode Utilitaires Manche à gauche et la deuxième à droite. Puis le panoramique des chaînes à leurs côtés respectifs de sorte que les canaux sont correctement batée à la sortie Racks.
Pour la mi et la transformation de côté, à la place, la première Largeur Utilitaires à 0% et les secondes à 200% respectivement.

L / R et M transformation / S peuvent être très expérimental et créatif, mais vous avez besoin de maintenir l'équilibre des deux éléments en échec. Un équilibre déséquilibré L / R ne fera que créer l'équivalent d'un pan d'un côté ou l'autre, mais trop de signal latéral se traduira par une grande partie de votre son disparaîtra lorsque sommés en mono.
Listen to the stereo mix:
Listen to the mono mix: