12 modi per Stereoize e controllare il Mix in Ableton Live
Learn how to control the stereo dimension of your Ableton Live mix thanks to this in-depth tutorial from The Sound Tutor. You can also work through and download the included project on Splice.com.
Durante i miei molti anni di insegnamento, Ive ha osservato che comprendere pienamente l'importanza del design stereo in un mix è la cosa più difficile per i miei studenti a cogliere. Dalla analisi del contenuto stereo di materiale di riferimento per comprendere la miriade di tecniche disponibili per stereoize il proprio lavoro, capire quanto sia essenziale un mix stereo dinamica è nel mondo di oggi è fondamentale.
Ableton Live ha molti strumenti diversi per la creazione e il controllo della dimensione stereo del mix. Quasi tutti i suggerimenti Im condividono seguito non fanno parte della biblioteca Lives come predefiniti, in modo da afferrare una birra e dare a questo una buona lettura per assorbire completamente alcuni approcci in profondità per sfruttare l'aspetto stereo di miscelazione in Live.
Per rendere il più semplice possibile da capire ed esplorare queste tecniche nel contenuto Ive ha creato un progetto live che tutti possono accedere tramite la piattaforma collaborativa Slice.
Mid e Balance Side
Se il segnale è stereo alla fonte, o youve stereoized utilizzando queste tecniche, una costante valutazione deve essere fatta dell'equilibrio tra la metà (metà ) del mix e tutte le informazioni stereo (lati). Con un maggiore equilibrio di metà , youll portare al centro di un suono verso il centro del vostro mix. Un maggiore equilibrio di lati spingerà suoni fuori dal centro e con impostazioni più estreme, lasciare il centro libero per altri suoni di occupare nel mix.
Abita Utility viene in soccorso di nuovo qui come parametro Width è puramente metà a 0% e solo i lati al 200%. Fare attenzione a non andare troppo lontano verso il 200% anche se, come questa informazione scompare quando si gioca il tuo mix in mono.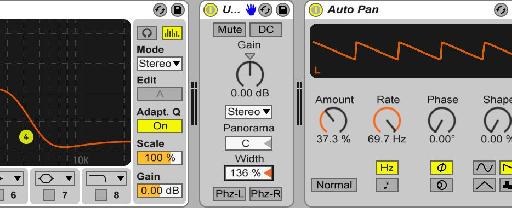 Ive utilizzato un dispositivo di utilità nel mio progetto per spingere il pad suono fuori dal centro del mix verso i lati. Questo lascia più spazio per la mia batteria e altri elementi della miscela a vivere.
Mid e Side EQ Shaping

Come la punta precedente, questa tecnica richiede anche un suono stereo per cominciare. Poi EQ Eight può essere impostato per equalizzare la metà e laterali elementi del segnale separatamente. Commutare la modalità sulla parte superiore destra EQ Eight da Stereo a M / S, quindi la Modifica switch può essere utilizzato per equalizzare il M o S in modo indipendente.
Mi piace per aumentare il contenuto d'aria dei lati usando un filtro EQ High Shelf, che crea quindi una più ampia, ma non troppo dominante ampiezza stereo nel mid-range. La sua anche la pena con un taglio basso ai lati e di rimuovere qualsiasi energia di fascia bassa che può rapidamente fangoso il contenuto stereo vostri mix.

In contropiede traccia M / S EQ Ive preso questa tecnica un passo ulteriore e EQD metà e lati in modo diverso per dare il breakbeat una posizione unica nel mio mix sia per la metà e gli elementi laterali.
Opposizione di fase di canali sinistro e destro
Uno degli effetti più selvagge per la creazione di un fuori altoparlanti o dentro la tua testa effetto per altoparlanti e cuffie, rispettivamente, è di invertire la fase del canale sinistro o destro. Informazioni Stereo richiede informazioni per essere diverso nel diffusore di sinistra alla destra e ha sempre una qualche forma di opporsi informazioni di fase. Questo effetto è un'opposizione assoluta in fase quindi è abbastanza estremo. Basta attivare PHZ-L su dispositivo Lives Utility per opporsi alla fase sul canale sinistro.
Il lato negativo di questo approccio è che il suono scompare 100% quando sommati in mono che significa che deve essere usato con parsimonia. Ma è un modo intelligente per aggiungere suoni che sono tenuti segreti dagli ascoltatori mono o aggiungere un po 'ampiezza stereo supplementare quando applicato ad una parte di un suono stratificato up.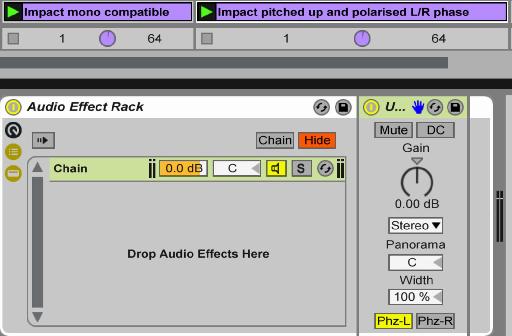 Questa tecnica di opposizione di fase su un lato contiene poche informazioni di posizione così io non usarlo per qualsiasi costante, suoni dominanti nei miei mix, ma è ottimo per sporadici SFX suoni.
Haas Effect
Haas è un effetto psico-acustico che trucchi il cervello in sentire un senso di spazio e direzionalità quando un canale di un segnale mono riprodotto in stereo viene frazionata ritardato dietro l'altro. Il cervello sopraelevazione discernere questi due segnali come eventi separati, come il ritardo è così breve, assume invece il suo ambiente, informazioni direzionali ed elabora il suono come avere spazio intorno.
Il modo più semplice per creare questo effetto è attraverso Lives Delay semplice quando si passa sia Delay Modes dal Sync per tempo in modo da poter utilizzare le piccole misure in millisecondi. Con secco / umido set al 100%, impostare un canale per il valore più basso di 1 ms per un tempo di ritardo minimo e il diritto ovunque sopra fino a circa 40/50 ms. Youll sentire come la posizione dei suoni e lo spazio è interessato, come si aumenta la seconda impostazione. Mantenere il controllo di compatibilità mono come questo effetto può produrre forte pettine-filtraggio in mono, quindi tendo a modificare sia tra riproduzione stereo e mono per trovare un equilibrio felice.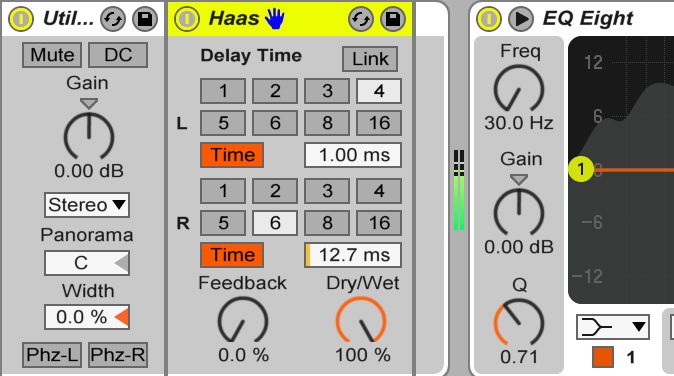 Un tempo di ritardo inferiore creerà un effetto stereo più stretto e più definito ed evita anche l'accertamento di eventuali Flam essere ascoltato con transienti in un suono.
Reverb per diffusione Stereo
Sebbene riverbero è conosciuto come uno strumento per aggiungere atmosfera, io uso spesso per creare un leggero senso di stereo con tempo di decadimento minimo. Impostando Lives riverbero minimo Predelay, Decay Time, Shape e valori di tasteggio aumentando Stereo e riflettono al loro massimo si otterrà un'immagine stereo breve e discreto per fondersi con il suono originale con Dry / Wet.
Le impostazioni possono essere esplorati ulteriormente per modellare tonale, ma io in genere inizia come sopra e anche disattivare tutti gli elementi di elaborazione Input, Spin, diffusione e Chorus di ottenere il più pulito di un suono stereo possibile. Il suono è abbastanza stretto con questo approccio che posso utilizzare spesso un bel bilanciamento del bagnato senza perdere troppo definizione al suono.

Questa tecnica riverbero stretto per stereoizing suoni in grado di produrre un po 'di fascia bassa muddiness nel segnale lato. Per questo motivo ho abitualmente aggiungere un EQ Eight di tagliare un sacco di queste frequenze problematiche che Ive fatto il mio principale tamburo bus.
Haas con un maggiore controllo
La tecnica Haas già accennato offre un modo rapido e semplice per creare un senso di stereo ad una sorgente mono, ma è limitata dal fatto ritarda lo spettro di frequenze di un canale. Come già detto questo può creare un forte effetto pettine-filtering quando sommati in mono così io lavoro intorno a questo con la creazione di un adattamento degli effetti utilizzando Lives filtro di ritardo, invece.
Ho disattivare il canale LR così Im lasciato con linee indipendenti destro e sinistro di ritardo. Invece di lasciare un lato a 1 ms per cercare di avere nessun ritardo su un lato, che invece sollevare il parametro secco a pieno così mio segnale originale attraversa invariato. Poi posso usare le linee di ritardo per due delle linee di ritardo più lunghe fino a circa 50 ms. Il vantaggio è ogni linea di ritardo può essere filtrato con un passa-banda così un insieme stretta di frequenze è ritardato per lato. Questo riduce al minimo pettine-filtering quando sommati in mono.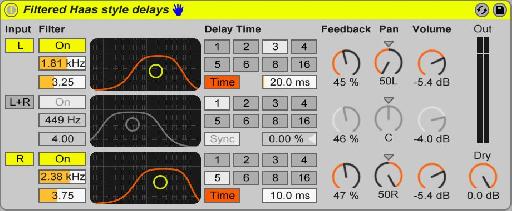 I filtri passa-banda consentono di ridurre al minimo l'effetto-pettine filtro creato da un normale effetto Haas quando sommati a mono. Essi consentono inoltre di mettere a fuoco il none frequenze transitori di suoni percussivi per evitare qualsiasi effetto Flam creato dai segnali ritardati.
Shifter frequenza per Larghezza
Mi sembra di avere una forte storia d'amore con la vita di frequenza Shifter questi giorni e uno dei motivi è la sua funzione di larghezza, che inverte il segnale elaborato sul canale destra a sinistra per un super wide effetto questo è altamente mono compatibile.
Abilita Ampia poi abbassare o alzare l'importo fine di sentire un effetto phaser stereo. Il trattamento inizia davvero a reagire quando si altera l'equilibrio Dry / Wet a piacere.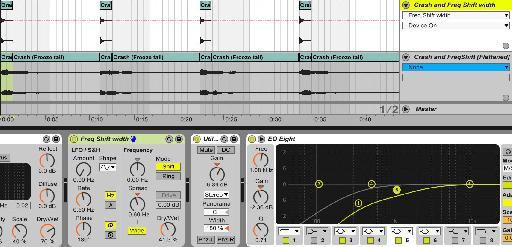 I tempi dell'effetto Shifter frequenza non può essere syncd a Tempo così spesso congelare e appiattire alcuni passaggi per poi modificare le parti migliori nel mio lavoro.
Effetti di modulazione
Vive Chorus, Flanger e Phaser dispositivi sono tutti gli strumenti per la creazione di brillanti informazioni stereo che conferiscono anche il proprio carattere sui vostri suoni. Trovo la tecnica migliore è quella di sintonizzare questi effetti per lavorare musicalmente con il suono sorgente esplorando Controller XY per un posto dolce. Quindi impostare il secco / umido bilancia per un effetto stereo che pretende molto sovrastare il carattere dell'originale.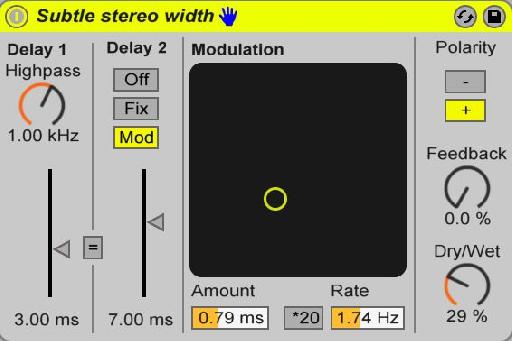 L'effetto di modulazione più sottile è coro e aiuta ad ammorbidire leggermente il contenuto in frequenza di un suono allo stesso tempo.
Stratificazione e Panoramica
A meno che una sorgente sonora è già stereo, molte persone tendono ad assumere il modo migliore per creare un segnale stereo è attraverso l'elaborazione. Ma stereo può anche essere raggiunto attraverso la stratificazione di suoni, proprio come l'approccio di chitarre cingolati stroncato e doppie nella musica rock.
Questo può essere facilmente raggiunto attraverso scaffali strumenti Live o stratificazione clip audio accanto all'altro su binari diversi. Spesso record trovato suoni con il mio registratore portatile, modificare diverso serve per essere sequenziato allo stesso tempo e poi spostarsi all'interno del campo stereo. Questo crea un suono massiccio come le parti giocano all'unisono e perché theyre fatto dalle registrazioni incluso il proprio ambiente reale, forniscono un buon contrasto con il più sintetico suona il dominare il mio lavoro.

Il mio suono pad è composto da quattro strati diversi strumenti che vengono mosso per diverse posizioni nel campo stereo.
Noise Stereo
Se youre come me, l'abuso commerciale dell'effetto vocoder negli anni 1990 e 2000 vi scoraggiare l'uso Abita proprio dispositivo Vocoder. Ma, questo dispositivo è in realtà uno strumento molto utile per la creazione di un senso di stereo tramite il segnale Carrier rumore.

Il Vettore è impostato su Noise per impostazione predefinita, ma è necessario aumentare Bands a 40 e Gamma 20 Hz a 18 kHz per la migliore fedeltà rumore possibile. Esplora profondità a valori inferiori al 100% e modificare il parametro di uscita per controllare come bene traccia il rumore la forma del vostro suono. Quindi utilizzare Formant per accordare l'intonazione del rumore e disegnare nella Banca filtro per rimuovere indesiderati bottom-end dal segnale e forse un po 'top-end troppo per evitare fragilità .
Ora il Dry / Wet può essere utilizzata per alimentare la più piccola quantità di questo segnale con l'originale per un senso molto unico di stereo. Quando viene utilizzato con parsimonia, questo può dare alcuni elementi mix un senso unico di separazione a tutti gli altri suoni.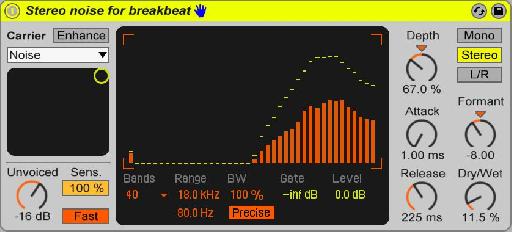 Ive ha aggiunto un po 'più basso spiovente rumore per completare la mia pista breakbeat e spazzato il controllo Formant fino alla messa a punto suonava musicale con la messa a punto generale della rottura.
Autopanning
Abita Auto Pan è una scelta ovvia per l'aggiunta di movimento stereo a un suono e la sua spesso utilizzato per più lenti, spazza panning musicali tra i canali destro e sinistro. Quando uso questo approccio preferisco un senso lieve di stereo e sono molto timido con il parametro Amount quindi l'effetto pan è meno evidente per l'ascoltatore e mantiene un'immagine stabile nel centro del mix.
Quando il controllo della frequenza è impostata Hz Sync sopra, gli importi tasso superiore possono essere utilizzati per introdurre un sapore stereo di distorsione di ampiezza. Impostare l'Importo a piuttosto alto e regolare il tasso di suono musicale con la fonte, poi di nuovo fuori l'Importo fino a quando la distorsione siede discretamente dietro al suono originale.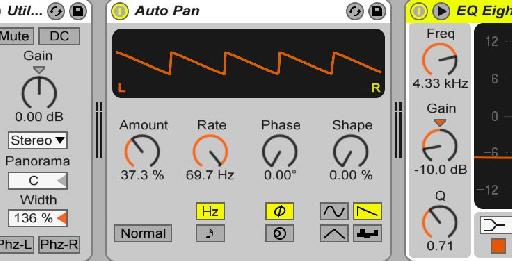 Distorsione Amplitude è possibile attraverso Lives Auto Pan e il tono di distorsione può essere ulteriormente modellato esplorando le diverse forme d'onda LFO in basso a destra del dispositivo.
L / RM / elaborazione S
Questo suggerimento finale e più potente è il mio preferito in quanto consente di dividere il segnale in entrambi i canali destro e sinistro o componenti metà e laterali per poi elaborare in modo indipendente. Il trattamento di questi elementi separati è dove la vera creatività inizia come theres regole qui ed è un approccio fantastico per sound-design.
Per iniziare, aggiungere un dispositivo Utility, quindi Gruppo dal menu Modifica. È quindi necessario rivelare la Mostra l'editor List catena in modo da poter duplicare la catena esistente. Una catena è un canale audio in un rack e duplicare la prima catena crea canali in parallelo con un dispositivo di utilità su ciascuna.
Per Sinistra e Destra di elaborazione impostare la prima modalità Utilitys canale di sinistra e la seconda a destra. Poi pan le catene ai loro rispettivi lati in modo che i canali siano stroncato correttamente all'uscita Rack.
Per la metà e l'elaborazione lato, invece impostare la prima Utilitys Width a 0% e il secondo al 200% rispettivamente.

L / R e M elaborazione / S possono essere altamente sperimentale e creativo, ma si ha bisogno di mantenere l'equilibrio di entrambi gli elementi sotto controllo. Un equilibrio L / R sbilenco crea solo l'equivalente di una padella da una parte o l'altra, ma troppo segnale lato significherà un grande pezzo del vostro suono scompare quando sommati in mono.
Listen to the stereo mix:
Listen to the mono mix: