12 maneiras de Stereoize e controlar o seu Mix em Ableton Live
Learn how to control the stereo dimension of your Ableton Live mix thanks to this in-depth tutorial from The Sound Tutor. You can also work through and download the included project on Splice.com.
Ao longo dos meus muitos anos de ensino, Ive observou que compreender plenamente a importância do design de som em uma mistura é a coisa mais difícil para os meus alunos de entender. A partir da análise de conteúdo estéreo de material de referência para entender a miríade de técnicas disponíveis para stereoize seu próprio trabalho, a compreensão de como essencial um mix estéreo dinâmica é no mundo de hoje é fundamental.
Ableton Live tem muitas ferramentas diferentes para criar e controlar a dimensão estéreo de seu mix. Quase todas as dicas Im compartilhando abaixo não fazem parte da biblioteca Lives como presets, então pegue uma cerveja e dar a este uma boa leitura para absorver totalmente algumas abordagens em profundidade para aproveitar o aspecto estéreo de misturar na Live.
Para torná-lo tão fácil quanto possível para entender e explorar essas técnicas no conteúdo Ive criou um projeto ao vivo que todos podem acessar através da plataforma Slice colaborativo.
Mid e Balance Side
Se o seu sinal é estéreo na fonte, ou youve stereoized-lo usando essas técnicas, a avaliação constante deve ser feita do equilíbrio entre o meio (mid) da mistura e todas as informações estéreo (lados). Com um maior saldo de mid, você vai trazer o foco de um som para o centro do seu mix. A maior saldo de lados vai empurrar sons a partir do centro e em ambientes mais extremos, deixar o centro livre para outros sons a ocupar no mix.
Mora Utility vem para o resgate novamente aqui como o parâmetro de largura é puramente o mid em 0% e apenas nas laterais em 200%. Tenha cuidado para não ir muito longe no sentido de 200% embora como esta informação irá desaparecer quando a jogar o seu mix em mono.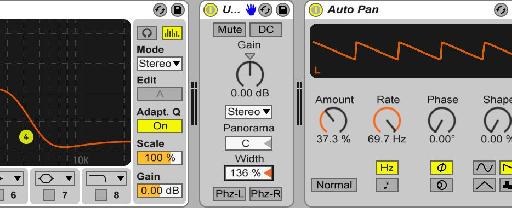 Ive usado um dispositivo Utility no meu projeto para empurrar minha almofada som para fora do centro da mistura para os lados. Isso deixa mais espaço para os meus tambores e outros elementos do mix de vida.
Mid e Side EQ Shaping

Como a dica anterior, essa técnica também requer um som estéreo, para começar. Em seguida, EQ Oito pode ser ajustado para equalizar meados e os elementos laterais do sinal separadamente. Mude o modo de no canto superior direito do EQ Eight de estéreo para M / S, então a Chave Editar pode ser usado para equalizar o M ou S independentemente.
Eu gosto de aumentar o teor de ar dos lados usando um filtro EQ High Shelf que então cria uma largura de estéreo mais amplo, ainda não muito dominante na mid-range. Seu também vale a pena usar um Low Cut nas laterais, assim como para remover qualquer energia mais baixa-end que pode rapidamente enlameado o conteúdo estéreo de suas mixagens.

On the Break faixa M / S EQ Ive tomado esta técnica um pouco mais longe e EQD a médio e os lados de forma bastante diferente para dar o breakbeat um posicionamento único na minha mix para ambas as mid e elementos secundários.
Fase adversária de canais esquerdo e direito
Um dos efeitos mais selvagens para criar um dos alto-falantes ou dentro de sua cabeça para efeito alto-falantes e fones de ouvido, respectivamente, é inverter a fase do canal esquerdo ou direito. Informações Stereo requer informações para ser diferente na coluna esquerda para a direita e sempre tem alguma forma de se opor a informação de fase. Este efeito é uma oposição absoluta em fase assim é bastante extremo. Basta ativar PHZ-L no dispositivo Lives Utility a opor-se a fase no canal esquerdo.
O lado negativo dessa abordagem é que o som desaparece 100% quando somadas para mono que significa que deve ser usado com moderação. Mas isso é uma forma legal de se adicionar sons que são mantidos em segredo de ouvintes mono ou adicionar um pouco de largura estéreo adicional quando aplicada a uma parte de um som em camadas up.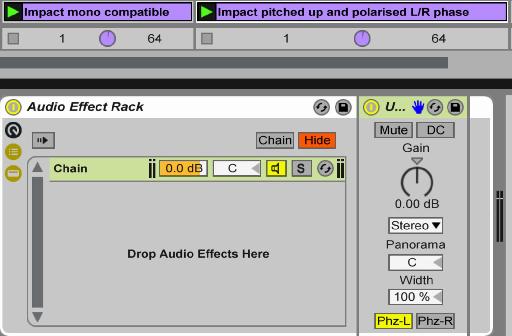 Esta técnica de se opor fase de um lado tem pouca informação sobre a localização, então eu não usá-lo por quaisquer sons dominantes constante na minha misturas, mas a sua grande para esporádica SFX sons.
Haas Effect
Haas é um efeito psico-acústica que engana o cérebro em ouvir uma sensação de espaço e direcionalidade quando um canal de um sinal mono jogado em estéreo é fracionada atrasou atrás do outro. O cérebro não pode discernir esses dois sinais como eventos separados, como o atraso é tão curta, que em vez assume o seu ambiente, a informação de direção e processa o som como tendo espaço em torno dele.
A maneira mais fácil para criar esse efeito é através Lives simples atraso quando você alternar os modos de Atraso de Tempo Sync para que você possa usar pequenas medições em milissegundos. Com conjunto Dry / Wet a 100%, defina um canal para o valor mais baixo de 1 ms por um tempo mínimo de atraso e o direito em qualquer lugar acima até cerca de 40/50 ms. Você vai ouvir como a localização sons e espaço é afetada à medida que aumenta o segundo cenário. Manter a verificação de compatibilidade mono como este efeito pode produzir as filtragens de pente em mono, por isso tendem a ajustar entre ambos estéreo e mono reprodução encontrar um equilíbrio feliz.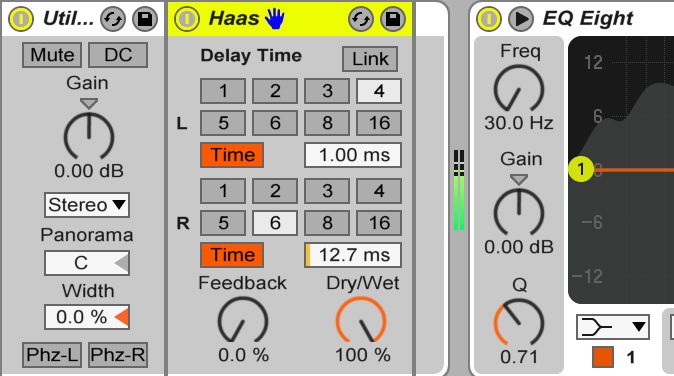 Um tempo de atraso inferior irá criar um efeito estéreo mais apertado e mais definido e também evita a detecção de qualquer flam sendo ouvido com transientes em um som.
Reverb para Espalhe Stereo
Apesar de reverb é conhecido como uma ferramenta para adicionar ambiente, muitas vezes eu usá-lo para criar uma muito ligeira sensação de som com tempo de decaimento mínima. Ao definir Lives reverberação mínimo Predelay, Decay Time, Forma e valores Difusos, aumentando Stereo e Reflita ao seu máximo que você vai ter uma imagem estéreo curto e discreto para se misturar com o som original usando Dry / Wet.
As configurações podem ser mais explorada para moldar tonal, mas eu geralmente começam como acima e também desligar todos os elementos de processamento de entrada, rotação, difusão e coro para chegar o mais limpo um som estéreo possível. O som é firme o suficiente com esta abordagem que eu muitas vezes pode usar bastante uma definição de equilíbrio molhado sem perder muito definição para o som.

Esta técnica reverb apertado para stereoizing sons pode produzir um pouco de muddiness low-end no sinal de lado. Por esta razão eu habitualmente adicionar um EQ Eight para cortar um monte dessas frequências problemáticas que Ive feito em meu principal buss de tambor.
Haas com mais controle
A técnica Haas mencionado anteriormente oferece uma maneira rápida e fácil de criar uma sensação de som para uma fonte mono, mas é limitado pelo fato de que atrasa o espectro de frequências de um canal. Como já foi mencionado isso pode criar um efeito pente de filtragem forte quando somados para mono, então eu contornar isso criando uma adaptação do efeito usando Lives Filtre Delay vez.
A primeira vez que desligar o canal LR tão Im esquerda com linhas de atraso independentes esquerda e direita. Em vez de deixar um dos lados em 1 ms para tentar e não têm atraso de um lado, eu não levantar o parâmetro Dry a cheia, por isso o meu sinal original passa inalterado. Então eu posso usar as linhas de atraso de duas das linhas de atraso mais longos até cerca de 50 ms. A vantagem aqui é cada linha de atraso podem ser filtrados com um passe de banda para que um conjunto limitado de freqüências é adiada por lado. Isso minimiza comb-filtragem quando somados para mono.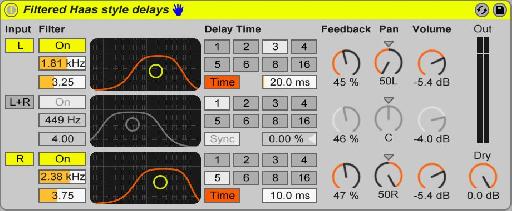 Os filtros passa-banda de permitir que você minimizar o efeito de filtragem de pente criado a partir de um efeito Haas normal quando somadas para mono. Eles também permitem que você se concentrar na nenhum freqüências transitórios de sons percussivos para evitar qualquer efeito flam criada pelos sinais atrasados.
Shifter freqüência da largura
Parece que tenho um forte caso de amor com Lives Frequency Shifter estes dias e uma das razões para isso é o seu interruptor de largura, que inverte o sinal processado no canal direito para a esquerda para um efeito super grande isso é altamente mono compatível.
Ativar Ampla então diminuir ou aumentar o valor da multa para ouvir um efeito phasey estéreo. O processamento realmente começa a reagir quando você alterar o equilíbrio Dry / Wet a gosto.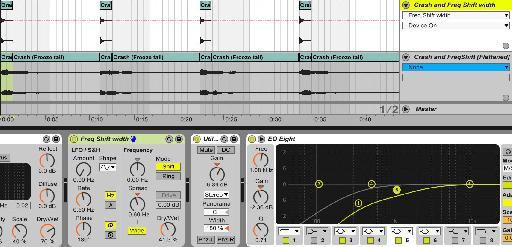 O momento do efeito Shifter frequência não pode ser syncd para TEMPO por isso muitas vezes Congelar e Achate alguns passes para depois editar as melhores peças para o meu trabalho.
Efeitos de modulação
Vidas Chorus, Flanger e Phaser dispositivos são todas as ferramentas brilhantes para criar informações estéreo que também transmitir o seu próprio personagem em seus sons. Acho que a melhor técnica é para sintonizar esses efeitos de trabalhar musicalmente com o som da fonte, explorando o Controlador XY para um ponto doce. Em seguida, defina o / equilíbrio Wet seco para um efeito estéreo que esquentar dominar o personagem do original.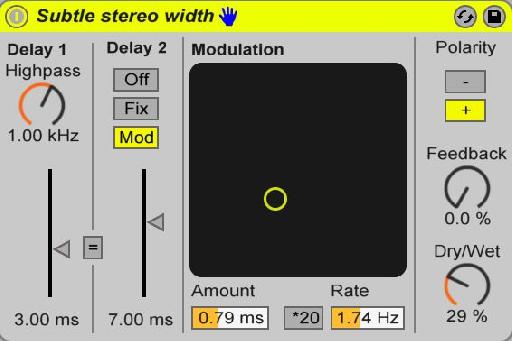 O efeito de modulação mais subtil é coro e ajuda a amaciar levemente o conteúdo de frequência de um som ao mesmo tempo.
Camadas e panorâmica
A menos que uma fonte de som já é estéreo, a maioria das pessoas tendem a assumir a melhor maneira de criar um sinal estéreo é através do processamento. Mas estéreo também pode ser alcançado através de camadas de sons, bem como a abordagem de guitarras rastreados garimpou e duplas na música rock.
Isso pode ser facilmente alcançado através de racks de instrumentos em directo ou por camadas de clipes de áudio ao lado do outro em pistas diferentes. Costumo registro encontrado sons com meu gravador portátil, editar diferente leva a ser sequenciado, ao mesmo tempo e, em seguida, deslocar-los em torno do campo estéreo. Isso cria um som maciço, como as partes jogar em uníssono e porque são feitas a partir de gravações, incluindo o seu próprio ambiente real, eles fornecem um bom contraste com o mais sintético soa a dominar o meu trabalho.

Meu som pad é composta por quatro camadas diferentes de instrumentos que são direcionados para diferentes posições no campo estéreo.
Noise Stereo
Se você for como eu, o abuso comercial do efeito vocoder nos anos 1990 e 2000 vai desanimá-lo de usar Lives dispositivo próprio Vocoder. Mas, este dispositivo é, na verdade, uma ferramenta muito útil para a criação de um sentimento de estéreo através de seu sinal portador de ruído.

O Transportador está definido para Noise por padrão, mas você vai precisar aumentar Bands a 40 e 20 Hz Faixa de 18 kHz para a melhor fidelidade de barulho possível. Explorar Profundidade em valores mais baixos do que 100% e ajustar o parâmetro de lançamento para controlar o quão bem o barulho acompanha a forma do seu som. Em seguida, use Formant para sintonizar a afinação do barulho e atrair para o banco de filtros para remover indesejada bottom-final a partir do sinal e, talvez, um pouco de top-end demais para evitar fragilidade.
Agora a seco / molhado pode ser utilizado para alimentar a menor quantidade deste sinal com o original para um sentido muito original de estéreo. Quando usado com moderação, isso pode dar alguns elementos do mix de uma sensação única de separação de todos os outros sons.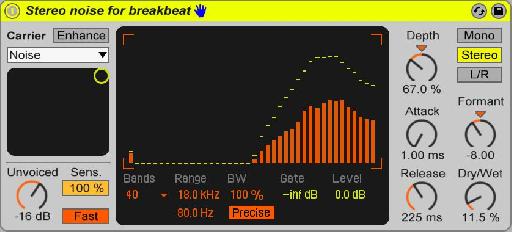 Ive adicionou um pouco menor ruído agudo para complementar a minha pista breakbeat e varreu o controle Formant até a afinação soou musical com a afinação geral do intervalo.
Autopanning
Mora Auto Pan é uma escolha óbvia para a adição de movimento estéreo para um som e seu usado frequentemente para mais lentos, varreduras panning musicais entre os canais esquerdo e direito. Quando eu usar essa abordagem Eu prefiro uma leve sensação de estéreo e sou muito tímida com o parâmetro Valor por isso o efeito pan é menos óbvio para o ouvinte e mantém uma imagem estável no centro da mistura.
Quando o controle da frequência é definida como Hz sobre Sync, os montantes de taxas mais elevadas podem ser usados ​​para introduzir um sabor estéreo de distorção amplitude. Defina a quantidade de bastante elevado e sintonizar a Taxa ao som musical com a fonte, depois de volta fora a quantidade até que a distorção se discretamente por trás do som original.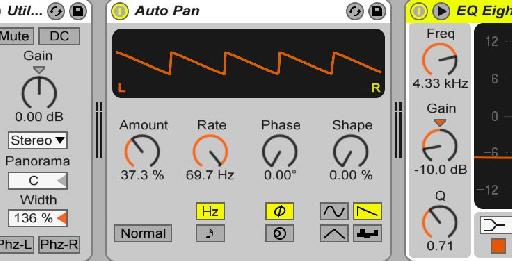 Distorção Amplitude é possível através Lives Auto Pan eo tom de distorção pode ser ainda em forma, explorando as diferentes formas de forma de onda LFO na parte inferior direita do dispositivo.
L / RM / processamento S
Esta ponta final e mais poderosa é o meu favorito, uma vez que lhe permite dividir o seu sinal seja dentro canais esquerdo e direito ou componentes de médio e laterais para depois processar de forma independente. O processamento destes elementos separados é onde a verdadeira criatividade começa quando há nenhuma regra aqui e é uma abordagem fantástica para-design de som.
Para começar, adicione um dispositivo Utility, então Grupo lo a partir do menu Editar. Você precisa então revelar o Show do editor Lista Cadeia para que você possa duplicar a Cadeia existente. Uma corrente é um canal de áudio dentro de um rack e duplicação do primeiro Cadeia cria a canais em paralelo com um dispositivo Utility em cada um.
Para a Esquerda e Direita processamento definir o primeiro modo de utilidades Canal de Esquerda eo segundo para a direita. Em seguida, deslocar as correntes de seus respectivos lados para que os canais são direcionados corretamente na saída Racks.
Para médio e processamento de lado, em vez definir o primeiro utilitys Largura para 0% e os segundos a 200%, respectivamente.

L / R e M processamento / S pode ser altamente experimental e criativo, mas você precisa fazer para manter o equilíbrio de ambos os elementos em cheque. Um balanço L / R desequilibrada só vai criar o equivalente a uma panela para um lado ou para o outro, mas o excesso de sinal lado vai significar um grande pedaço de seu som desaparecerá quando somados para mono.
Listen to the stereo mix:
Listen to the mono mix: