There's plenty of useful tricks for working in Ableton Live which make life feel wonderful! Rory Dow, Ableton expert, explores the ins and outs for transposing clips using a MIDI Controller.
Ableton Live hat allerlei Spaß Tricks auf Lager. Wussten Sie, dass Sie transponieren MIDI-und Audio-Clips in Echtzeit über ein MIDI-Keyboard? Heres how.
Schritt 1 - Richten Sie Ihre MIDI-Controller
Bevor Sie beginnen, stellen Sie sicher, dass MIDI-Keyboard für Remote-Nutzung ist in Lives MIDI-Sync-Einstellungen aktiviert ist.

Hier sehen Sie die 4. Eingang auf dieser Edirol MIDI-Interface aktiviert ist, um als Remote-Gerät verwendet werden.
Schritt 2 - Aktivieren MIDI Map Modus
Sobald der Remote-MIDI-Controller ist enabled, verlassen Sie die Einstellungen, den Kopf zur rechten oberen Ecke des Lives-Schnittstelle, nur auf der linken Seite der CPU Meter und aktivieren Sie die MIDI-Karten-Modus.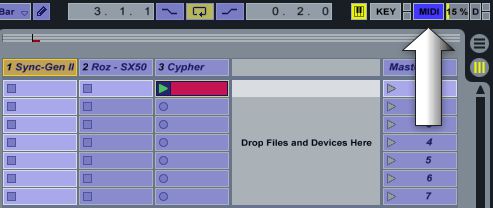 Mit MIDI Map Modus aktiviert ist, können nahezu alle Regel in Live zu MIDI-Befehle zugeordnet werden.
Wenn in MIDI Map Modus, jede Kontrolle, die Sie auf dem Bildschirm berühren, im Mittelpunkt zu werden. Jede Nachricht, die Live-MIDI erhält während eine Steuerung fokussiert wird, wird automatisch auf das Steuerelement zugeordnet ist.
Schritt 3 - Einrichten der Clip
Wählen Sie den MIDI-oder Audio-Clip, den Sie transponieren wollen in der Session-Ansicht. Transponieren Clips über MIDI nicht mit Clips in der Arrangement-Ansicht arbeiten.
Einmal ausgewählt, können Sie einen Schlüssel geben, Live-Bereich, mit denen die Umsetzung des Clips durch. Sie tun dies, indem Sie auf drei Noten auf der Tastatur. Der erste Ton wird der Grundton sein - die Note, mit der Ihr Clip spielt in seiner natürlichen Tonhöhe. Während diese Taste gedrückt halten, drücken Sie die niedrigste und die höchste dann Tasten Sie zur Umsetzung verwenden Sie den Clip. Im Clip selbst, sollten Sie die von Ihnen gemacht.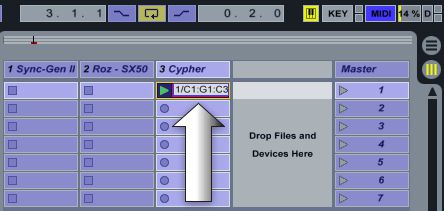 Hier können wir sehen, dass der Clip zwischen dem keyrange C1 bis C3 mit einem Grundton von G1 kartiert.
Schritt 4 - Playing Ihren Clip
Schlagen Sie den MIDI-Karten-Modus noch einmal auf MIDI-Map-Modus zu verlassen. Sie können jetzt mit Ihrem MIDI-Keyboard, in dem Bereich, den Sie gesetzt, um zu spielen und Umsetzung Ihres Clips. Wenn Sie einen Audio-Clip werden, muss der Clip im Warp-Modus für die Umsetzung zu arbeiten.
Es kann sich lohnen Verringerung der Größe des Clips Start Quantisierung Wert sein. Dieser Wert bestimmt, wenn der Clip auf den Markt kommt, und damit umgesetzt. Setzen Sie diesen Wert auf Geschmack.

Die Quantisierungsparameter setzt den Wert, bei dem der Clip gestartet und wird umgesetzt werden.
Schritt 5 - Mehr Spaß
Mein persönlicher Favorit Weg, um diese Funktion nutzen zu können ist Spaß mit MIDI-Clips. Versuchen Sie, die MIDI-Effekt genannt Skala nach Ihren Clip. Dies zwingt den Ausgang dieses MIDI-Spur immer in einer Tonart und Skala Ihrer Wahl sein, auch wenn Sie es umsetzen. Dies kann ein sehr effektiver Weg, um neue Melodien und Akkordfolgen, die Sie sonst nie finden könnte zu entdecken.
Hören Sie die Melodie:
[Audio id = "13601"]
Und dann sehen, wie das Live-Melodie kann, während noch spielt innerhalb seiner ursprünglichen Tonart transponiert werden:
[Audio id = "13602"]
Während seiner nicht etwas, das Sie an einem Tag zu Tag Grundlage tun könnte, zur Umsetzung der Clips ist einer jener nette Tricks, die Inspiration zu feuern und Hilfe bei der Komposition, Live-Performance und Sound-Design können. Transpose weg!