There's plenty of useful tricks for working in Ableton Live which make life feel wonderful! Rory Dow, Ableton expert, explores the ins and outs for transposing clips using a MIDI Controller.
Ableton Live cuenta con toda clase de trucos divertidos en la manga. ¿Sabía usted que usted puede incorporar clips de audio y MIDI en tiempo real utilizando un teclado MIDI? Aquí está cómo hacerlo.
Paso 1 - Crea tu controlador MIDI
Antes de empezar, asegúrese de que el teclado MIDI está habilitado para el uso a distancia en las preferencias de sincronización MIDI vidas.

Aquí puedes ver la entrada de cuarto en esta interfaz MIDI Edirol está habilitado para ser utilizado como un dispositivo remoto.
Paso 2 - Activar el modo MIDI Map
Una vez que el controlador MIDI es activado a distancia, salir de las preferencias, la cabeza a la esquina superior derecha de la interfaz de vida, justo a la izquierda del medidor de la CPU y activar el interruptor de modo MIDI Map.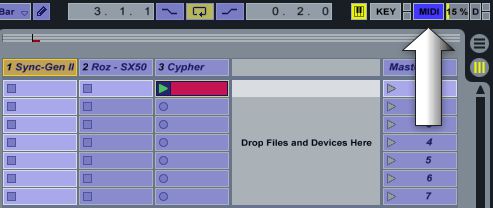 Con el modo MIDI Map habilitado, casi ningún tipo de control en vivo se pueden asignar a los mensajes MIDI.
Cuando en el modo MIDI Map, cualquier control que se toque en la pantalla convertido en el foco. Cualquier mensaje MIDI que recibe en vivo al mismo tiempo un control se centra se asigna automáticamente a ese control.
Paso 3 - Configuración de la pinza
Seleccione el clip de audio o MIDI que desea incorporar en la vista Session. Clips de adaptación a través de MIDI no funciona con clips en la vista Arrangement.
Una vez seleccionado, se puede dar en vivo una serie clave con la que al incorporar el clip. Para ello, pulsando tres notas en el teclado. La primera nota será la nota de la raíz - la nota a la que el clip se reproduce en su tono natural. Al tiempo que mantiene esta tecla retenida, presione las teclas de mayor y menor y que desea utilizar para incorporar el clip. En el clip, usted debe ver las opciones seleccionadas.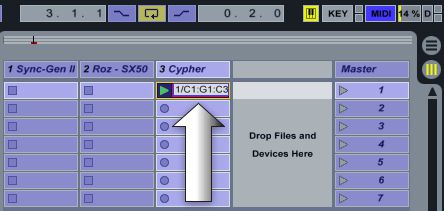 Aquí podemos ver que el clip se asigna entre el C1 a C3 keyrange con una nota de la raíz de G1.
Paso 4 - Reproducción de vídeo
Pulsa el interruptor de modo MIDI Map, una vez más para salir del modo MIDI Map. Ahora puede usar su teclado MIDI, en el rango que establece, para jugar y adaptar su clip. Si está usando un clip de audio, el clip debe estar en modo Warp para la incorporación al trabajo.
Puede ser conveniente reducir el tamaño del valor de cuantización clips de lanzamiento. Este valor determina cuando el clip se pondrá en marcha, y la transposición de este modo. Establezca este valor a gusto.

El parámetro de cuantificación establece el valor en el que se puso en marcha el clip y transpuesta.
Paso 5 - Más diversión
Mi favorito personal manera de utilizar esta característica es la diversión con los clips MIDI. Trate de colocar el efecto llamada MIDI escala después de su clip. Esto obligará a la salida de la pista midi a estar siempre en una clave y la escala de su elección, aun cuando la adaptación del Derecho interno. Esto puede ser una manera muy eficaz para descubrir nuevas melodías y progresiones de acordes que de otro modo nunca podría encontrar.
Escucha esta melodía:
[Audio id = "13601"]
Y luego ver cómo la melodía se puede trasladar en vivo mientras sigue jugando dentro de su llave original y la escala:
[Audio id = "13602"]
Mientras que su no es algo que podría hacer en el día a día, la transposición de los clips es uno de esos truquitos que pueden disparar la inspiración y ayuda con la composición, la interpretación en vivo y el diseño de sonido. La transposición de distancia!