There's plenty of useful tricks for working in Ableton Live which make life feel wonderful! Rory Dow, Ableton expert, explores the ins and outs for transposing clips using a MIDI Controller.
Ableton Live a toutes sortes de trucs amusants dans sa manche. Saviez-vous que vous pouvez transposer MIDI et les clips audio en temps réel en utilisant un clavier MIDI? Voici comment.
Étape 1 - Configurez votre contrôleur MIDI
Avant de commencer, assurez-vous que le clavier MIDI est activé pour une utilisation à distance dans les préférences de vies pour la synchro MIDI.

Ici vous pouvez voir la 4ème entrée sur cette interface Edirol MIDI est activé pour être utilisé comme un périphérique distant.
Étape 2 - Activer le mode MIDI Carte
Une fois le contrôleur MIDI est activé à distance, quitter les Préférences, la tête dans le coin en haut à droite de l'interface des vies, juste à gauche du compteur CPU et permettre le commutateur mode d'affectation MIDI.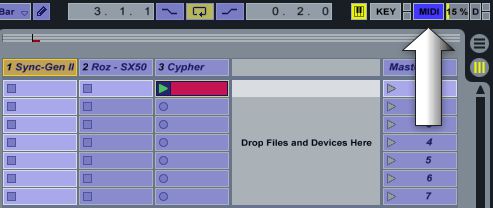 Avec MIDI Carte mode activé, presque aucun contrôle dans Live peuvent être mappées à des messages MIDI.
En cas de MIDI Carte de mode, de tout contrôle que vous touchez l'écran devenu le centre. Tout message MIDI qui reçoit en direct tandis qu'un contrôle est porté est automatiquement associé à ce contrôle.
Étape 3 - Installation du clip
Sélectionnez le clip MIDI ou audio que vous souhaitez transposer dans la fenêtre de session. Clips transposant via MIDI ne fonctionne pas avec les clips dans la fenêtre d'arrangement.
Une fois sélectionné, vous pouvez donner en direct une gamme clé pour transposer le clip en. Pour ce faire, en frappant trois notes sur votre clavier. La première note sera la note fondamentale - la note à laquelle votre clip joue à sa hauteur naturelle. Tout en gardant cette touche lieu, appuyez sur les touches plus bas, puis que vous souhaitez utiliser pour transposer le clip. Dans le clip lui-même, vous devriez voir les choix que vous faites.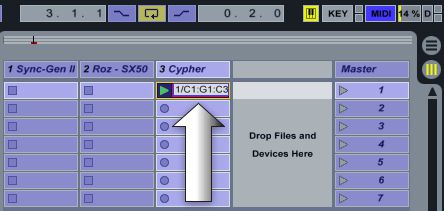 Ici nous pouvons voir que le clip est mappée entre la C1 à C3 keyrange avec une note de base de G1.
Étape 4 - Lecture de votre clip
Appuyez sur l'interrupteur mode d'affectation MIDI une fois de plus pour quitter le mode MIDI. Vous pouvez maintenant utiliser votre clavier MIDI, dans la gamme que vous définissez, à jouer et transposer votre clip. Si vous utilisez un clip audio, le clip doit être en mode Warp pour la transposition de travailler.
Il peut être intéressant de réduire la taille de la valeur des clips quantification de lancement. Cette valeur qui dicte quand le clip sera lancé, et ainsi transposées. Définissez cette valeur à votre goût.

Le paramètre de quantification fixe la valeur à laquelle le clip sera lancé et transposée.
Étape 5 - Plus de plaisir
Ma façon personnelle préférée pour utiliser cette fonctionnalité amusante est avec des clips MIDI. Essayez de placer l'effet MIDI appelé Scale après votre clip. Cela va forcer la sortie de cette piste midi pour être toujours dans une clé et l'échelle de votre choix, même lorsque vous transposer. Cela peut être un moyen très efficace pour découvrir de nouvelles mélodies et progressions d'accords que vous pourriez ne jamais trouver autrement.
Écoutez cette mélodie:
[Audio id = "13601"]
Et puis nous verrons comment cette mélodie peut être transposé en direct tout en continuant à jouer au sein de sa clé d'origine et l'ampleur:
[Audio id = "13602"]
Alors que ce n'est pas quelque chose que vous pourriez faire sur une base de jour en jour, la transposition de clips est l'un de ces astuces intéressantes qui peuvent tirer l'inspiration et l'aide à la composition, performance live et le design sonore. Transposer l'écart!