There's plenty of useful tricks for working in Ableton Live which make life feel wonderful! Rory Dow, Ableton expert, explores the ins and outs for transposing clips using a MIDI Controller.
Ableton Live ha ogni sorta di trucchi divertenti assi nella manica. Lo sapevi che puoi trasporre MIDI e audio clip in tempo reale utilizzando una tastiera MIDI? Heres come.
Fase 1 - Imposta il tuo controller MIDI
Prima di iniziare, assicurarsi che la tastiera MIDI è abilitato per l'utilizzo in remoto Lives preferenze di sincronizzazione MIDI.

Qui potete vedere l'ingresso 4 su questa interfaccia MIDI Edirol è in grado di essere utilizzato come un dispositivo remoto.
Step 2 - Abilitare la modalità MIDI Map
Una volta che il controller MIDI è abilitato Remote, l'uscita delle preferenze, la testa verso l'angolo in alto a destra dell'interfaccia di vita, appena a sinistra del contatore CPU e attivare l'interruttore di modalità MIDI Map.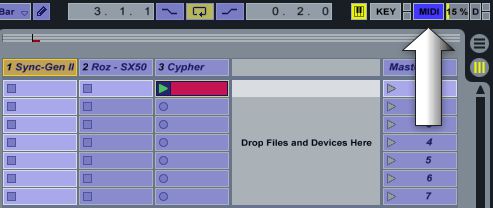 Con la modalità MIDI Map abilitati, quasi qualsiasi controllo in Live possono essere mappati ai messaggi MIDI.
In modalità MIDI Map, qualsiasi controllo si tocca sullo schermo diventano il fulcro. Qualsiasi messaggio MIDI che riceve in diretta, mentre un controllo è focalizzato viene automaticamente associato a tale controllo.
Fase 3 - Impostazione del clip
Selezionare il clip MIDI o audio che si desidera trasporre nella Session View. Clip di recepimento via MIDI non funziona con le clip nella Arrangement View.
Una volta selezionata, si può dare in diretta una serie chiave per recepire la clip. A tale scopo, colpendo tre note sulla tastiera. La prima nota sarà la nota fondamentale - la nota con cui il clip viene riprodotta al suo passo naturale. Mantenendo questo tasto in attesa, premere i tasti più bassi e poi si desidera utilizzare per recepire la clip. Nella stessa clip, si dovrebbe vedere le scelte effettuate.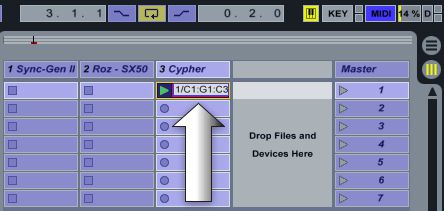 Qui possiamo vedere che la clip è mappato tra il keyrange C1 a C3 con una nota radice di G1.
Fase 4 - Riproduzione clip
Colpite l'interruttore di modalità MIDI Map ancora una volta per uscire dalla modalità MIDI Map. È ora possibile utilizzare la tastiera MIDI, nel range impostato, per giocare e la trasposizione della clip. Se si utilizza un clip audio, la clip deve essere in modalità Warp per il recepimento al lavoro.
Può essere utile ridurre la dimensione del valore di quantizzazione clip di lancio. Questo valore determina quando la clip sarà lanciato, e quindi recepita. Impostare questo valore a piacere.

Il parametro Quantizzazione imposta il valore a cui la clip sarà lanciato e recepito.
Fase 5 - Più divertimento
Il mio personale modo preferito per utilizzare questa caratteristica divertente è con clip MIDI. Provare a mettere l'effetto MIDI chiamato Scala dopo il clip. Questo forzerà l'uscita di quella traccia midi di essere sempre in una chiave e scala di vostra scelta, anche quando la trasposizione. Questo può essere un modo molto efficace per scoprire nuove melodie e progressioni di accordi che non avete mai altrimenti potrebbero trovare.
Ascoltate questa melodia:
[Audio id = "13601"]
E poi vedere come quella melodia può essere trasposta in diretta, mentre continua a suonare nella sua chiave originale e scala:
[Audio id = "13602"]
Anche se la sua non è qualcosa che si potrebbe fare in un giorno per giorno, di recepimento clip è uno di quei trucchetti che possono sparare ispirazione e di aiuto con la composizione, performance live e sound design. Trasposizione via!