There's plenty of useful tricks for working in Ableton Live which make life feel wonderful! Rory Dow, Ableton expert, explores the ins and outs for transposing clips using a MIDI Controller.
Ableton Live tem todos os tipos de truques divertidos na manga. Sabia que você pode transpor MIDI e clipes de áudio em tempo real usando um teclado MIDI? Veja como.
Passo 1 - Configure o seu controlador MIDI
Antes de começar, certifique-se que o teclado MIDI está habilitado para uso remoto em Vidas preferências de sincronização MIDI.

Aqui pode ver a entrada 4a sobre esta interface MIDI Edirol está habilitado para ser usado como um dispositivo remoto.
Etapa 2 - Ativar o Modo MIDI Map
Uma vez que o controlador MIDI é habilitado remoto, sair das preferências, de cabeça para o canto superior direito da interface de Vidas, só para a esquerda do medidor de CPU e permitir que a Chave de Modo MIDI Mapa.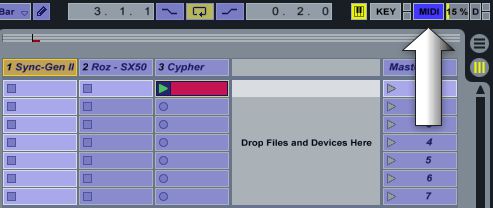 Com MIDI Modo Mapa habilitado, quase qualquer controle no Live pode ser mapeado para mensagens MIDI.
Quando em modo de Mapa MIDI, qualquer controle que você toca na tela se o foco. Qualquer mensagem MIDI que vivo enquanto recebe um controle é focalizado é automaticamente mapeada para esse controle.
Passo 3 - Configurar o Clip
Selecione o clipe MIDI ou de áudio que você deseja transpor na Session View. Clipes de transposição através de MIDI não vai funcionar com os clipes na vista de Arranjo.
Uma vez selecionada, você pode dar ao vivo uma grande chave com a qual a transpor o clipe. Você pode fazer isso por bater três notas no teclado. A primeira nota vai ser a nota tônica - a nota em que seu clipe joga no seu tom natural. Embora mantendo essa tecla realizada, pressione as teclas maiores e menores, então você deseja usar para transpor o clipe. No clipe em si, você deve ver as escolhas que você fez.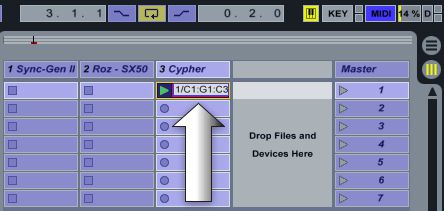 Aqui podemos ver que o clipe é mapeado entre o C1 a C3 keyrange com uma nota raiz do G1.
Passo 4 - Tocando o seu clipe
Bata o interruptor Modo MIDI Mapa, mais uma vez para sair do modo MIDI Mapa. Agora você pode usar o seu teclado MIDI, no intervalo que você definir, para jogar e transpor o seu clipe. Se você estiver usando um clipe de áudio, o clipe deve estar no modo de urdidura para a transposição para o trabalho.
Pode valer a pena reduzir o tamanho do valor Quantization clipes de lançamento. Este valor determina quando o clipe será lançado, e, assim, transposto. Defina esse valor a gosto.

O parâmetro Quantização define o valor em que o clipe será lançado e transposta.
Passo 5 - Mais diversão
Minha maneira favorita para usar esse recurso divertido é com arquivos MIDI. Experimente colocar o Efeito MIDI chamado Escala após seu clipe. Isso vai forçar a saída dessa faixa midi para estar sempre em uma chave e escala de sua escolha, mesmo quando você transpô-la. Esta pode ser uma maneira muito eficaz para descobrir novas melodias e progressões de acordes que você nunca poderiam encontrar.
Ouça a esta melodia:
[Audio id = "13601"]
E depois ver como que a melodia pode ser transposta ao vivo, enquanto ainda jogando dentro de sua chave original e escala:
[Audio id = "13602"]
Enquanto não é algo que você pode fazer no dia-a-dia, transpondo clipes é um daqueles truques que podem disparar inspiração e ajudar com a composição, live performance e design de som. Transposição de distância!