What to do if you want lush, powerful, organic pads, strings, keys and synths in the vein of the much vaunted Korg PS-3200 analog synth? Cluster Sounds' Pathos Live Pack might well be the answer.
We are very proud to present you Pathos, a multi-sample pack for Ableton Live 9 based on the legendary Korg PS-3200, one of the rarest and best sounding synthesizers ever made. Pathos is a lush, powerful and cross-genre collection of organic pads, rich strings, modulated synths and warm keys, a must-to-have for all vintage synth lovers.

Korg PS-3200
The Korg PS-3200 is one of the biggest, rarest and amazing sounding synthesizers ever made. Released in 1978, just few hundreds of units were manufactured during the following four years. It has been used by artists like Hans Zimmer, J.M. Jarre, Emmerson Lake & Palmer, John Miles, Rick Wakeman, Tangerine Dream and by other legendary artists and synthesizer pioneers.

Thanks to its truly polyphonic architecture, the Korg PS-3200 sounds like no other synthesizer. It's a ëtwo oscillator per voice' polysynth that means 48 keys can be played at once and articulated independently of each other. Each of the 96 octave-divided VCOs, 48 (Korg-35) VCFs, 48 VCAs and 48 envelopes, makes its own contribution to the character of the sound. The result is a very musical, rich, warm, deep and unique sound which has been simply described as an orchestra of synthesizers.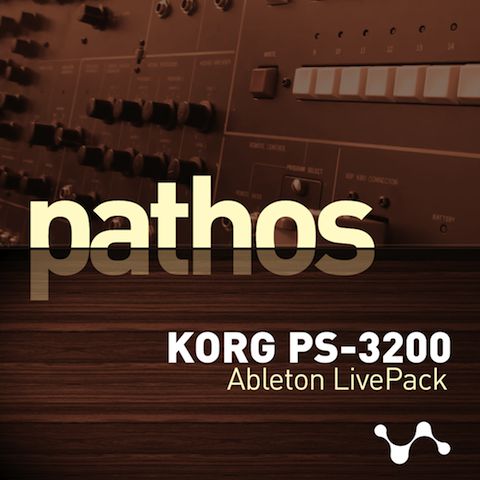 PATHOS
Pathos is based on 27 multi-sample recordings, each of which consists of 18 notes with a length between 9 and 18 seconds, and all the samples have long and perfect loop points. This design criteria has allowed to capture all the nuances and the organic variations of the machine and at the same time to reduce to the minimum any kind of key transposition or sample crossfading artifact. Pathos delivers 135 Live Presets, 120 Sampler Devices, 32 Clips and 7 Audio Effects Racks, including a great sounding simulation of the Korg PS-3200 Ensemble FX.

Specifications:
1.2 Gigabytes

135 Live Presets

120 Sampler Devices

32 Live Clips

7 Audio Effect Racks

27 multi-sample recordings

Perfect loop points (no crossfading)

Sample length between 9-18 sec.

Price : 39 Ä

More info, free samples and MP3 demos : www.clustersound.com