Share and share alike! Whether you're an Ableton, Pro Tools or Logic user, knowing how to export all tracks makes sharing with other easy. G.W. Childs explores the export options in Ableton Live.
Sometimes you really want to share your work with someone else, and maybe even have them contribute to your work. Sometimes that person you want to share with may not have your software, though! With more than a couple of DAWs out there, this is a common occurrence.
There are also situations where you may be using more than one DAW... Like me! I tend to do a lot of my final mixes in Logic, but I tend to do a lot of my creation in Ableton Live. It's not that one is necessarily better than the other, it's just my workflow. Sometimes, I will even ReWire Ableton Live to Logic Pro and work with both applications simultaneously. But, there's one thing that always holds me back: VST/AU Plug-ins!
Y'see, Ableton will happily act as a slave to Logic Pro, under one condition: There may not be any AU or VST plug-ins running in the session. Logic Pro will still sync with Ableton Live, but it will disable all of your AU/VST tracks within your song. This is especially problematic if you are using a bunch of soft synths, etc.
Now, it is possible to freeze everything in Logic, but Freezing still takes time! Why not just export some stems, then finish it all up in Logic Pro?
The terms stems refers to multiple tracks that you're rendering at one time. Ableton actually has a very simple way of doing this, let's go through it now!
Step 1 - Label Everything!
Before exporting multiple audio tracks, it's a good idea to label them all. This way the project is semi-organized when you import your rendered stems in to another DAW. Granted, Ableton is clip-based, for the most part. Ableton doesn't actually export the clips themselves. It exports multiple audio tracks! And, it labels the audio tracks based on what the actual track names are, not the clip names.

So, in this instance Command-R is your friend. Select each track name and re-label to a name that really fits what that tracks are doing/playing. Later on, when you go to export, you will see these tracks neatly arrayed in the export list. We'll get to that in a sec.
Step 2 - Arrange... Even When You Aren't Sure
One of the biggest benefits of Ableton is its Session view that allows you to play various Scenes and Clips in any particular order. And, it's true, you can render audio from the Session view. In this mode, you just specify that amount of time out of the current selection you would like to have rendered.
Personally, I tend to prefer to render in the Arrangement View. In this mode you can either drag-select the area that you would like to render...

Or, you can use the loop selection range to choose what area of the song (if not the whole song) you'd like to render...

The only thing with this mode is that you need something in the arrangement! A lot of time I will simply record a very simple, fun arrangement that will probably get rearranged once it's all in Logic, etc. The main thing is that I have all the sounds!
Step 3 - Export
Command-Shift-R is a really good command to get to know. Once you're ready to throw it all in to audio, and you've highlighted your arrangement, or set up your loop range, press this magical command sequence. This box will appear.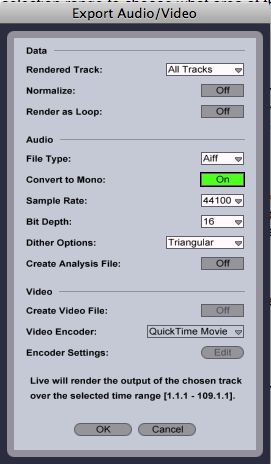 Make sure the bottom section of the box indicates the right time range...

Then indicate if you want to render in stereo, or mono. For stems, or separated tracks, mono is a great way to go. But, if you have stereo loops in your arrangement, you may want to go back and render those separately.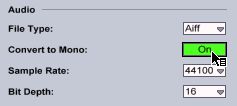 Finally, select the All Tracks option if like me, you want the whole song in separated audio files.

REMEMBER: When Live asks you where you want to save the '˜audio file', it actually means '˜audio files'. I would highly recommend making a new folder to save in to. Once complete, simply import the audio files in to the Logic Pro session, and get ready to have fun...No freezing necessary, and all of those lovely Logic synths, effects, etc. will be there waiting for you...Or, Pro Tools, Cubase, etc.