Elektron's Machinedrum is about to be superseded by Analog Rytm, but fret not. Noah Pred sampled the original and painstakingly made a Drum Rack out of them. Live 9 users download these FREE here.
Requirements: Live 9; 1 GB free disk space.

Installation: Unzip archive and double-click the resulting Ableton Live Pack, or simply drag it into Live.
Recently, Sweden's acclaimed Elektron announced the latest update to their flagship Machinedrum line: the Analog Rytm. Looking back, I thought this would be a good time to share a collection of drum samples I recorded from the original Machinedrum a few years ago. I've organized them into a Drum Rack for Ableton Live users, comprised of 16 pads in total.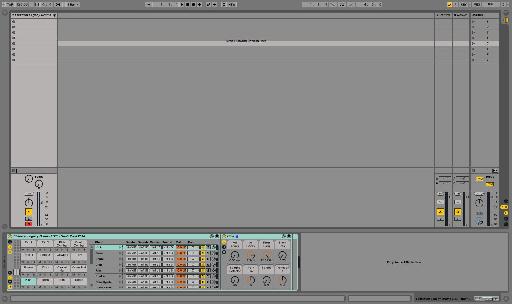 Each pad contains an Instrument Rack with a Simpler in multi-sample mode. Originally created using Sampler'"but converted down to Simpler so everyone can use the Drum Rack regardless of what Live 9 license they might have'"each Drum Rack pad contains 128 samples.
These samples can be scrolled through in real time via each individual pad's Instrument Rack Sample Selector macro dial, allowing you to find the right sound in the context of your rhythms'"or even generate dynamic patterns by automating the sample selection. Attack, Decay, Filter Cutoff, Filter Resonance, Filter Envelope, Transposition, and Spread are also mapped to macro dials for each individual pad.
In addition, the rack contains four return effects: a Room Reverb, a Hall Reverb, a tempo-synced Ping Pong Delay, and a short, un-synced Simple Delay.
In total, the rack includes 805 MB of more than 2000 24-bit samples, including:
· 256 percussion sounds

· 256 effect noises
· 128 kick drum sounds

· 128 rim shot sounds

· 128 snare sounds

· 128 clap sounds

· 128 shaker sounds

· 128 bass sounds
· 128 closed hat sounds

· 128 open hat sounds

· 128 cowbell sounds

· 128 tom sounds

· 128 ride cymbal sounds

· 128 crash cymbal sounds
Bear in mind, with the extreme synthesis capabilities of the Elektron Machinedrum, wild sounds abound in this library'"and some only bear a vague resemblance to their title; for example, some of the 'kicks' sound like snarling bass drops, while the occasional 'closed hi hat' may sound more like a pitch-modulated cymbal or a filtered click. That said, variety is, after all, the spice of life'"and if you're looking for fresh electronic drum machine sounds, this Elektron Legacy Drum Rack should do the trick.
[survey id=1]