Gates are the perfect plug-in to remove noise and unwanted signal from our audio but if your gate plug-in supports side chaining you might be able to use it for a whole lot more. By feeding a percussi
بوابات هي الكمال في المكونات لإزالة الضجيج وغير المرغوب فيها من إشارة صوتية لدينا ولكن إذا كان لديك بوابة المكونات في تسلسل تؤيد الجانب الذي قد يكون قادرا على استخدامها لفي مجموعها أكثر بكثير.
By feeding a percussion pattern or drum loop into your gate you can transform any sound fed through it into it's own rhythmical pattern. Let's take a look at this simple but effective technique in Ableton Live.

الخطوة 1 -- تحميل ما يصل الصوت الأولية
أولا علينا أن نركز على الصوت نريد أن نعالج اعتبارا بوابتنا. أجد أن هذا يميل للعمل بشكل جيد جدا على الأصوات مستمرة. طرقي طعنات قصيرة جدا أو متواليات
في هذه الحالة قد ذهبت لسلسلة عينة موالفة مقرها ، والذي أعتقد أنه يجب العمل بشكل جيد جدا. كما ذكرت في مقدمة أنا باستخدام ابلتون يعيشون هنا ولكن بالطبع يمكنك استخدام أي شعبة النهوض بالمرأة الذي يحتوي على بوابة سد في وقدرات سلسلة جانبية.
الصوت : نموذج سلسلة أخطط لعلاج :
[الصوت معرف = "2191"]
الخطوة 2 -- إضافة باب في بلج
أنا القادم تحميل مباشر بوابة الاسهم في المكونات. في اللحظة يجب أن يكون لها أي تأثير ، مع عتبة جاكيد على طول الطريق إلى الأعلى يجب أن تكون قادرا على سماع الصوت مع صفر التجهيز.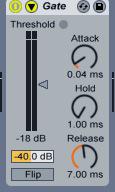 يضاف البوابة ابلتون
الخطوة 3 -- إضافة الصوت الزناد
الآن نحن بحاجة لدينا الصوت الزناد. ومجرد عن أي نمط الأخدود طرقي على القيام به هنا. من الواضح أن هذا سيكون أساسا من النمط الخاص مسور ، بحيث تنتقي ما تشاء! يمكنك استخدام إما طبل أو حلقة قرع ، أو هل يمكن أن برنامج الواقع جزء MIDI.
سوف تعطيك هذه الأخيرة نمطا بوابة مخصصة تماما ولكن في هذه الحالة ولقد استخدمت حلقة لابقاء الامور بسيطة.
الصوت : حلقة سوف تستخدم وعلى الزناد :
[الصوت معرف = "2193"]
الخطوة 4 -- إعداد سلسلة جانبية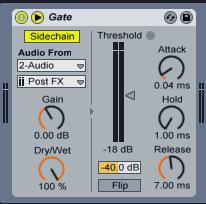 يتم فتح البوابة للكشف عن وظائف سلسلة جانبية.
الآن الحصول على اقتحام البوابة المكونات في وفتح لوحة مخفية. يتم ذلك عن طريق ضرب رمز السهم الصغير في الجزء العلوي الأيسر من واجهة البوابة ل. يجب أن تشاهد الآن ضوابط للجانب ميزة السلسلة.
تفعيل سلسلة الجانب واختيار قناة سمعية كنت قد وضعت للتو على الزناد الصوت كمصدر. مع استكمال هذه الخطوات ، يتم تعيين بنجاح سلسلة الجانب الخاص تصل.
الخطوة 5 -- ضبط البوابة وإضافة لمسة نهائية
ننتقل الآن للسيطرة على عتبة الباب حتى أدرك قمم الصوت المشغل الخاص بك. يجب أن تبدأ لسماع بوابتك تتفاعل مع الصوت. عند هذه النقطة يمكنك صقل الهجوم وضبط الافراج عنهم. أجد هجوم سريع ، مع عدم وجود عقد وبيان المعتدل هو نقطة انطلاق جيدة.
ذات مرة كنت راضيا عن التأثير الذي يمكن إضافة بعض اللمسات النهائية ، وأجد دائما أنه خط تأخير خفية تعمل بشكل جيد جدا. لسماع هذا العمل بوضوح قد ترغب في إيقاف أو كتم الصوت الزناد.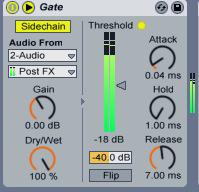 بوابة الإعداد النهائي في العمل.
الصوت : بوابة وتؤدي في هذا المزيج :
[الصوت معرف = "2196"]
الصوت : سلسلة بوابات في عزلة مع بعض التأخير :
[الصوت معرف = "2197"]
تريد معرفة مزيد من النصائح ابلتون an الحيل؟ انقر أدناه لمعرفة كيفية القيام بذلك :