Gates are the perfect plug-in to remove noise and unwanted signal from our audio but if your gate plug-in supports side chaining you might be able to use it for a whole lot more. By feeding a percussi
Tore sind das perfekte Plug-In für Lärm und unerwünschte Signal von unserem Audio entfernen, aber wenn Ihr Tor-Plug-in unterstützt Side Chaining Sie könnten, um es für eine ganze Menge mehr zu verwenden.
By feeding a percussion pattern or drum loop into your gate you can transform any sound fed through it into it's own rhythmical pattern. Let's take a look at this simple but effective technique in Ableton Live.

Schritt 1 - Laden Up Your Anlaut
First up müssen wir uns auf den Sound, den wir wollen mit unseren Gate-Effekt zu behandeln konzentrieren. Ich finde, dass diese sehr gut zu funktionieren auf anhaltende Töne tendiert. So kurze perkussive ersticht oder Sequenzen
In diesem Fall habe ich für einen Synth basiert String Probe, die ich denke, sollte eigentlich ziemlich gut zu funktionieren gegangen. Wie ich bereits erwähnt in der Einleitung Ich bin mit Ableton hier leben, aber natürlich können Sie jede DAW, dass ein Tor Plug-in und Seitenkette Fähigkeiten verfügt.
Audio: Der String Probe I Plan zu behandeln:
[Audio-id = "2191"]
Schritt 2 - das Tor Plug-in
Weiter habe ich geladen Live-Aktie Tor-Plug-in. Auf die Minute sollte es keinen Effekt haben, mit der Schwelle aufgebockt den ganzen Weg nach oben können Sie Ihren Sound mit Null Verarbeitung hören sollte.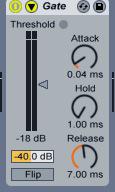 Die Ableton Tor hinzugefügt
Schritt 3 - Hinzufügen des Trigger-Ton
Jetzt müssen wir unsere Trigger-Sound. So gut wie jeder perkussiven Groove basiert Muster wird hier tun. Offensichtlich wird die Grundlage für Ihren gated Muster sein, so nehmen etwas, was Sie wollen! Sie können entweder eine Trommel oder ein Percussion-Loop, oder man könnte tatsächlich Programm einen MIDI-Part.
Letzteres wird Ihnen eine komplett eigene Tor Muster, aber in diesem Fall habe ich eine Schleife verwendet, um die Dinge einfach halten.
Audio: Die Schleife I als Auslöser verwenden werden:
[Audio-id = "2193"]
Schritt 4 - Einrichten des Side Chain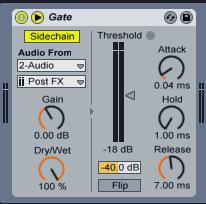 Das Tor wird geöffnet, um die Seitenkette Funktionen zu enthüllen.
Jetzt in das Tor-Plug-in erhalten und eröffnen die versteckten Panel. Dies wird durch Schlagen auf den kleinen Pfeil-Symbol in der Spitze des Tores Schnittstelle links getan. Sie sollten jetzt die Bedienelemente für die Seitenkette Funktion.
Aktivieren Sie die Seitenkette, und wählen Sie den Audio-Kanal, den Sie gerade platziert Ihre Trigger-Sound auf die Quelle. Mit Abschluss dieser Schritte ist Ihre Seitenkette erfolgreich eingerichtet.
Schritt 5 - Fine Tuning des Tores und Hinzufügen eines Final Touch
Bewegen Sie nun das Tor der Schwelle Kontrolle, bis er die Spitzen der Auslöser Audio Fänge. Sie sollten beginnen zu hören, Ihr Tor mit dem Klang zu reagieren. An dieser Stelle können Sie eine Feinabstimmung der Attack-und Release-Einstellungen. Ich finde einen schnellen Angriff, ohne Halt und eine moderate Version ist ein guter Ausgangspunkt.
Sobald Sie zufrieden mit dem Effekt, den Sie einige letzte Schliff kann, finde ich immer, dass eine subtile Delay Line sehr gut funktioniert. Um zu hören, dieser Arbeitsgruppe klar möchten Sie vielleicht ein-oder auszuschalten mute den Trigger-Audio.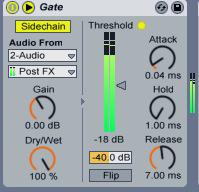 Die letzte Hürde Einstellung in Aktion.
Audio: Das Tor-und Trigger in der Mischung:
[Audio-id = "2196"]
Audio: Die gated string in Isolation mit einiger Verzögerung:
[Audio-id = "2197"]
Möchten Sie erfahren mehr Ableton Tips Ein Tricks? Klicken Sie unten, um zu sehen, wie: