Gates are the perfect plug-in to remove noise and unwanted signal from our audio but if your gate plug-in supports side chaining you might be able to use it for a whole lot more. By feeding a percussi
Las puertas son el perfecto complemento para eliminar la señal de ruido y no deseados de nuestro audio, pero si la puerta de plug-in compatible con el encadenamiento de lado que podría ser capaz de usarlo para mucho más.
By feeding a percussion pattern or drum loop into your gate you can transform any sound fed through it into it's own rhythmical pattern. Let's take a look at this simple but effective technique in Ableton Live.

Paso 1 - Carga de su sonido inicial
En primer lugar tenemos que concentrarnos en el sonido que queremos tratar con nuestros efecto de puerta. Me parece que esto tiende a funcionar muy bien en sonidos sostenidos. Tan corto puñaladas percusión o secuencias
En este caso, he ido a una muestra de sintetizador basado en cadena, que creo que debería funcionar bastante bien. Como mencioné en la introducción que estoy usando Ableton Live aquí, pero por supuesto se puede utilizar cualquier aplicación de audio que tiene una puerta de plug-in y las capacidades de la cadena lateral.
Audio: La muestra de cadena tengo la intención de tratar:
[Audio id = "2191"]
Paso 2 - Añadir la Puerta de Plug-in
La próxima puerta de carga en vivo de las acciones de plug-in. En el momento en que no debe tener efecto, con el umbral jacked todo el camino hasta la parte superior debe ser capaz de oír el sonido con cero de procesamiento.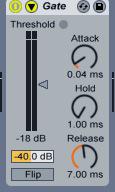 La puerta de Ableton se añade
Paso 3 - Agregar el sonido de disparo
Ahora tenemos nuestro sonido del disparador. Casi cualquier modelo basado en la ranura de percusión va a hacer aquí. Obviamente, esto será la base de su modelo cerrado, así que escoja algo que te gusta! También se puede usar un tambor o loop de percusión, o en realidad se podría programar una parte MIDI.
Este último le dará una pauta puerta completamente personalizado, pero en este caso he utilizado un bucle para mantener las cosas simples.
Audio: El bucle voy a usar como disparador:
[Audio id = "2193"]
Paso 4 - Configuración de la cadena lateral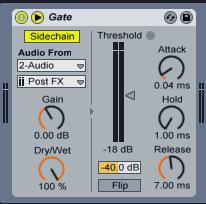 La puerta se abre para revelar las funciones de cadena lateral.
Ahora entrar en la puerta de plug-in y abrir el panel oculto. Esto se hace pulsando el icono de la flecha pequeña en la parte superior izquierda de la interfaz de la puerta. Ahora debería ver los controles de la función de cadena lateral.
Activar la cadena lateral y seleccione el canal de audio que acaba de colocar el sonido de disparo en la fuente. Con estos pasos completados, su cadena lateral está configurado correctamente.
Paso 5 - Ajuste fino de la puerta y que añade un toque final
Ahora mueva el control de la puerta de entrada hasta que las capturas de los picos de audio gatillo. Usted debe comenzar a oír la puerta de reaccionar con el sonido. En este punto usted puede ajustar el ataque y la configuración de lanzamiento. Me parece un ataque rápido, sin espera y una liberación moderada es un buen punto de partida.
Una vez que estés satisfecho con el efecto que puede añadir los toques finales, siempre encuentro que una línea de retardo sutil funciona muy bien. Para escuchar este trabajo claramente es posible que desee desactivar o silenciar el sonido del disparador.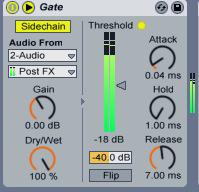 El ajuste de la puerta final de la acción.
Audio: La puerta y el gatillo en la mezcla:
[Audio id = "2196"]
Audio: La cadena cerrada en forma aislada con algo de retraso:
[Audio id = "2197"]
¿Quieres saber más consejos Ableton un trucos? Haga clic abajo para ver cómo: