Gates are the perfect plug-in to remove noise and unwanted signal from our audio but if your gate plug-in supports side chaining you might be able to use it for a whole lot more. By feeding a percussi
Gates sont le parfait plug-in pour enlever signal de bruit et indésirables de notre son, mais si votre porte de plug-in supporte le chaînage côté, vous pourriez être en mesure de l'utiliser pour un ensemble beaucoup plus.
By feeding a percussion pattern or drum loop into your gate you can transform any sound fed through it into it's own rhythmical pattern. Let's take a look at this simple but effective technique in Ableton Live.

Étape 1 - Charger votre son initiale
Première place nous devons nous concentrer sur le son que nous voulons traiter avec notre effet barrière. Je trouve que cela a tendance à travailler très bien sur les sons soutenus. Alors poignarde percussion courts ou des séquences
Dans ce cas, je suis allé pour un échantillon de cordes synthé base, ce qui je pense devrait fonctionner assez bien. Comme je l'ai mentionné dans l'intro j'utilise Ableton Live ici, mais bien sûr vous pouvez utiliser n'importe quel DAW qui a une porte de plug-in et les capacités de la chaîne latérale.
Audio: L'échantillon cordes j'ai l'intention de traiter:
[Audio id = "2191"]
Étape 2 - Ajout de la Porte de Plug-in
Ensuite, j'ai chargé la porte Live stock plug-in. A la minute où il devrait avoir aucun effet, le seuil de cric tout le chemin vers le haut, vous devriez être capable d'entendre votre son avec zéro traitement.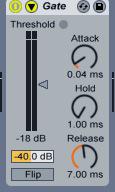 La porte d'Ableton est ajouté
Étape 3 - Ajout du son déclenchement
Maintenant, nous devons notre son déclenchement. Juste au sujet de n'importe quel modèle groove percussif basée ferons ici. Évidemment ce sera la base de votre modèle de gated, alors choisissez quelque chose que vous voulez! Vous pouvez soit utiliser un tambour ou d'une boucle de percussions, ou vous pourriez réellement une partie du programme MIDI.
Ce dernier vous donnera un motif de grille entièrement personnalisé mais dans ce cas, j'ai utilisé une boucle pour garder les choses simples.
Audio: La boucle je vais utiliser comme déclencheur:
[Audio id = "2193"]
Étape 4 - Configuration de la chaîne latérale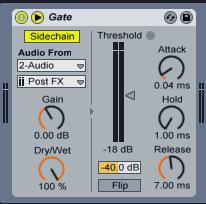 La porte est ouverte pour révéler les fonctions de la chaîne latérale.
Maintenant entrer dans la porte de plug-in et d'ouvrir le panneau masqué. Ceci est fait en frappant la petite icône de flèche en haut à gauche de l'interface du portail. Vous devriez maintenant voir les contrôles pour la fonction de chaîne latérale.
Activer la chaîne latérale et choisissez le canal audio que vous venez de placer votre son de déclenchement sur la source. Avec ces étapes terminées, votre chaîne latérale est correctement configuré.
Étape 5 - Fine Tuning la porte et en ajoutant une touche finale
Maintenant, déplacez le contrôle du seuil de la porte jusqu'à ce qu'elle attrape les sommets de vos fichiers audio de déclenchement. Vous devriez commencer à entendre votre porte réagir avec le son. À ce stade, vous pouvez affiner l'attaque et les paramètres de sortie. Je trouve une attaque rapide, sans attente et une libération modérée est un bon point de départ.
Une fois que vous êtes heureux avec l'effet que vous pouvez ajouter quelques touches finales, je trouve toujours que une ligne de retard subtile fonctionne très bien. Pour entendre ce travail bien vous pouvez désactiver ou couper le son déclenchement.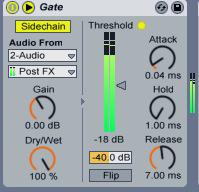 Le réglage de la porte finale dans l'action.
Audio: La porte et déclencher dans le mélange:
[Audio id = "2196"]
Audio: La chaîne fermée en vase clos avec un certain retard:
[Audio id = "2197"]
Voulez-vous apprendre des trucs plus Ableton une astuces? Cliquez ci-dessous pour voir comment faire: