Gates are the perfect plug-in to remove noise and unwanted signal from our audio but if your gate plug-in supports side chaining you might be able to use it for a whole lot more. By feeding a percussi
Gates è il perfetto plug-in per rimuovere il segnale rumore indesiderato e dal nostro audio, ma se il tuo cancello plug-in supporta concatenamento lato si potrebbe essere in grado di usarlo per un bel po 'di più.
By feeding a percussion pattern or drum loop into your gate you can transform any sound fed through it into it's own rhythmical pattern. Let's take a look at this simple but effective technique in Ableton Live.

Fase 1 - Caricamento Up Your suono iniziale
In primo luogo fino dobbiamo concentrarci sul suono che vogliamo trattare con il nostro effetto cancello. Trovo che questo tende a lavorare molto bene sui suoni sostenuti. Pugnala percussivo così breve o sequenze
In questo caso sono andato per un campione basato stringa di synth, e credo che dovrebbe funzionare abbastanza bene. Come ho già detto nell'introduzione che sto usando Ableton Live qui, ma naturalmente è possibile utilizzare qualsiasi DAW che ha un cancello plug-in e le capacità catena laterale.
Audio: il campione stringa ho intenzione di trattare:
[Audio id = "2191"]
Fase 2 - Aggiunta la Porta di plug-in
Poi ho caricato cancello disponibilità in tempo reale di plug-in. Al minuto dovrebbe avere alcun effetto, con la soglia jacked tutta la strada verso l'alto si dovrebbe essere in grado di sentire il suono con zero elaborazione.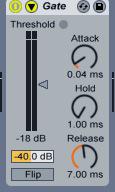 Il cancello Ableton viene aggiunto
Fase 3 - Aggiunta di Sound trigger
Ora abbiamo bisogno del nostro suono grilletto. Quasi ogni modello solco percussione basato farà qui. Ovviamente questo sarà la base del vostro modello recintato, in modo da scegliere qualcosa che ti piace! È possibile utilizzare un tamburo o loop percussioni, oppure si potrebbe effettivamente programma una parte MIDI.
Quest'ultimo vi darà un modello di cancello completamente personalizzato ma in questo caso ho usato un ciclo per mantenere le cose semplici.
Audio: Il ciclo userò come trigger:
[Audio id = "2193"]
Fase 4 - Impostazione della catena laterale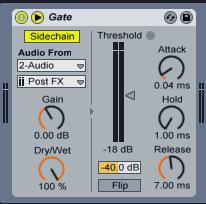 Il cancello si apre per rivelare le funzioni lato catena.
Ora entrare nel cancello plug-in e aprire il pannello nascosto. Questo viene fatto premendo l'icona piccola freccia in alto a sinistra dell'interfaccia del cancello. Ora dovreste vedere i comandi per la funzione di catena laterale.
Attivare la catena laterale e scegliere il canale audio che avete appena inserito il vostro suono trigger come origine. Con questi passaggi completati, la catena laterale è installato correttamente.
Fase 5 - Fine Tuning Porta e aggiungendo un tocco finale
Ora spostare il controllo della soglia del cancello fino a che cattura i picchi del vostro audio grilletto. Si dovrebbe iniziare a sentire la tua cancello reagire con il suono. A questo punto si può sintonizzare l'attacco e le impostazioni di rilascio. Trovo un attacco veloce, senza attesa e una versione moderata è un buon punto di partenza.
Una volta che sei felice con l'effetto che si può aggiungere qualche tocco finale, trovo sempre che una sottile linea di ritardo funziona molto bene. Per ascoltare questo lavoro in modo chiaro si potrebbe desiderare di disattivare o disattivare l'audio grilletto.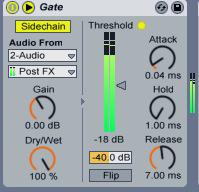 L'impostazione cancello finale in azione.
Audio: La porta e innescare nel mix:
[Audio id = "2196"]
Audio: La stringa gated in isolamento con un certo ritardo:
[Audio id = "2197"]
Vuoi saperne di suggerimenti Ableton più un trucco? Clicca qui sotto per vedere come: