Gates are the perfect plug-in to remove noise and unwanted signal from our audio but if your gate plug-in supports side chaining you might be able to use it for a whole lot more. By feeding a percussi
Ворота идеальный плагин для удаления шумов и нежелательных сигнал от наших аудио, но если ваш ворот Плагин поддерживает стороне цепочки вы могли бы использовать его для многое другое.
By feeding a percussion pattern or drum loop into your gate you can transform any sound fed through it into it's own rhythmical pattern. Let's take a look at this simple but effective technique in Ableton Live.

Шаг 1 - Загрузка Up Your начальный звук
Сначала мы должны сосредоточить внимание на звук, который мы хотим относиться к нашим воротам эффект. Я считаю, что это, как правило, работают очень хорошо на устойчивый звуки. Так короткие ударные удары или последовательности
В этом случае я пошел на синтезаторе выборка строки, которые я думаю, должны работать очень приятно. Как я уже упоминал во введении, я использую Ableton Live здесь, но, конечно, вы можете использовать любой DAW, которая ворот плагина и возможности боковой цепи.
Аудио: образец строки я планирую для лечения:
[Аудио ID = "2191"]
Шаг 2 - Добавление ворота Плагин
Затем я загружен запас ворота Live, подключаемый модуль. На минуту она должна иметь никакого эффекта, с порога измученный все пути к вершине вы должны быть в состоянии услышать ваш звук с нулевой обработки.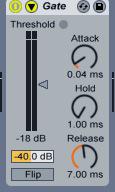 Ворота Ableton добавляется
Шаг 3 - Добавление триггера звука
Теперь нам нужно вызвать нашего звука. Практически любой ударный паз шаблон на основе будут делать здесь. Очевидно, что это будет основа вашего закрытого шаблону, поэтому выбирайте то, что вам нравится! Вы можете использовать ударных или перкуссионных цикла, или вы могли бы на самом деле программа MIDI-части.
Последняя даст вам полностью настраиваемой ворот шаблон, но и в этом случае я использую цикл, чтобы сохранить простоту.
Аудио: петля я буду использовать в качестве триггера:
[Аудио ID = "2193"]
Шаг 4 - Настройка боковой цепи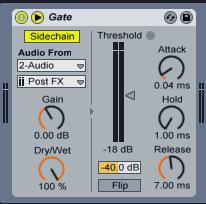 Ворота открылись, чтобы выявить функции боковой цепи.
Теперь попасть в ворота плагин и открыть скрытые панели. Это можно сделать, нажав на значок стрелки в верхнем левом углу интерфейса ворот. Теперь вы должны увидеть контроль за функцией боковой цепью.
Активировать боковой цепи и выбрать аудио канал, который вы просто разместили свой вызвать звук в качестве источника. С этими шагами завершен, ваш боковой цепи успешно создана.
Шаг 5 - Тонкая настройка ворот и Добавление Final Touch
Теперь переместите регулировка порога ворот, пока он не ловит пики триггера аудио. Вы должны начать услышать ваши ворота вступают в реакцию с звуком. На этом этапе вы можете настроить атаки и восстановления настроек. Я считаю, быстрые атаки, не держать и умеренной релиз хорошей отправной точкой.
После того как вы будете довольны эффект, который вы можете добавить последние штрихи, я всегда нахожу, что тонкие линии задержки работает очень хорошо. Чтобы услышать эту рабочую четко вы можете выключить или отключить звук запуска аудио.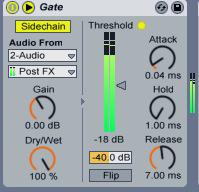 Окончательный установка ворот в действии.
Аудио: ворота и триггер в смеси:
[Аудио ID = "2196"]
Аудио: закрытый строку в изоляции с некоторым опозданием:
[Аудио ID = "2197"]
Хотите узнать больше советов Ableton трюки? Нажмите ниже, чтобы увидеть, как: