Double Agent from Mooji is a truly eclectic album with multiple musical styles that still feels like a whole body of work. We talk with Mooji (you may know him as Kramnik) about producing and more.
After the hugely successful and critically acclaimed release of Dark Matters as Kramnik, the producer and DJ now known as Mooji, relocated to Berlin and honed his songwriting, improvisation and live instrumentation skills. Over the course of two years working on his new album, Double Agent, Mooji traveled the world. But that didn't stop him from working on music. On the contrary, it infused the recording and production with unique qualities and experiences from the different countries he visited.
We talked to Mooji about Double Agent and this earthy, organic sounding record, Double Agent, as well as his tech setup and collaborations.
AskAudio: Tell us about your musical background. How did you get started producing and DJing?
Mooji: Growing up I listened to a lot of classic rock, and I played the drums in several school bands in the US. When I moved back to Spain I joined Sony Music, working with some of the biggest names in the industry (Foo Fighters, Garbage, Christina Aguilera, etc.). Being a music lover, though, I left the label and started promoting big DJ events at a famous art-deco palace in my hometown of Madrid. So my techno persona Kramnik was born out of watching the best DJs in action. Electronic music was a big inspiration for a long time, and from there I started producing my own stuff—my album, Dark Matters. But these days, I listen mostly to acid-jazz, ska, blues, downtempo, etc. That's what happens with old age!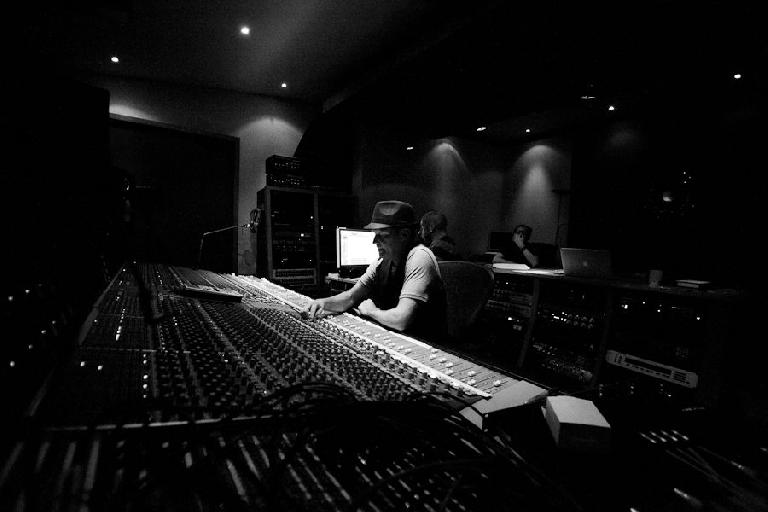 I wanted to make something beyond the dancefloor, something that could be shared with friends.
Ask: Many people know you as Kramnik. What drove you to start a new project/new sound under the name, Mooji?
Mooji: When I was younger, I had the dream of making an album-mix, but I think this was a bit too challenging for a debut album... Making Dark Matters with no production skills was not very easy, to say the least (which I released as Kramnik). I just had to learn as I went along, even though some of the early songs ended up later in the tracklist. But because 'Dark Matters' was designed as a mix, the tracks were made for DJs as opposed to the general music consumer, plus it was very dark and experimental.
So this time, instead of another electronic album, I wanted to make something beyond the dancefloor, something that could be shared with friends. The result is a more chilled, listening album, but touching on different genres—so chilled, in fact, that I've had to release it under a brand new name, Mooji. I was looking for shorter, more organic songs, but also with live instruments including me on drums. I also introduce human voices in this album, which was lacking in Dark Matters.
Ask: Your debut album, Double Agent, has a very experimental feel to it. How did traveling while making the album affect the sounds you found and the end production sound?
Mooji: For the most part, Double Agent came to life in Berlin, but also during my travels to Morocco, Vietnam, Cambodia, and Thailand. I moved to Berlin after Dark Matters because I wanted to approach this album with a different mindset and environment. But for 'How Long', for example, I came across a Leadbelly ballad from 1935 during my time in Cambodia. 'Dont', on the other hand, was written in Phuket. The idea was to try a completely different style of music in different environments. I also hired some studio musicians to play the guitar, trumpet solos, harmonicas, etc. But, for the most part, Double Agent is a one-man show, but with more improvisation than Dark Matters.
Watch Medley by Mooji:
Ask: Tell us about your traveling setup? Software, hardware, DAW...
Mooji: I use two mini Genelec monitors (the 810s), a tiny sound card, and the rest is all software. The only synth I think you absolutely need to replace with hardware is the bass. But for the rest, I think software can do the job in most cases. Then I work between Logic Pro and Ableton Live, as a way of keeping samples tidy and away from the main project. I also use the VRM interface, by Focusrite, to simulate a real studio. This amazing piece of kit makes the transition to the studio virtually unnoticeable. It's really amazing what this gadget can do. As far as software is concerned, I use NI Komplete, the Arturia Collection, Trilian, Stylus, Atmosphere, all the Soundtoys, all the FabFilters, and a Waves studio pack. Two very small and simple plugins that I use on almost all channels is the Volume Shaper by Cableguys, and the SoundShifter by Waves. I love these two...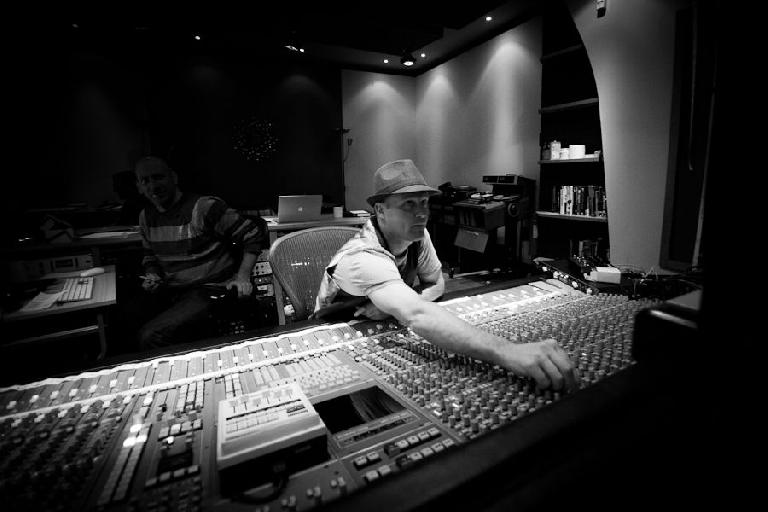 Ask: How challenging was it creating the album on the road, as opposed to in the studio? What limitations did you come up against in the process?
Mooji: Except for the benefit of using a desk, I don't see any limitations on the road with the setup I mention above. I practically created Double Agent with a small laptop, tiny sound card, and small speakers. Even though I don't believe in inspiration (for these type of one-man albums), all I need is a good view!
Ask: Why did you decide to record to tape cassette when at the Engine Room in London?
Mooji: As opposed to Dark Matters, Double Agent went through a proper SSL desk we had at The Engine Room in London. The only reason I didn't go for one of these desks in Dark Matters is that I didn't have the same budget! It's very expensive to use these desks, but in this case I knew it was absolutely essential. Then we recorded everything on tape because it usually adds warmth (usually...). Some parts went through tape twice, as all the songs were eventually recorded on tape anyway. I would love to put Dark Matters through one of these desks and some tape, but that would force me to revisit every single song (and spend another fortune!).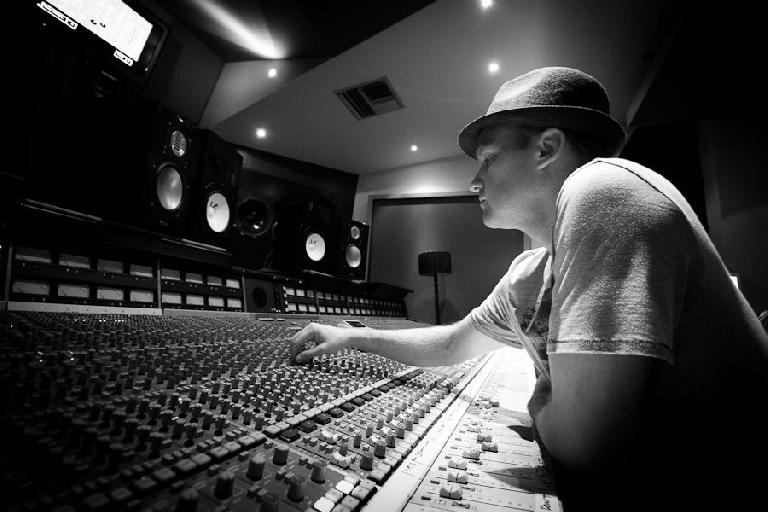 [courses_slider]
Ask: What communication did you have with John Lee Hooker and Lee Scratch Perry who appear on the album? Was the collaboration all done remotely?
Mooji: They're not collaborations, really, because I just use their spoken voices. 'Medley' was my first ever attempt at something dubby (or anywhere near that genre, really). The name comes from some bagpipes I warped for the track, which is actually two songs joined together. And then I decided to have some Lee Perry in there. In the studio we jokingly called it 'Humstep' because I 'hum' towards the end of the song... And in 'So Good' I do something similar with John Lee Hooker. This song is one of my favorites because it came very close to the idea I had in mind, which never happens! I wanted to write a song that had a similar vibe to 'Aftermath' by Trickie, which I used as inspiration. Then I recorded a friend who plays the slide guitar. I like the energy in this song.
Watch How Long by Mooji:
Ask: What's next for Mooji?
Mooji: I'm currently working on two more music videos that are in the pipeline for the album tracks 'Boson Booze' and 'Romantic Kazoo', but I don't plan on going back to the studio for some time . This album was especially hard to finish, and it will take some time before I can get back in there. Plus I would go for an entirely new approach this time, so not really sure when that would happen. But hopefully soon!
Ask: What tips would you give to young, aspiring DJs and producers?
Mooji: I would tell them the same thing I'm telling myself: move away from the one-man show. Music is about collaboration and improvisation, and the problem with these home-studio productions is that they tend to overlook this part of the process. You can tell when something was produced in a jam, and that's where I want to end up. So, for my next album, I would love to put together a band...