"New browser features" may not sound as exciting a "new synth" or "effect". G. W. Childs explains why this new addition to Live 9 is important, and how'll prove popular with Live users.
Mentre scrivo questo, Im goffamente digitando, a causa di un piccolo incidente con uno skateboard. Il mio mobilità armi non sta bene. Ma, c'è un inizio brillante la situazione, Im scrivendo il nuovo Ableton Live, versione 9. E, ho il piacere di segnalare che vi sono nuove funzioni che sono gravemente utile a qualcuno nella mia situazione con mobilità limitata nelle mie mani. Per riassumere ciò che questa funzione è, sarebbe il nuovo Live 9 browser. Ma, dal momento che sono stati sommando, consente ora di abbattere le funzionalità del browser in diretta 9s nuovo che può irrevocabilmente accelerare le cose per voi.
Caratteristica 1 - Luoghi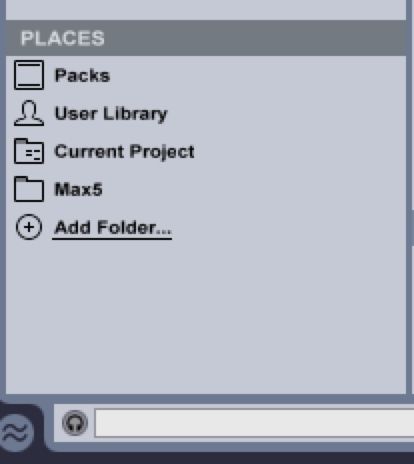 I posti sono in una nuova posizione all'interno del browser Ableton Live. Piuttosto che avere tre browser file che è possibile utilizzare per individuare rapidamente alcune directory sul disco rigido, ora avete accesso illimitato a qualsiasi luogo si configura all'interno di Luoghi. Lascia che ti mostri come funziona!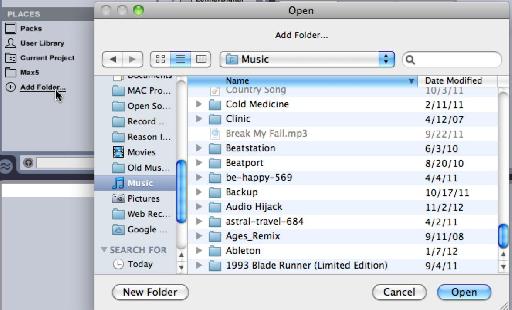 Se si fa clic sul pulsante Aggiungi cartella, viene visualizzato un browser che mi permette di selezionare qualsiasi cartella sul mio unità interne, o esterne dure.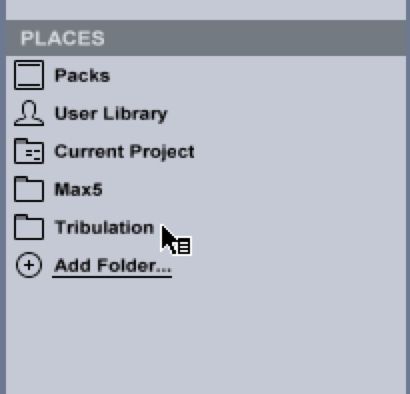 Una volta selezionata, la cartella apparirà sempre all'interno dell'area Luoghi del mio browser. Questo significa che Ive ha ottenuto un rapido accesso, piuttosto che dover scavare intorno attraverso il browser Ableton il modo in cui una volta dovuto, tutto (fino a quando Im l'abitudine di aggiungere le mie directory frequentati) sarà sempre lì.
Youll anche essere felici di sapere che theres un modo ancora più semplice per fare questo! È anche possibile trascinare i file da finestre del Finder, e il desktop, direttamente alla sezione Luoghi ...

Funzione 2 - Anteprima clip MIDI
Id piace raddoppiare alcune caratteristiche qui, a partire da ciò che, in un primo momento, sembra un buttare via funzionalità MIDI Anteprima clip. Live 9 ora visualizzare in anteprima un clip che si tratti di MIDI o audio. Quando le cose si fanno davvero interessante è che Ableton ricorda ora i dispositivi e le patch che hai usato per creare il clip MIDI, in origine. Questo include anche i plug-in e gli effetti. Questo rende un caso ancora più grande per iniziare a utilizzare l'area User Library all'interno, ora in luoghi, per memorizzare i clip che si vedono da soli, usando ancora una volta, o clip che incapsulano uno stile inconfondibile ed hanno un suono kick ass, attraverso l'uso di plug-in , strumenti dal vivo e gli effetti. Lascia che ti mostri quello che voglio dire ...

Io attualmente sono una sequenza di piombo molto caratteristico in corso, che Ive nome Melody carino. Questa clip è con Rob Papens Predator e Chorus Abletons proprio.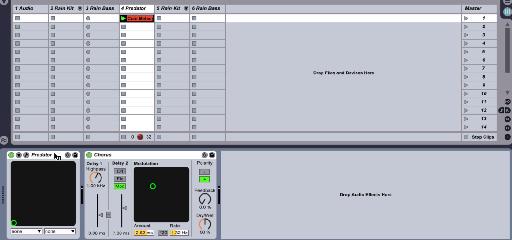 Ill trascinare il clip sveglio Melody oltre a una clip le sottodirectory della Biblioteca utente. Ora, questo clip rimarrà qui, e sarà disponibile per ogni progetto nuovo Live comincio.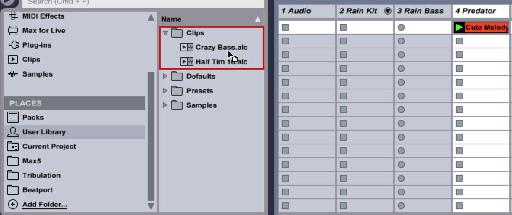 Ora, consente di vedere cosa succede quando si avvia un nuovo progetto in diretta e trascinate Melody carino. Ill trascinarlo dentro, ora ...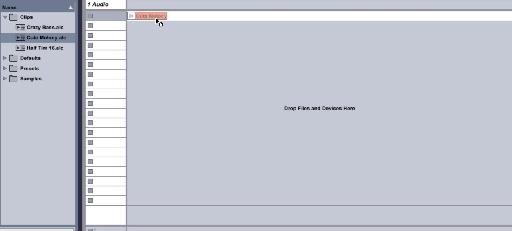 E, guarda! Ableton istituito il Coro e Rob Predator Papens per me! Sembra proprio come ha fatto nel mio altro progetto!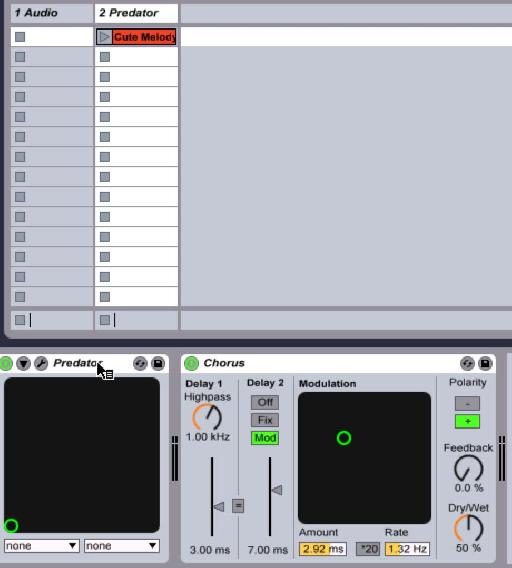 Posso anche vedere in anteprima Melody Carino, e Ableton si configurare sia i plug-in in background e fammi sentire il modo in cui la pretesa di essere ascoltato!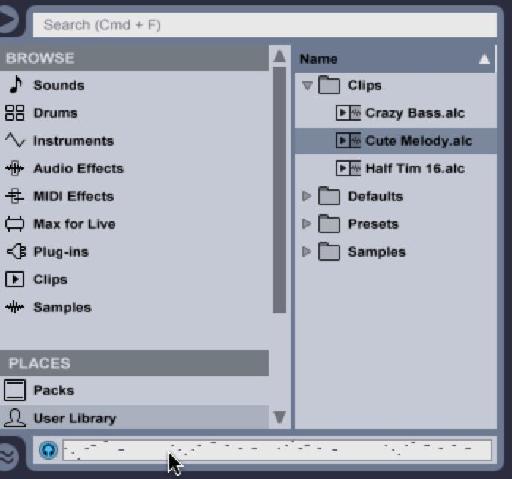 Conclusione
Queste sono solo due delle caratteristiche sorprendenti all'interno del browser 9s Ableton Live, ma si spera che ti dà alcune idee per velocizzare il flusso di lavoro. Come qualcuno Im che cant anche veramente giocare una tastiera in questo momento, è bello avere i miei riff disponibili, e in modo organizzato, insieme a tutti i miei sub-directory. Mi impedisce di dover sperimentare ogni ulteriore dolore quando muovo le braccia. Accidenti che skateboard.
Per saperne di più sulle funzioni di Ableton Live 9 del browser In questo video corso gratuito: