"New browser features" may not sound as exciting a "new synth" or "effect". G. W. Childs explains why this new addition to Live 9 is important, and how'll prove popular with Live users.
Enquanto escrevo isso, Im desajeitadamente escrever, devido a um pequeno acidente com um skate. Minha mobilidade braços não está bem. Mas, há um início brilhante para a situação, estou escrevendo sobre o novo Ableton Live, versão 9. E, estou feliz de informar que há novos recursos que são severamente útil para alguém na minha situação com mobilidade limitada em minhas mãos. Para resumir o que este recurso é, seria o novo 9 navegador Live. Mas, desde que foram somando, agora vamos quebrar os recursos do navegador 9s novo Live que pode irrevogavelmente acelerar as coisas para você.
Característica 1 - Locais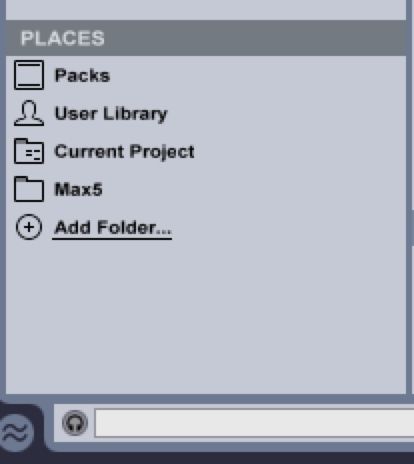 As vagas são uma nova localização dentro do navegador Ableton Live. Ao invés de ter três navegadores arquivos que você pode usar para localizar rapidamente certos diretórios em seu disco rígido, você tem acesso ilimitado a qualquer lugar que você criar dentro Locais. Deixe-me mostrar-lhe como funciona!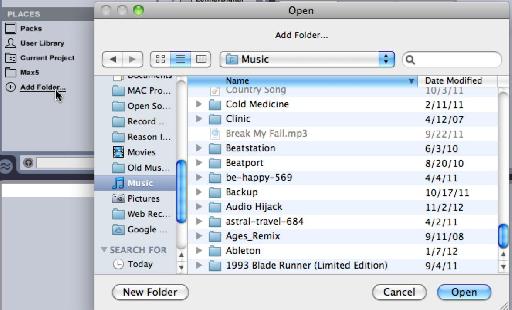 Se eu clicar no botão Adicionar pasta, um navegador parece que me permite selecionar qualquer diretório em meus internos, ou discos rígidos externos.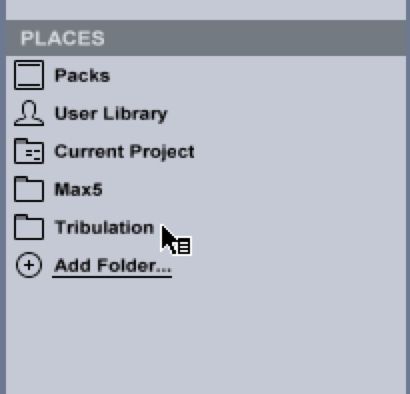 Uma vez selecionada, a pasta vai aparecer sempre dentro da área Locais de meu navegador. Isto significa Eu tenho acesso rápido, ao invés de ter que cavar em volta através do browser Ableton o que eu já tinha, tudo (desde que estou no hábito de adicionar meus diretórios freqüentados) será sempre ali.
Você também ficará feliz em saber que há um jeito fácil de fazer isso! Você também pode arrastar arquivos de janelas do Finder, ea área de trabalho, diretamente para a seção Locais ...

Característica 2 - Preview Clipe MIDI
Eu gostaria de dobrar-se sobre algumas características aqui, começando com o que, a princípio, parece ser uma característica jogar fora-MIDI Visualização Clip. Ao vivo 9 agora visualizar um clipe seja MIDI, ou áudio. Onde as coisas ficam realmente interessante é que o Ableton agora lembra os dispositivos e patches que você usou para criar o arquivo MIDI, originalmente. Isso inclui até mesmo plug-ins e efeitos. Isso faz com que um caso ainda maior para começar a usar a área de biblioteca do usuário dentro, agora dentro de lugares, para armazenar clipes que você se vê usando novamente, ou clipes que encapsulam um estilo distinto e têm um som kick ass, através do uso de plug-ins , instrumentos ao vivo e efeitos. Deixe-me mostrar o que eu quero dizer ...

Eu tenho atualmente uma seqüência de chumbo muito pitoresca indo, que Ive chamado Melody bonito. Este clip está usando Rob Papens Predator e Abletons efeito Chorus própria.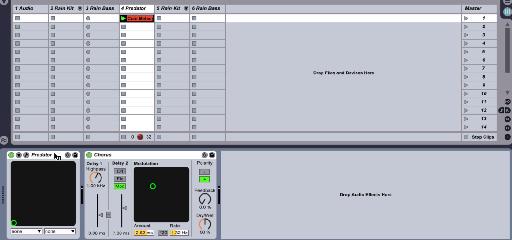 Ill arraste o clipe Melody bonito mais em um dos clipes sub-diretório da biblioteca do usuário. Agora, esse clipe vai ficar aqui, e estará disponível para cada novo projeto ao vivo eu começar.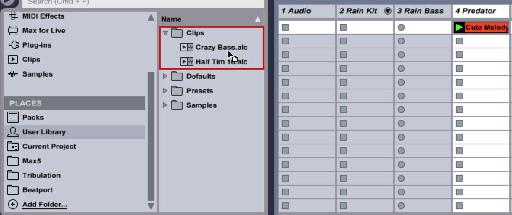 Agora, vamos ver o que acontece quando eu começo um novo projeto ao vivo e arraste em Melody bonito. Ill arraste-o, agora ...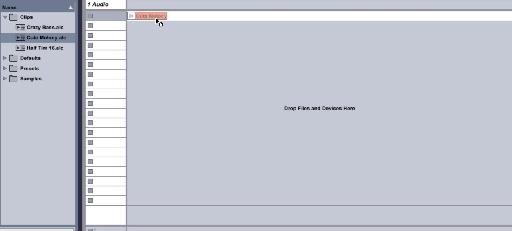 E, olha! Ableton configurar o Coro e Rob Predator Papens para mim! Soa como o fez no meu projeto de outro!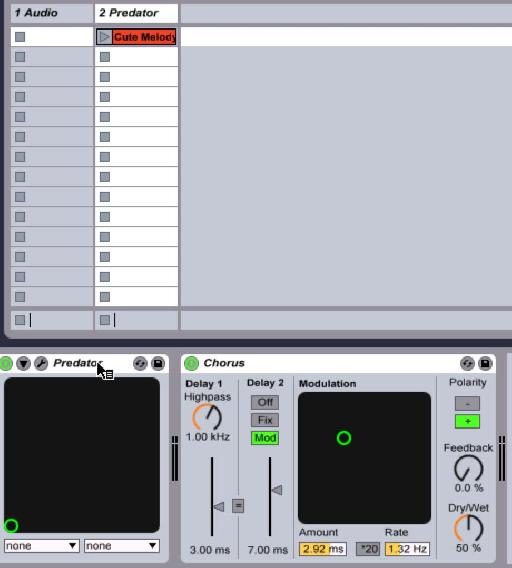 Eu também pode visualizar Melody bonito, e Ableton irá configurar o plug-ins no fundo e deixe-me ouvir isso da maneira seu suposto ser ouvido!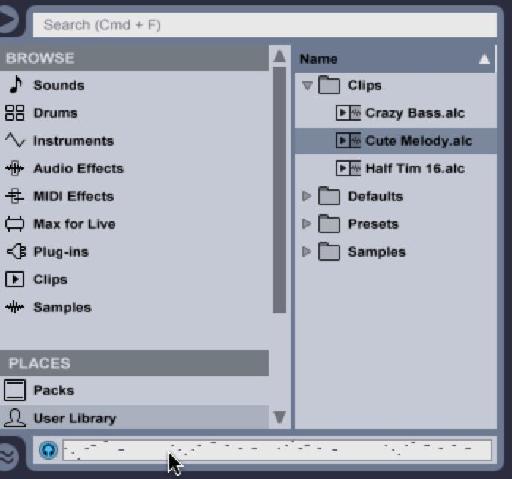 Conclusão
Estas são apenas duas das características surpreendentes dentro Ableton navegador 9s Live, mas espero que ele dá-lhe algumas ideias para acelerar o seu fluxo de trabalho próprio. Como Im alguém que não posso mesmo realmente jogar um teclado, agora, o seu bom ter meus riffs disponíveis, e de uma forma organizada, junto com todos os meus sub-diretórios. Mantém-me de ter que sentir qualquer dor adicional quando eu passar meus braços. Droga que skate.
Saiba mais sobre os recursos do Ableton Live 9 do navegador neste curso gratuito de vídeo: