As any audio engineer will tell you these days, automation in a Digital Audio Workstation is the greatest thing since sliced bread. Back in the old days, on an analog SSL console you would have to rid
Comme tout ingénieur du son vous diront ces jours-ci, l'automatisation dans une station de travail audio numérique est la meilleure chose depuis le pain tranché. Retour au bon vieux temps, sur une console analogique SSL vous auriez à monter les faders sur une piste pour faire gonfler le volume et d'ajouter des touches de réverbération envoie. Dans les années '70 lorsque Bob Moog renoncé à vendre des kits Theremin et a commencé à filtres de fabrication et des oscillateurs, il est devenu possible de moduler un paramètre avec une tension de commande. Morton Subotnick va même plus loin une étape avec les séquenceurs Buchla peu de temps après, en utilisant encore la tension de commande, et une ère de composition automatique de musique a pris forme.
I do believe that Max for Live is the first use case with it's ability to emulate voltage control for any parameter in a Digital Audio Workstation. I have tested this out for myself in the hopes of continuing my idea of a sine wave song and I am pleased to report that it is in fact possible to accomplish this non-trivial task!

After abandoning the idea of using the live.remote~ object in Max for Live, as it was much too processor intensive, I began experimenting with the counter object in Max to count from 0 to 127 (the range of midi) in an up and down way. Although this method more closely resembles a triangle wave than a sine wave, the result is conclusive evidence that any parameter that is modulatable in Ableton Live is a candidate for virtual voltage control.
Pour ceux qui s'intéressent à la mise en œuvre d'une onde sinusoïdale vrai que la source de modulation d'un paramètre, il ya des mises à jour de nouvelles pour Max qui permettent la limitation de la densité des données comme une solution pour le dilemme actuel de l'utilisation du processeur escalade à plus de 1000% en utilisant le live . distants ~ objet.
-parameters: new attribute to toggle deferral of automation and remote control output to the GUI thread; off by default, this attribute can be used to reduce the frequency of value changes resulting from automation and significantly reduce processor load. In combination with the new parameter_speedlim attribute, device developers now have fairly comprehensive control over the automation of their parameters.

This is great news! I will test this procedure in the future and report results back in a subsequent article related to this sine wave song project. You can see in Figure 1 that is is possible to generate perfectly smooth automation for a parameter in Live without having to do it by hand anymore.

Figure 1: automatisation générée par un max de patch personnalisé pour vivre (via l'objet compteur)
En outre, vous pouvez construire sur ce thème en modulant la modulation, ce qui rend pour une forme plus intéressante, une vague sinusoïdale lent changement de la fréquence de l'onde sinusoïdale régulièrement espacés dans le temps, voir Figure 2:
Distribution avec une description de haut niveau de la modulation des paramètres et ses attributs, nous allons examiner en détail chaque composant dans le patch Max qui cause cela se produise. Si vous jetez un oeil à la figure 3, en haut à droite, nous avons un mod bouton on / off, ce contrôle soit ou non coche la case activer marqués avec un "x" en dessous (x signifie "sur" ", techniquement un 1). Cela envoie un drapeau pour le métro, (métronome) des objets en dessous qui sont mis à se déclencher à 12 et 750 millisecondes, respectivement. Cela envoie un "bang" de laisser l'objet compteur savent mettre à jour son décompte total, avec le sens 2 "monter et descendre" de la paire de numéros ultérieurs, indiquant min. et Max. gamme. Ainsi, le compteur compte de la Min. au max. au taux déterminé par le métro et redescendre encore et encore.
Les chiffres sous le métro le rapport du compte courant, et envoyer les données aux boutons étiquetés volume et le débit. Il est un objet d'échelle dans entre le compteur sur la gauche et le bouton sur la gauche. Cela prend des données à partir d'un large éventail et les échelles qu'il en une gamme plus étroite. C'est parce que je voulais le volume de ne pas obtenir trop calme par cycle. Le bouton de volume va fluctuer à la constante de vitesse déterminée par le métro sur la gauche, fixé à 12 ms, et cela nous donne le signal de forme régulière de la figure 1. Toutefois, pour obtenir la forme plus intéressant passage de la figure 2, j'ai envoyé la sortie de taux à l'entrée droite du métro sur la gauche, le métro 12. Cela rendra le métro ligne 12 change à un taux déterminé par la valeur actuelle du bouton Rate au lieu de 12 ms (l'argument par défaut que je m'étais fixé initialement). Les cycles de bouton de taux de son taux propre et unique, dans ce cas 750 ms, soit les trois quarts de seconde. De la même manière vous pouvez créer un bouton de tiers pour changer cette onde sinusoïdale dans une forme encore plus complexe, comme un changement de volume global en fondu au cours de la chanson, facilitée par ce processus d'ajout de nouveaux contrôles avec des taux unique une chaîne. Cela rendrait d'une situation de performance intéressant où vous pouvez spécifier ces taux avec les boutons en fonction de votre créativité. C'est la beauté de cette nouvelle technologie avec Max for Live, il est le résultat satisfaisant de composition!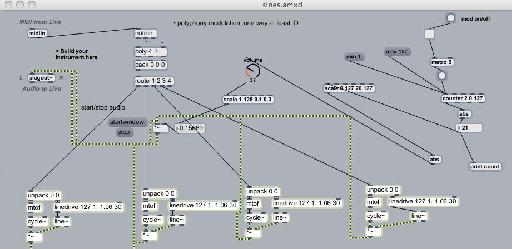 Figure 3: un générateur d'ondes sinusoïdales personnalisée, fournissant à la fois des signaux sonores et le contrôle
Bien que la figure 3 peut sembler un peu confus et compliqué, il est vraiment uniquement composée de deux sections principales. La section en haut à droite est pour des signaux de commande, que je n'ai besoin de créer des objets individuels tels que les métros et les boîtes de numéro, les comptoirs et les boutons. Toutefois, la partie inférieure gauche est quelque chose que j'ai copié de l'un des tutoriels qui explique la polyphonie. J'ai laissé tomber un max blanc pour l'instrument en direct sur un patch MIDI et accroché la partie comprenant les aspects de génération sonore du patch tutoriel pour la prise MIDI IN et la sortie audio d'Ableton Live. Le son vient de segments de ligne qui décrivent des formes d'onde. Je mettrai à jour le patch sorte que les segments de ligne deviennent des ondes sinusoïdales vrai, en harmonie avec le thème des techniques de composition sérialisée. Vous pouvez voir que certains des cordons qui relient les objets dans le patch Max regarder un peu différente dans la figure 3. Un type est une ligne continue et on est jaune rayé et une ligne noire. Les lignes continues noires représentent des messages tels que les mises à jour des données, et les cordons rayés représentent des signaux audio de taux. Les lignes continues noires sont analogues aux câbles MIDI virtuels, en ce que vous ne pouvez pas envoyer de l'audio sur un câble MIDI, mais vous pouvez envoyer des données. Les données doivent voyager à un rythme plus lent, quelque chose autour de l'ordre de 9600 kilobaud, ou 9600 kilobits par seconde. Les signaux de fréquence audio sont généralement de l'ordre de 44 100 échantillons par canal par seconde, l'équivalent d'environ 1480 kbps. C'est précisément pour cette raison que nous ne sommes pas en utilisant un câble de signal à moduler notre bouton via une onde sinusoïdale,
Max a une caractéristique merveilleuse appelée mode de présentation, qui vous permet de sélectionner des composants de choix dans votre patch pour montrer et puis vous pouvez cacher le reste. Les paramètres les plus importants ici sont juste le bouton de volume et le niveau de sortie, comme illustré dans la figure 4.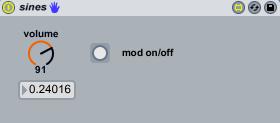 Figure 4: un max trompeusement simple pour l'instrument en direct en utilisant des ondes sinusoïdales très basiques
Espérons que cela met un spin intéressantes sur l'audio numérique en cours de traitement, à son tour, par l'audio numérique. Une fois que les limites sont définies, nous pouvons utiliser la logique numérique pour prendre la tradition de la synthèse analogique encore plus loin avec la flexibilité de la synthèse numérique dans un Digital Audio Workstation toutes les fonctionnalités telles que Ableton Live et les instruments que vous pouvez construire pour cela avec Max for Live .
Vous pouvez obtenir Tutoriels Ableton Live ici .