Becoming familiar with essential productivity tips & keyboard shortcuts will make life easier in any application you use, and especially in After Effects. Richard Lainhart shares 5 essential AE tips.
Everyone who works with Adobe After Effects for any length of time, particularly on a deadline, eventually finds himself (or herself) wanting to improve his or her productivity. In this tutorial, I'll share five useful tips you may not know about that will help you work more efficiently. Let's get started.

Tip 1 - Set Default Render and Output Templates
You do use custom Render Settings and Output Modules, right? If not, you should definitely get to know them. But assuming you do, one good thing to know is how to set a custom template as your default Render Setting or Output Module, particularly with Output Modules.
Let's assume you've need to render to a specific file type and codec for a particular job, and you have a lot of comps to output to that format. You could add your comps to the Render Queue, choose a standard Output Module for each one, then modify that Module to your own specific settings. However, that would obviously be inefficient, especially with a lot of comps. So, once you've created your Output Module (Edit > Templates > Output Module...), either by creating it from scratch or duplicating an existing module, be sure to give it its own unique name in the Settings Name field.

Once you do, you'll find it in the Movie Default pop-up menu list at the top of the Templates window. Choose it there to set it as your Output default.

From then on, any comp you add to the Render Queue will use that Output Module. And here's a useful sub-tip: If you've already created and saved your custom Output Module, add one of your comps to the Render Queue, then hold down the Command key and choose your custom module from the Output Module template list. That will make the chosen module your new Movie Default.
Tip 2 - Scale Keyframe Timing
In After Effects work, it often happens that you've done a lot of keyframing to create some complex bit of animation, only to find that you need to make the whole thing longer or shorter while still maintaining all your keyframe work. Fortunately, there's a painless way to do that with a simple key modifier.
Note: this tip will work across multiple animated properties and multiple layers as well.
First, show all your animation keyframes (type U'"the über key'"to show just the animated keyframes.). Then, type Command-Option-A to select all those keyframes.

Next hold down the Option key and click and drag on either the first or last of the selected keyframes. If you drag the first keyframe, you'll be moving it and all subsequent keyframes in time while keeping the last keyframe in place. Drag the last keyframe to keep the first keyframe in place. Drag to the right to expand the keyframe timing, and drag to the left to contract the timing.

You'll see that all the selected keyframes will scale in proportion to each other, so that their relative timings and positions remain in place while all get closer or further apart. It's an extremely useful animation feature, and all with a single drag.
Tip 3 - Sequence Layers Keyframe Assistant
If you have a whole folder full of stills or clips that you need to bring into the timeline and set up so they play in order, the Sequence Layers Keyframe Assistant is your friend. There are actually two different ways you can invoke it: I'll show you both.
Now it's true that you can import a group of stills as a Sequence, so that they'll appear in After Effects as a kind of movie clip, but suppose you want to cross-fade between all those stills to create a slideshow? Or suppose you want to cross-fade between a bunch of video clips? You can't import those as a sequence. That's where Sequence Layers is particularly useful.
First, import your stills or clips: You can import them as a folder by choosing File > Import... and selecting the folder containing your source files, not the individual footage items themselves. Then, in the Project panel, select them all and drag them into your comp. They'll stack up as you'd expect.

Then select all the layers you want to sequence, and choose Animation > Keyframe Assistant > Sequence Layers... Here you have the choice to optionally overlap the layers, cross-dissolve between them, and set the time for the cross-dissolve, which is what we'd like to do.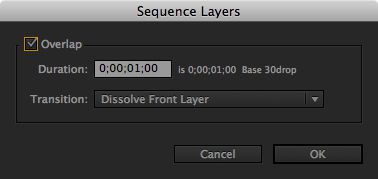 When we choose OK, you'll see that the stills are now staggered sequentially in time and have Opacity keyframes set for an automatic slideshow:

An even faster way to do this is to just drag all the footage items you want to sequence directly onto the Create A New Composition button in the Project panel, which will bring up the New Composition From Selection dialog.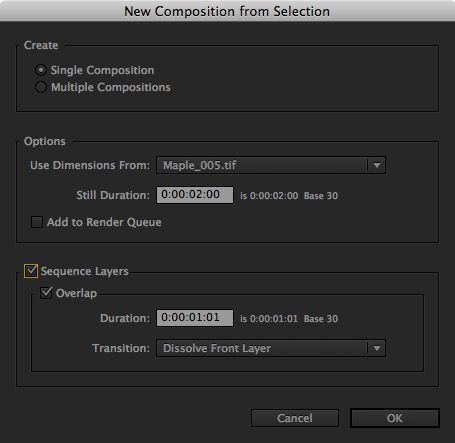 As you can see, this window will also let you sequence the layers and dissolve between them, while creating the new comp at the same time. Both methods are useful, especially with a large number of layers.
Tip 4 - Replace Layer Footage
Let's say you've created an elaborate animation with a certain layer and lots of keyframes, but then find you need to replace the source footage for the layer with something completely different. Rather than adding the new footage to the comp and recreating the animation, just replace the current footage with the new footage with a single drag. To do that: Highlight the current layer in the Timeline Layer panel, select the new layer in the Project window, hold down the Option key, and drag the replacement layer onto the current layer's name in the Layer panel. If you've exposed your keyframes in this layer, its twirly arrow will roll up and hide them again; just type U to reveal them.
There's a keyboard shortcut for this too, by the way: Select the layer you want to replace in the Layer panel, then select the replacement layer in the Project panel and type Command - Option - / (slash).
Tip 5 - Learn Your Keyboard Shortcuts
Speaking of keyboard shortcuts, one of the most productive things you can do to make your work in After Effects more efficient is to learn as many keyboard shortcuts as you can. There's a link to a complete list in the Help menu, which will take you here:
http://help.adobe.com/en_US/aftereffects/cs/using/WS3878526689cb91655866c1103a9d3c597-7987a.html

Not even the developers have memorized them all, of course, but learning even just a few key shortcuts can really help with your workflow. In particular, focus on the keys for activating tools and for Timeline navigation, Previews, and keyframe manipulation. And note that there are a bunch of equivalent shortcuts for those (like me) who use a wireless keyboard without a numeric keypad. If you're in the same boat, you'll definitely want to learn those, too.
Also learn the shortcuts for soloing Layer Properties:
A for Anchor Point

P for Position

T for Opacity (think of it as Transparency)

R for Rotation

S for Scale

E for Effects

M for Mask

F for Mask Feather

And don't forget that typing one of those Layer Properties with the Shift key held down will add that soloed property to the visible properties, rather than hiding previously soloed ones.
And there you have some useful and perhaps lesser-known After Effects productivity tips. I hope you make the most of them!