From importing audio stems into After Effects through to converting audio to keyframes and using linear expressions, this article has it all. Toby Pitman shares his tips on how to animate audio in AE.
If you're animating to audio in After Effects, using audio stems (component parts of a track or beat) can give you a lot more flexibility. Here's an example.

Step 1 - Stem Your Audio
On my drive I have the component parts of a beat: Kick, Snare, etc. I made these in Logic Pro.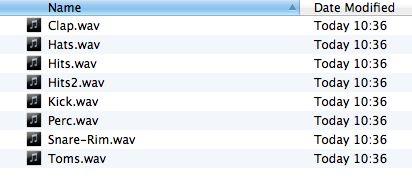 Step 2 - Import Into After Effects
Go to File > Import File and navigate to your audio. Import the files into your project.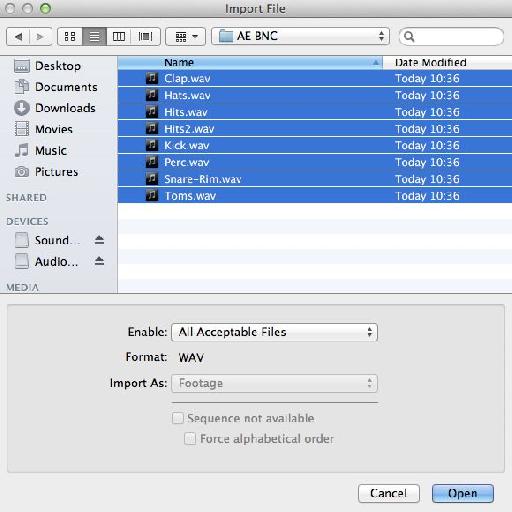 It's a good idea to organize your project. I've created a folder called '˜Audio' by Control-clicking in the Project Window and choosing New Folder.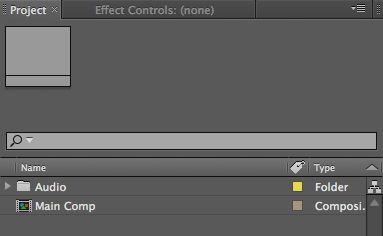 Step 3 - Check Your Sample Rate
It's also a good idea to check that the sample rate of your project is the same as your audio. My files are at 44.1 kHz. I set my project to be the same by going to File > Project Settings.

Step 4 - Bring In The Audio To A Comp
Create a new Composition (Command-N). Make it the length of your audio (mine is about 20 seconds).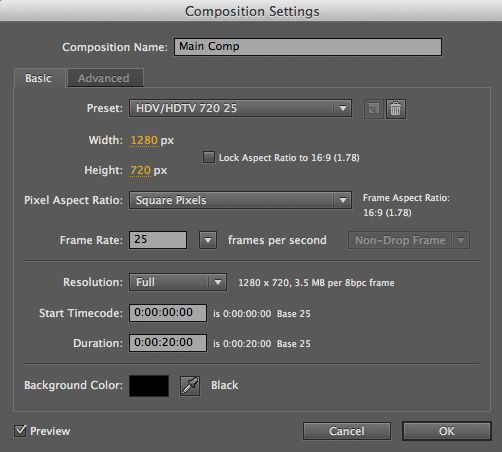 Drag the audio files into the comp.

Step 5 - Convert Audio To Keyframes
This next bit is quite important: I want to turn my Kick into keyframes to drive one part of the animation. When converting audio to keyframes like this you need to mute all the other audio as After Effects seems to take this information from the audio outputs. In other words, this process is not layer-specific!
With the Kick '˜soloed' Control-click on the audio layer and choose Keyframe Assistant > Convert Audio to Keyframes.

After Effects will create a new Null Object called '˜Audio Amplitude'˜ that contains the keyframes. There are three versions: Left Channel, Right Channel and Both Channels. All you need is Both Channels so you can delete the others.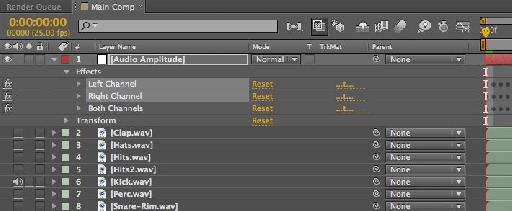 You can see the keyframes by selecting the Both Channels '˜Slider' and opening the Graph Editor. You can see that around each Kick hit I get a value around 25.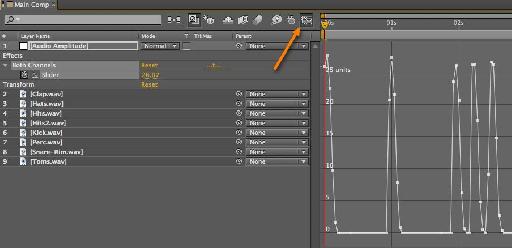 Rename the layer something useful like Kick KF.

Step 6 - Radio Waves
Create a new Solid (Command-Y).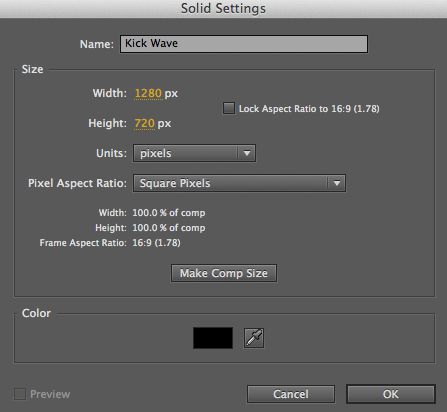 Go to Effect > Generate > Radio Waves. Left to its own devices Radio Waves will emit a shape (based on the number of Polygon sides) from a central point at a specified frequency. Not too exciting! We're going to drive the frequency with our keyframes so on every Kick a shape is emitted.
Here are my settings for the basic look of my Kick waves: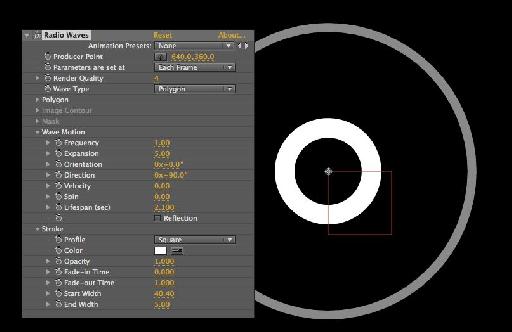 Step 7 - Connect Your Keyframes
So we're going to make an expression to drive the Frequency. Option-click the stopwatch by Frequency in the Radio Waves plug-in.
I'm going to create a variable called '˜Kick' to store the value of our Kick keyframes. I'll write "Kick =" and then pickwhip to the Both Channels slider.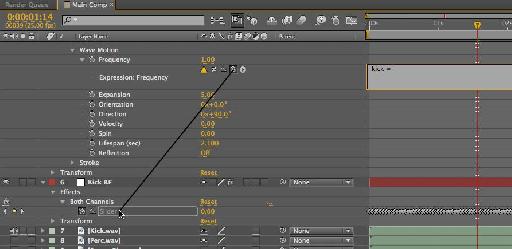 Step 8 - Linear Expression
Now the value of my Kick hits was around 25. I need to scale this down to around 1 so that each hit generates a shape once. 25 shapes would be over the top!!
I can do this with the Linear expression. This scales one set of values to another. Here's the expression:
linear(variable name, old value min, old value max, new value min, new value max)
The variable I want to scale is Kick. I want to scale 0-25 into 0-1. My expression will look like this.
linear(Kick, 0, 25, 0, 1)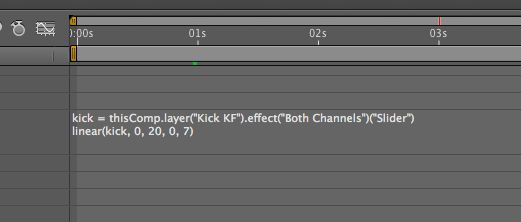 Using these numbers I get the result I'm after. You may need to play with the old value max as this is the threshold.
Step 9 - Pre Comp
Select the three layers that pertain to the Kick sound.

Press Command-Shift-C to Pre Compose the layers. Call it '˜Kick PreComp'.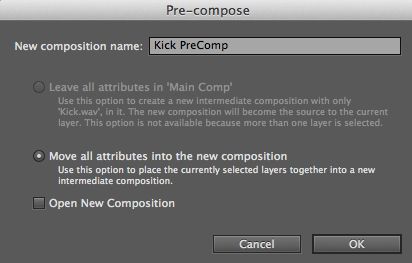 Step 10 - Repeat!
You'll now need to repeat this process with your other audio stems (Yawn'¦). Don't forget that the numbers generated by each sound will be different so you'll need to tweak the Linear expression to suit.

Step 11 - Experiment!
There are so many things you can do with this technique. For instance, the color of my waves is white which means I could use them as a Luma Matte to reveal other layers like video or images.
Here's one example: All I've done is make my layers 3D and tint each one a different color. I've adjusted the number of sides for each stems Radio Waves so each sound is a different shape.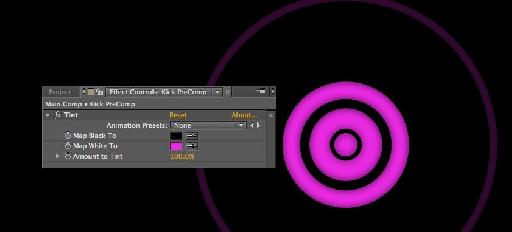 Then I move them in 3D space and rotate a camera around them. Nice!
This technique can produce some much cooler effects when working with more powerful plug-ins like Trapcode Particular. Try it out!