Tutorial: Create a Sci-Fi Number Grid with Adobe After Effects & Particle Playground
Adobe After Effects' Particle Playground plugin is a powerful environment for particle systems special effects, but few After Effects users even know it's there, and many of those who do, find its int
Adobe After Effects' Particle Playground plugin is a powerful environment for particle systems special effects, but few After Effects users even know it's there, and many of those who do, find its interface mysterious and intimidating. Yet Particle Playground is a wonderful environment for all kinds of effects, particularly text effects, that are difficult or impossible to achieve with other tools.
In this tutorial, we're going to introduce you to some of Particle Playground's possibilities by creating a classic science fiction interface effect - a field of randomly scrolling ones and zeros with beeps and boops, reminiscent of the high-tech control rooms of 1950s outer-space monster movies. You can reproduce this effect exactly if you follow the steps carefully, because we're going to create this effect entirely in After Effects, with no need for any external files or programs.

OK, here we go.
Step 1
Create a new composition (Composition > New Composition... or simply type Command (Mac) / Ctrl (Windows) -N), and make it 1280 pixels wide x 720 pixels high, 10 seconds long, 29.97 frames per second. Call it "Sci-Fi Number Grid".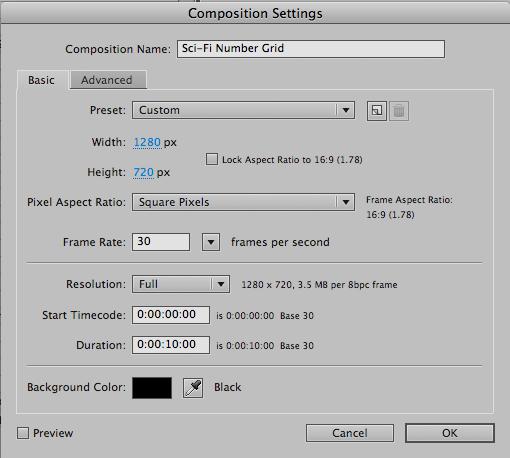 (You can actually make this whatever size and length you like, but for this tutorial, we're going to go with a standard 720p HD format.)
Step 2
Add a new solid to the comp (Layer > New... > New Solid, or Command/Ctrl -Y). In the New Solid dialog, click the Make Comp Size button to make it 1280x720 pixels. The solid can be any color you like, as this color will disappear once we apply Particle Playground.
Step 3
Select the solid in the comp and apply Particle Playground to it (Effect > Simulation > Particle Playground)
In the Effect Controls window for your solid, open up the effect settings for Cannon, Grid, and Gravity. Set Cannon's Particles Per Second and Particle Radius both to 0 to disable Cannon.
In the Grid section, set Width to 1124 and Height to 632, which will create a grid field somewhat smaller than the full frame. (If you chose to make a smaller composition, set the Width and Height to a value less than your total comp size.)
Set Grid Particles Across and Down to 50 each. Click the Grid Color swatch to open the Color picker, and choose a nice CRT green, something like this: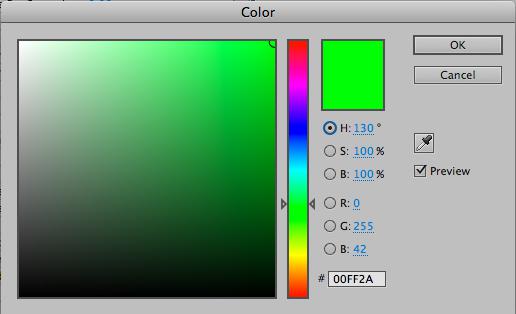 Step 4
In the Particle Playground window, click the Options... button, click Edit Grid Text..., and type in "A" (without the quotes.) In this dialog, make sure you check Use Grid and Loop Text.
Choose any font you like for this, although I think a simple sans-serif looks most like an old-style CRT display - I used Helvetica.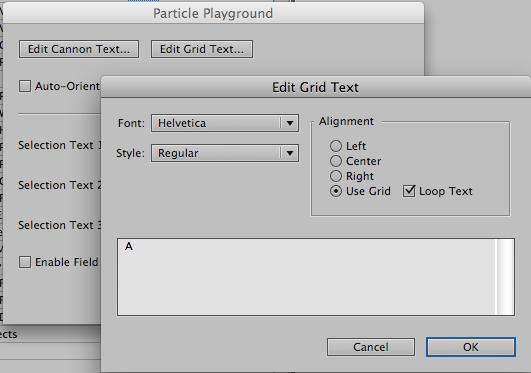 Back in the main Particle Playground window, set your Font Size to 16 or so. Your Particle Playground settings should look like this: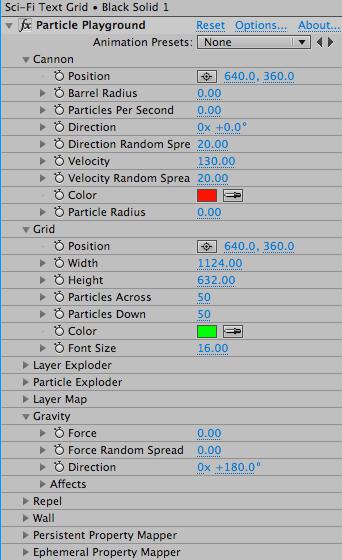 Step 5
Make sure your Timeline is on frame 1, and turn on keyframing for Font Size by clicking on the stopwatch icon next to Font Size.

Move ahead to frame 2 by hitting your Page Down key, or by typing Command/Ctrl - Right Arrow, and set Font Size to 0. This will prevent new characters from being generated by the Grid and freeze the current characters in place. Your comp window should look like this: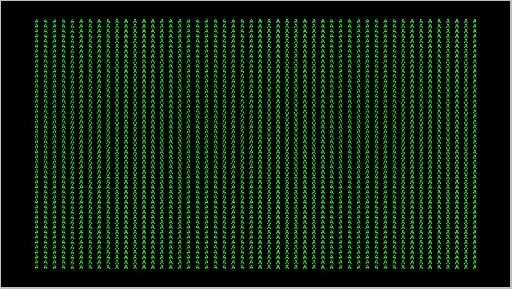 Step 6
Next we'll create the animation that we'll use to generate the random number changes. Make a new composition of any length, 1400x900 pixels (or, if your Grid comp is less than 1280x720, just make this comp somewhat larger than your Grid comp.) Call this comp BlurredNoise.
Add a new solid and make it the same size as your comp. Apply the Noise filter to the solid (Effect > Noise and Grain > Noise), uncheck Color Noise and Clipping, and crank up the noise to 100%.
Apply a Gaussian Blur filter (Effect > Blur & Sharpen > Gaussian Blur) to the Noise layer, and set it to a value of 8 or so to make clumpy, blurred noise. Your effect settings for the Noise layer should look like this: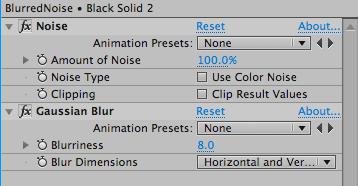 ...and your Noise comp should look like this: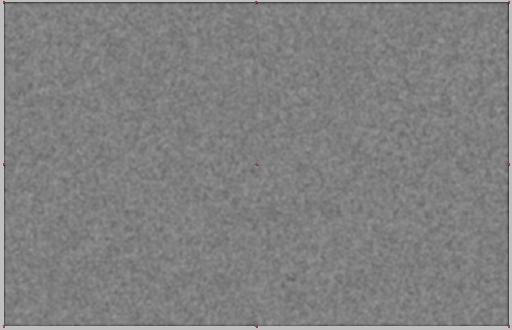 Render out a single frame in Photoshop format of this noise by choosing Composition > Save Frame As > File...
Then, in your Render Queue, click the blue underlined file name next to Output To:, change the frame name to BlurredNoiseFrame.psd, choose the render location, and click Render.
Import the rendered frame back into your project by choosing File > Import > File..., navigating to your render location, and selecting the BlurredNoiseFrame.psd file.
Next, drag this into your Sci-Fi Number Grid comp behind the Particle Playground layer.

Step 7
Select the BlurredNoiseFrame layer in the comp, and type "P" (without the quotes) to solo its Position property. Add a position keyframe at the beginning of the comp by clicking the stopwatch next to the Position property, move the Current Time Indicator to the end of the Timeline, and click the "Add or remove keyframe at current time" button to the left of the Position property to add a keyframe at the end of the Timeline.

Step 8
Select both keyframes by clicking the on the Position property name (both keyframes should be yellow) and open the Wiggler window by choosing Window > Wiggler.
In the Wiggler window, set:
Apply To: to Spatial Path
Noise Type: Smooth
Dimensions: All Independently
Frequency: 1 per second
Magnitude: 100 pixels
Then click the Apply button.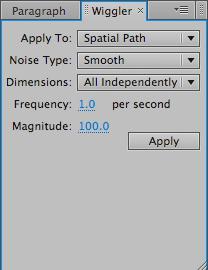 The Wiggler is a keyframe assistant that randomly varies keyframes values within the ranges you set, and what you've just done is make a random noise map that randomly jitters around in the frame. You'll use this as an image map in Particle Playground to randomly vary the characters.
Finally, pre-compose this layer (Layer> Pre-compose...) and select the "Move all attributes into the new composition" option.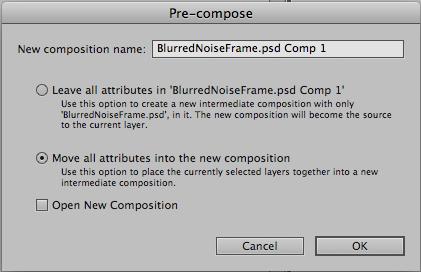 This, in effect, pre-renders the random motion in the BlurredNoiseFrame comp; without pre-composition, Particle Playground won't see the Wiggled motion.
Step 9
Next, turn off the visibility for the BlurredNoiseFrame pre-comp by clicking on its eyeball icon; we don't need to see it to use it.
Go back to the Particle Playground layer, roll open the Persistent Property Mapper section, and set Use Layer As Map to the precomposed BlurredNoiseFrame pre-comp. The Persistent Property Mapper uses the gray scale values in the Layer Map you specify to change different particle properties.
In the Affects subsection, set Map Red To to Character, and leave Blue and Green at none. In the Min/Max section under Map Red To, set Min to 48 and Max to 49.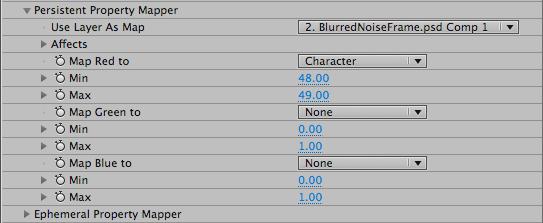 This will ensure that your characters stay within the range of 0 to 1. If the font you originally chose doesn't show 0 and 1 with these Min/Max values, adjust them so it does, making sure they're just one unit apart.
Now RAM preview it (Control/Alt - 0) and see how it looks. You should see a field of random zeros and ones dancing around in the frame. At this point, you can adjust the motion by going back into the original BlurredNoiseFrame comp to modify the Wiggled Position keyframes, if you like.
Next, to make it look more like characters on a monitor, apply Glow (Effect > Stylize > Glow) to the Particle Playground layer with its default settings to add a subtle phosphorescence to the numbers.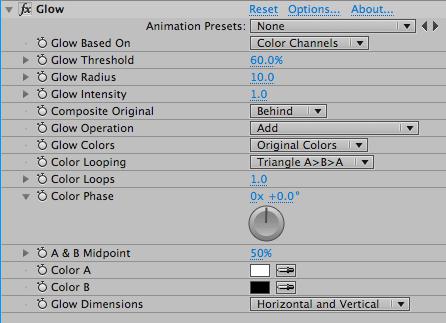 Step 10
For more fun, let's add some classic sci-fi bleeps 'n' boops to our control-room display. Happily, we can do this right in After Effects too.
Add a new solid layer to the Sci-Fi Number Grid comp, and turn off its visibility by clicking on its eyeball icon - we're only going to use this layer to contain the audio effects we're going to add, so we don't need to see it.
Apply the Tone effect (Effect > Audio > Tone) to this layer. In the Tone effect controls, leave Frequency 1 at 600, and set Frequencies 2-5 to 0.00. Set the Level to 50%. With your Timeline at 0, click on the stopwatch icon for Frequency 1 to set a keyframe at the beginning of the Timeline.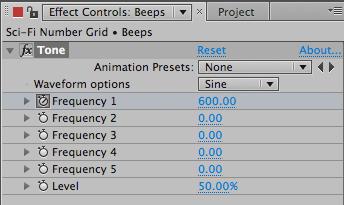 With the Beeps layer selected in the Timeline, type "U" (again without the quotes) to solo only the animated properties, in this case Frequency 1. Move the Current Time Indicator to the end of the Timeline, and click the "Add or remove keyframes at the current time" button to the left of Frequency 1, as you did with the Position property in the BlurredNoiseFrame comp. This will set another keyframe at the end of the timeline. Click on the Frequency 1 property name to select both keyframes, and open the Wiggler window again if it isn't still open (Window > Wiggler).
In the Wiggler window, set
Apply To: to Temporal Graph
Noise Type: Jagged, Dimensions: (NA)
Frequency: 10.0 per second
Magnitude: 300.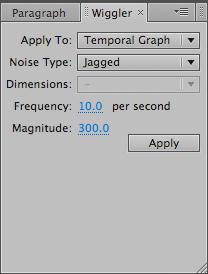 Then click Apply.
Next, click the Frequency 1 property name again to make sure all the Frequency keyframes are selected, and choose Animation > Toggle Hold Keyframes to change all the Frequency keyframes from Linear Keyframes to Hold keyframes.
(Linear keyframes glide smoothly from value to value; Hold keyframes step from value to value. By setting the Frequency keyframes to Hold, we tell the Tone effect to step from pitch to pitch instead of gliding.)
Finally, to this same Beeps layer, apply the Reverb effect (Effect > Audio > Reverb)
Set Dry Out to 80% and Wet Out to 20%, and leave the other values at their defaults.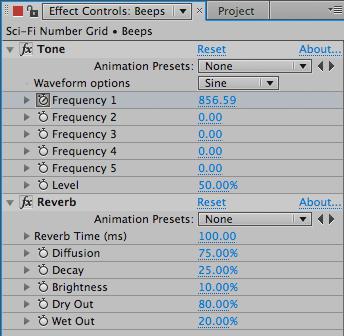 Render this out, and you'll have a classic 50s-style sci-fi screen effect, complete with cheesy sound effects. Here's what it looks like:
Want to learn more creative techniques? Check out these After Effects video tutorials by Richard Lainhart.