An effect you may have seen in film and television titles is the assembly of a logo or title from a random assortment of fragments, as if the title is being blown up in reverse. We can easily create..
وهو التأثير الذي قد شهدت في عناوين الأفلام والتلفزيون هو تجميع شعار أو عنوان من مجموعة متنوعة عشوائية من الشظايا ، كما لو كان يجري في مهب عنوان حتى في الاتجاه المعاكس. يمكننا بسهولة إنشاء النسخة الأساسية لهذا التأثير في After Effects و باستخدام البرنامج المساعد تتحطم -- هذا البرنامج التعليمي سريعة ينبغي أن توفر لك مع خلفية كافية حتى تتمكن من البدء في إنشاء النسخ الخاصة بها من العلاج. دعونا نبدأ.

الخطوة 1 -- الحصول على عنوان
بداية بجعل 720p و 10 في الثانية التكوين (تكوين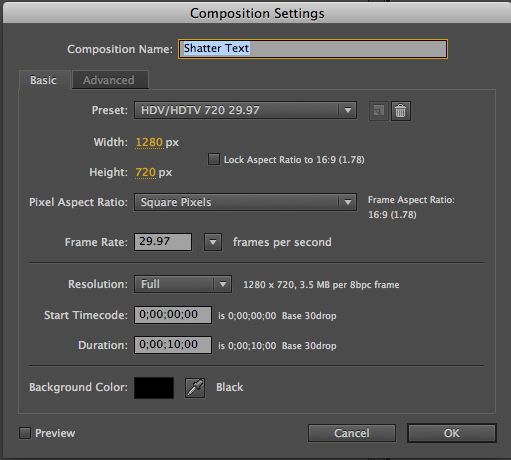 حدد أداة النص الخاص بك ، انقر في شركات النافذة واكتب في العنوان الخاص بك -- الألغام هو مجرد قصيرة "MPV". جعل النص أيا كان اللون الذي ترغبه ، وجعله حجم الخط الكبير الذي يملأ الشاشة بشكل جيد ، ومركزا لتكنولوجيا المعلومات في شركات النافذة :

الخطوة 2 -- تطبيق وتكوين تتحطم
المقبل ، مع طبقة النص المحدد ، اختر تأثير
إعداد تأثير الضوابط تتحطم كما هو موضح هنا :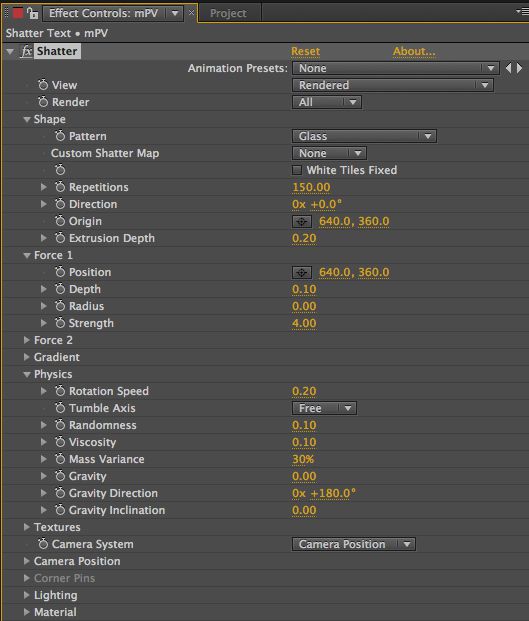 على وجه الخصوص ، لاحظ أن يتم تعيين لعرض المقدمة (حتى نستطيع ان نرى النتائج النهائية للإعدادات لدينا) ؛
Shape Pattern is set to Glass;

Shape Repetitions is set to 150;

Force 1 Radius is zero;

Force 1 Strength is set to 4; and

Physics Gravity is set to zero

الآن ، إذا كنت معاينة هذا ، فإنك لن ترى أي تغيير ، لأنه يتم تعيين نصف قطرها 1 قوة إلى الصفر ، وهذا يعني أن القوة الأولى المتفجرة التي ستفجر الحروف لا يوجد لديه الحجم ، وحتى لا تؤثر على طبقة. هناك سبب قمنا بتعيين أنه بهذه الطريقة ، كما سترى في لحظة.
المقبل ، حرك المؤشر الخاص بك الوقت الحالي إلى 1 ثانية ، وتمكين لkeyframing الشعاع 1 القوة. المضي قدما إلى 1 إطارات 15 ثانية ، وتعيين قوة الشعاع 1 إلى 1. عندما قمت بذلك ، يجب أن تشاهد بعض الإجراءات فورا على الشاشة. معاينة هذه شركات ، ويجب أن نرى شيئا من هذا القبيل :
[فيديو ID = "6733"]

علما بأن تأخير الانفجار الأولي لل1 ثانية ، لأننا لم تبدأ زيادة قوة الشعاع 1 حتى النقطة الثانية 1.
الآن هذا شيء طيب وحسن ، ولكن من المفترض أن نكون تجميع لقبنا ، وليس تفجيرها. ولكن تتحطم يعمل الوحيد للمضي قدما في الوقت المناسب -- يمكنك فقط ضربة الامور في تتحطم ، وليس من الامم المتحدة وتفجيرها -- لذلك نحن بحاجة إلى خطوة أخرى لتجميع لقبنا.
الخطوة 3 -- الوقت لعكس انفجار
إنشاء جديد 720P الثانية 10 شركات ، والذي يطلق عليه الزمن ، عكس شركات. اسحب شركات نص تتحطم في شركات جديدة ، حدد طبقة النص تتحطم ، واختيار طبقة
[فيديو ID = "6734"]

علما أن عنوان مرئيا للمرة الثانية في نهاية الأمر ، الذي هو السبب في أننا لم تسمح لبدء الانفجار حتى ثانية واحدة في شركات. لو تركنا عنوان تفجير على الفور ، وهي تتحطم الدولة الافتراضية ، العنوان لم يكن على الشاشة لفترة كافية في نهاية مقطع عكس يسمح لنا أن نرى ذلك.
وهذا كل شيء! يمكنك أن تفعل الكثير من الاشياء باردة مع تتحطم في أدوبي بعد الأثر ، وكما هو الحال دائما ، وأنا أشجعكم على التجربة والمتعة.