An effect you may have seen in film and television titles is the assembly of a logo or title from a random assortment of fragments, as if the title is being blown up in reverse. We can easily create..
Ein Effekt, den Sie in Film und Fernsehen Titel gesehen haben ist die Montage eines Logos oder Titel aus einer zufälligen Auswahl von Fragmenten, als wenn der Titel wird in umgekehrter geblasen. Wir können sehr einfach ein Basis-Version dieses Effekts in After Effects mit dem Shatter Plugin - diese kurze Einführung sollten Sie mit genügend Hintergrundwissen, so dass Sie beginnen können, der Erstellung Ihrer eigenen Versionen der Behandlung. Lassen Sie uns anfangen.

Schritt 1 - Erstellen der Titel
Beginnen Sie mit einem 720p, 10-Sekunden-Komposition (Composition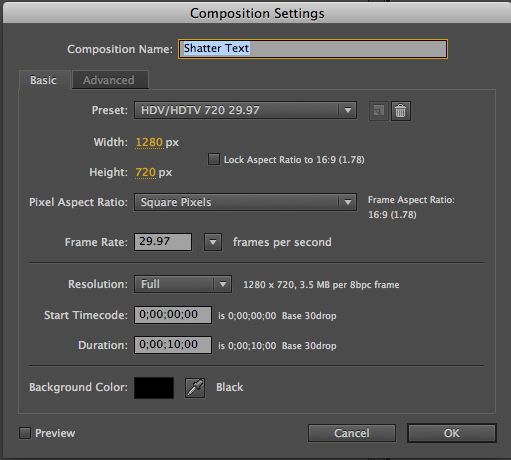 Wählen Sie Ihre Text-Werkzeug in der Comp-Fenster und geben Sie Ihre Titel klicken - mir ist nur eine kurze "MPV". Machen Sie den Text welcher Farbe Sie möchten, machen es zu einem großen Schriftgrad, dass der Bildschirm füllt sich gut, und zentrieren Sie ihn in der comp Fenster:

Schritt 2 - Anwenden und Konfigurieren Shatter
Als nächstes mit der Textebene ausgewählt haben, wählen Effect
Richten Sie den Shatter-Effekt steuert wie hier gezeigt: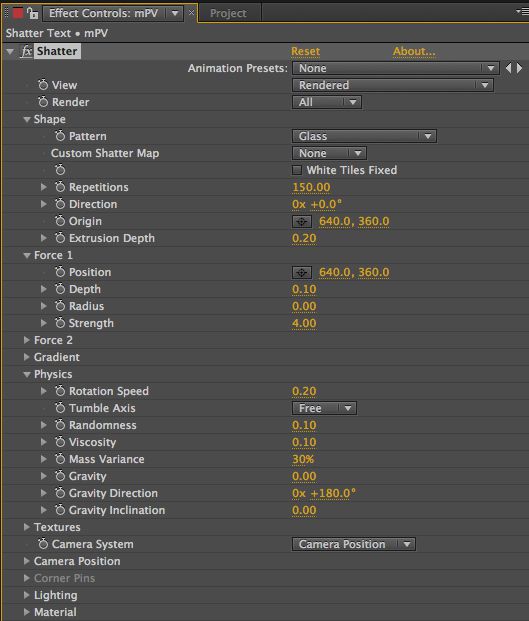 Insbesondere beachten Sie, dass Anzeigen auf Rendered (so können wir die endgültigen Ergebnisse der Einstellungen zu sehen) eingestellt ist;
Shape Pattern is set to Glass;

Shape Repetitions is set to 150;

Force 1 Radius is zero;

Force 1 Strength is set to 4; and

Physics Gravity is set to zero

Nun, wenn Sie diese Vorschau, werden Sie sehen keine Veränderung, da der Force 1 Radius auf Null gesetzt wird, was bedeutet, dass die anfängliche explosive Kraft, die Luft zu sprengen werden die Buchstaben keine Größe hat, und so hat keinen Einfluss auf die Schicht. Es gibt einen Grund setzen wir es schon so, wie Sie in Kürze sehen werden.
Anschließend bewegen Sie die aktuelle Zeit auf 1 Sekunde und ermöglichen Keyframing für Force 1 Radius. Voranzukommen, um 1 Sekunde 15 Bilder, und setzen Force 1 Radius 1 ist. Wenn Sie das tun, sollten Sie sofort sehen, eine Aktion auf dem Bildschirm. Vorschau zu diesem comp, und Sie sollten so etwas wie das hier sehen:
[Video id = "6733"]

Beachten Sie, dass die anfängliche Explosion für 1 Sekunde verzögert, weil wir nicht anfangen Erhöhung der Force 1 Radius, bis die 1-Sekunden-Punkt.
Nun, das ist alles schön und gut, aber wir sollen die Montage unserer Titel, nicht weht es. Aber Shatter funktioniert nur in der Zeit vorwärts - man kann nur Schlag Dinge in Shatter, nicht un-blasen sie auf - so brauchen wir einen weiteren Schritt, um unseren Titel zu montieren.
Schritt 3 - Time-Reverse der Explosion
Erstellen Sie einen neuen 720p 10-Sekunden-comp und nennen es Time-Reverse-Comp. Ziehen Sie den Text Shatter comp in die neue comp, wählen Sie die Shatter Textebene und wählen Sie Ebene
[Video id = "6734"]

Beachten Sie, dass der Titel sichtbar für eine zweite am Ende, weshalb wir nicht erlauben die Explosion bis 1 Sekunde in die comp beginnen wird. Hätten wir lassen den Titel sprengen sofort, das ist Shatter der Default-Zustand, den Titel nicht auf dem Bildschirm lange genug haben am Ende der umgekehrten Clip, damit wir es sehen.
Und das ist es! Sie können eine Menge coole Dinge mit Shatter tun in Adobe After Effects , und wie immer, möchte ich Sie ermutigen, zu experimentieren und Spaß haben.