An effect you may have seen in film and television titles is the assembly of a logo or title from a random assortment of fragments, as if the title is being blown up in reverse. We can easily create..
Un efecto que se puede haber visto en títulos de películas y la televisión es el montaje de un logotipo o el título de una mezcla aleatoria de fragmentos, como si el título está siendo explotado en sentido inverso. Podemos crear fácilmente una versión básica de este efecto en After Effects utilizando el plug-in Destruir - este rápido tutorial debe proporcionarle suficientes antecedentes para que pueda empezar a crear sus propias versiones del tratamiento. Vamos a empezar.

Paso 1 - Crear el título
Comience por hacer una 720p, 10 segundos de la composición (Composición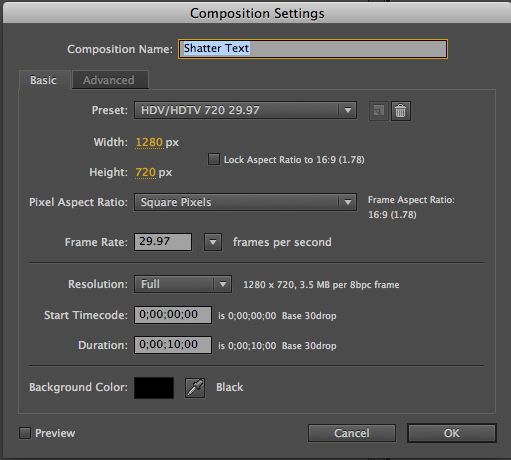 Seleccione la herramienta Texto, haga clic en la ventana de Compensación y el tipo en su título - la mía es sólo una pequeña "MPV". Que el texto cualquier color que te gusta, lo convierten en un tamaño de fuente grande que ocupa toda la pantalla, así, y el centro en la ventana de un borrador:

Paso 2 - Aplicar y configurar Destruir
A continuación, con la capa de texto seleccionado, elija Efecto
Establecer el efecto de romper los controles como se muestra aquí: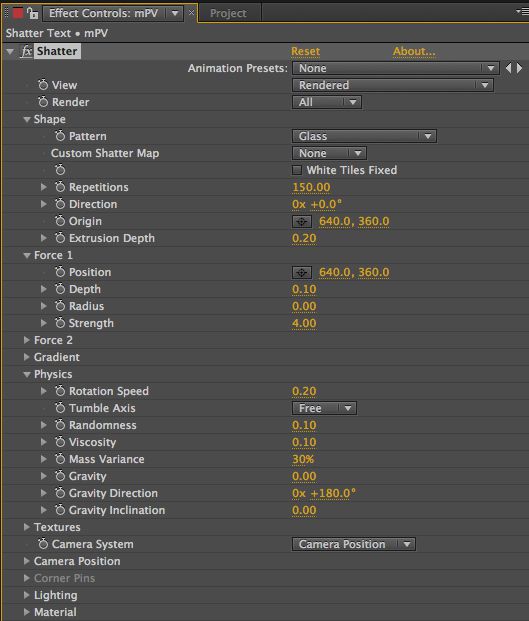 En particular, tenga en cuenta que Vista está en Prestados (para que podamos ver los resultados finales de nuestra configuración);
Shape Pattern is set to Glass;

Shape Repetitions is set to 150;

Force 1 Radius is zero;

Force 1 Strength is set to 4; and

Physics Gravity is set to zero

Ahora, si se está revisando esto, no se ve ningún cambio, porque la Fuerza 1 Radio se pone a cero, lo que significa que la fuerza inicial explosiva que va a volar las cartas no tiene tamaño, y por lo tanto no afecta a la capa. Hay una razón hemos configurado de esta manera, como veremos en un momento.
A continuación, mueva el indicador de tiempo actual a 1 segundo, y permitir a los fotogramas clave para la Fuerza de una radio. Avanzar a 1 segundo 15 cuadros, y establecer un Grupo de Radio a 1. Cuando lo hace, usted debe consultar inmediatamente a una acción en la pantalla. Vista previa de esta competición, y usted debería ver algo como esto:
[Video id = "6733"]

Tenga en cuenta que la explosión inicial se retrasa por un segundo, porque no empezar a aumentar la Fuerza de un radio hasta el punto de 1 segundo.
Ahora que todo está muy bien, pero se supone que debemos estar montaje de nuestro título, no es volar. Pero Destruir sólo funciona en el tiempo - sólo se puede volar las cosas en añicos, no los no-volar - por lo que necesitamos un paso más para montar nuestro título.
Paso 3 - con tiempo inverso de la explosión
Crear un nuevo 720p de 10 segundos un borrador, y lo llaman con tiempo inverso Comp. Arrastre el borrador de texto añicos en el nuevo borrador, seleccione la capa de texto añicos, y elija Capa
[Video id = "6734"]

Tenga en cuenta que el título se puede ver por un segundo al final, por lo que no permitimos que la explosión de comenzar hasta la segunda en la competición uno. Si tuviéramos que dejar que el título de volar inmediatamente, que es romper el estado por defecto, el título no hubiera sido en la pantalla el tiempo suficiente al final del clip invertido para que podamos verlo.
Y eso es todo! Usted puede hacer un montón de cosas interesantes con romper en Adobe After Effects , y como siempre, os animo a experimentar y divertirse.