An effect you may have seen in film and television titles is the assembly of a logo or title from a random assortment of fragments, as if the title is being blown up in reverse. We can easily create..
Un effet vous avez pu voir dans les titres de films et de télévision est l'assemblage d'un logo ou un titre à partir d'un assortiment aléatoire de fragments, comme si le titre est en cours de sauter dans le sens inverse. Nous pouvons facilement créer une version de base de cet effet dans After Effects en utilisant le plugin Shatter - ce tutoriel devrait vous fournir suffisamment de documentation pour que vous puissiez commencer à créer vos propres versions du traitement. Commençons.

Étape 1 - Créer le titre
Commencez par faire un 720p, 10 secondes de composition (Composition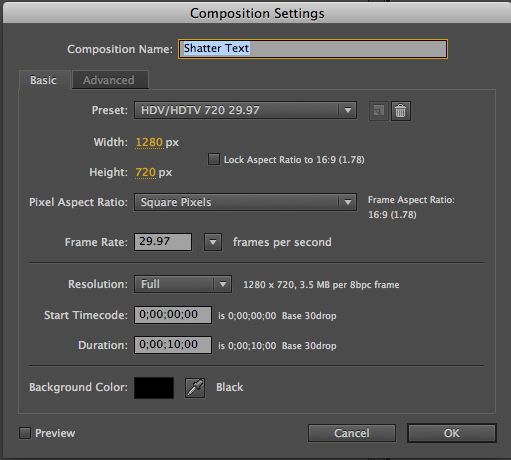 Sélectionnez votre outil Texte, cliquez dans la fenêtre de Comp et tapez votre titre - le mien est juste un peu "MPV". Rendre le texte la couleur que vous voulez, faire une police de grande taille qui remplit l'écran bien, et c'est le centre de la fenêtre de comp:

Etape 2 - Appliquer et configurer Shatter
Ensuite, avec le calque de texte sélectionné, choisissez Effet
Mettre en place des contrôles de l'effet Fracasser comme indiqué ici: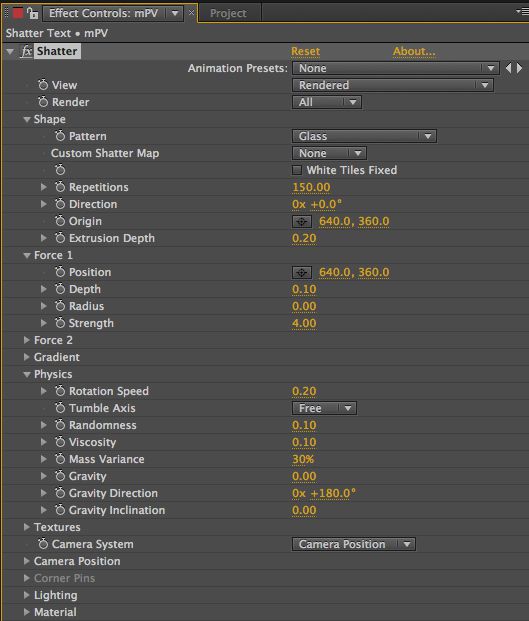 En particulier, notez que Voir est réglé rendus (ainsi nous pouvons voir le résultat final de nos paramètres);
Shape Pattern is set to Glass;

Shape Repetitions is set to 150;

Force 1 Radius is zero;

Force 1 Strength is set to 4; and

Physics Gravity is set to zero

Maintenant, si vous visualisez ceci, vous ne verrez aucun changement, parce que la Force 1 Radius est mis à zéro, ce qui signifie que la force initiale explosive qui va faire exploser les lettres n'a pas de taille, et donc ne touchent la couche. Il ya une raison que nous avons mis de cette façon, comme vous le verrez dans un instant.
Ensuite, déplacez votre Indicateur heure actuelle à 1 seconde, et permettre keyframing pour Force 1 Rayon. Avancez à 1 seconde 15 images, et mis en vigueur 1 rayon à 1. Quand vous faites, vous devriez immédiatement voir une certaine action sur l'écran. Aperçu de cet maquette, et vous devriez voir quelque chose comme ceci:
[Vidéo id = "6733"]

Notez que l'explosion initiale est retardée pendant 1 seconde, parce que nous n'avons pas commencer à augmenter la Force 1 Rayon jusqu'au point une seconde.
Maintenant que tout est bien et bon, mais nous sommes censés être assembler notre titre, pas exploser. Mais ne fonctionne que Shatter avant dans le temps - vous ne pouvez sauter les choses dans les Shatter, pas les non-sauter - nous devons donc un pas de plus pour assembler notre titre.
Étape 3 - Temps inverse de l'explosion
Créer un nouveau 720p à 10 secondes maquette, et appelez-le-Temps inverse Comp. Faites glisser le comp Texte Shatter dans la nouvelle maquette, sélectionnez le calque de texte Shatter, puis choisissez Calque
[Vidéo id = "6734"]

Notez que le titre est visible pendant une seconde à la fin, c'est pourquoi nous ne permettait pas l'explosion de commencer jusqu'à ce qu'une seconde dans la maquette. Si nous avions laissé le titre exploser immédiatement, qui est l'état par défaut Shatter, le titre n'aurait pas été assez longtemps sur l'écran à la fin du clip inversé pour nous permettre de le voir.
Et c'est tout! Vous pouvez faire beaucoup de choses cool avec Shatter dans Adobe After Effects , et comme toujours, je vous encourage à expérimenter et à s'amuser.