An effect you may have seen in film and television titles is the assembly of a logo or title from a random assortment of fragments, as if the title is being blown up in reverse. We can easily create..
Un effetto che può avere visto in titoli di film e la televisione è l'assemblea di un logo o il titolo da un assortimento casuale di frammenti, come se il titolo è stato fatto saltare in aria in senso inverso. Siamo in grado di creare facilmente una versione base di questo effetto in After Effects utilizzando il plug-in frantumi - questo breve tutorial dovrebbe fornire conoscenze sufficienti in modo da poter iniziare a creare proprie versioni del trattamento. Cominciamo.

Fase 1 - Creare il titolo
Inizia facendo un 720p, 10-secondi composizione (Composizione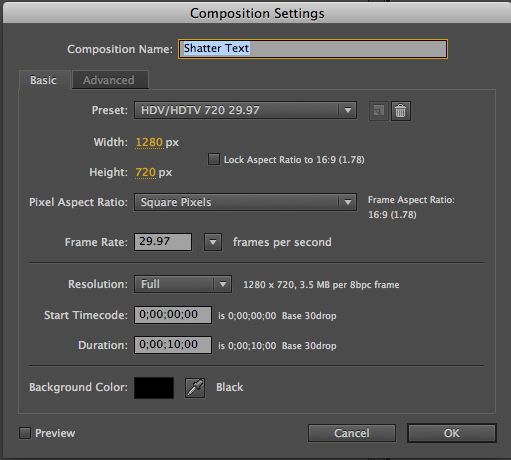 Seleziona il tuo strumento Testo, fare clic nella finestra Comp e digitare il titolo - la mia è solo una breve "MPV". Rendere il testo qualsiasi colore che ti piace, ne fanno un font di grandi dimensioni che riempie lo schermo bene, e centrarlo nella finestra comp:

Fase 2 - Applicare e configurazione Shatter
Successivamente, con il livello di testo selezionato, scegliete Effetto
Impostare l'effetto Esplosione controlli come illustrato di seguito: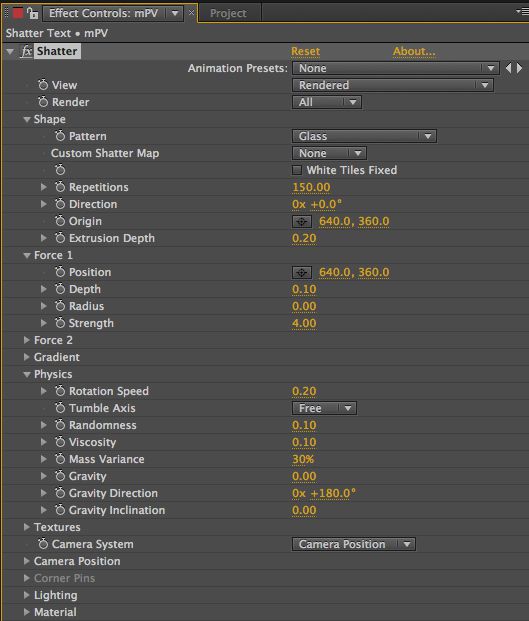 In particolare, si noti che View è impostata su Rendered (in modo che possiamo vedere il risultato finale delle nostre impostazioni);
Shape Pattern is set to Glass;

Shape Repetitions is set to 150;

Force 1 Radius is zero;

Force 1 Strength is set to 4; and

Physics Gravity is set to zero

Ora, se questa anteprima, non si vedrà alcun cambiamento, poiché il raggio di 1 Forza è impostato a zero, il che significa che la forza iniziale esplosiva che farà saltare in aria le lettere non ha dimensioni, e quindi non influenza il livello. C'è una ragione lo abbiamo impostato in questo modo, come si vedrà tra un momento.
Quindi, spostare il Current Time Indicator a 1 secondo, e attivare i fotogrammi chiave per la Force 1 Radius. Andare avanti a 1 secondo 15 fotogrammi e impostare Force 1 Raggio a 1. Quando lo fai, è opportuno rivolgersi subito qualche azione sullo schermo. Anteprima di questo comp, e si dovrebbe vedere qualcosa di simile:
[Video id = "6733"]

Si noti che l'esplosione iniziale è ritardata per 1 secondo, perché non abbiamo iniziare ad aumentare il raggio di 1 vigore fino alla 1-secondo punto.
Ora che è tutto molto bello, ma noi dovremmo essere assemblare il nostro titolo, non saltare in aria. Shatter ma funziona solo in avanti nel tempo - si può solo esplodere le cose in frantumi, non li un-saltare in aria - quindi abbiamo bisogno di un altro passo per assemblare il nostro titolo.
Fase 3 - Time-Invertire la Explosion
Creare un nuovo 720p di 10 secondi comp, e lo chiamano Time-Reverse Comp. Trascinare il Shatter comp testo nel nuovo comp, selezionare il livello di testo in frantumi, e scegliete Livello
[Video id = "6734"]

Si noti che il titolo è visibile per un secondo alla fine, è per questo che non ha consentito l'esplosione di iniziare fino a quando secondo nel comp uno. Se avessimo lasciato il titolo esplodere subito, che è in frantumi è stato di default, il titolo non sarebbe stato abbastanza a lungo sullo schermo, alla fine della clip invertito per consentire a noi di vederlo.
E questo è tutto! Si può fare un sacco di cose interessanti con Shatter in Adobe After Effects , e come sempre, vi incoraggio a sperimentare e divertirsi.