An effect you may have seen in film and television titles is the assembly of a logo or title from a random assortment of fragments, as if the title is being blown up in reverse. We can easily create..
Um efeito que você pode ter visto em títulos de filmes e televisão é a montagem de um logotipo ou o título de uma variedade aleatória de fragmentos, como se o título está sendo explodido em sentido inverso. Podemos facilmente criar uma versão básica deste efeito no After Effects usando o plugin Shatter - este rápido tutorial deve fornecer-lhe fundo o suficiente para que você pode começar a criar suas próprias versões do tratamento. Vamos começar.

Passo 1 - Criar o título
Comece fazendo uma 720p, composição de 10 segundos (Composição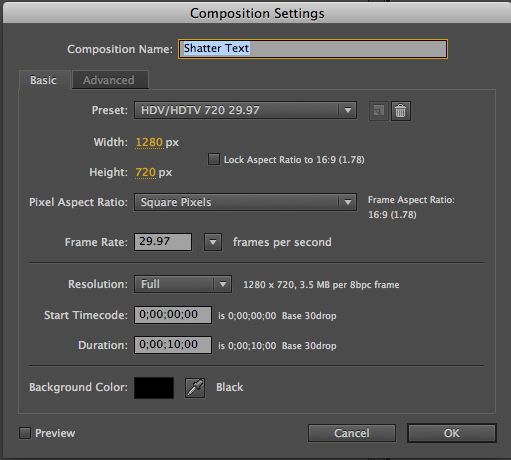 Selecione a ferramenta Texto, clique na janela de Comp e digite em seu título - o meu é apenas um short "MPV". Tornar o texto que cor você gosta, torná-lo um tamanho de fonte grande que preenche a tela bem, e centralizá-lo na janela de comp:

Passo 2 - Aplicar e configurar Shatter
Em seguida, com a camada de texto selecionado, escolha Efeito
Criar o efeito Shatter controles como mostrado aqui: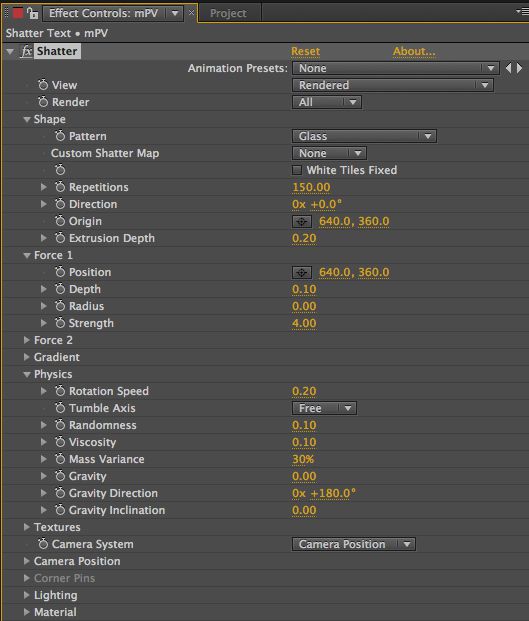 Em particular, note que View é definida como Prestados (para que possamos ver os resultados finais dos nossos configurações);
Shape Pattern is set to Glass;

Shape Repetitions is set to 150;

Force 1 Radius is zero;

Force 1 Strength is set to 4; and

Physics Gravity is set to zero

Agora, se você visualizar isso, você não verá nenhuma mudança, porque a Force 1 Radius está definido para zero, o que significa que a força inicial explosiva que vai explodir as letras não tem tamanho, e por isso não afeta a camada. Há uma razão para nós defini-lo dessa maneira, como você verá em um momento.
Em seguida, mova o indicador de tempo atual para 1 segundo, e permitir keyframing para Força Radius 1. Avançar para um segundo 15 frames, e definir Força Radius 1-1. Quando você faz, você deve ver imediatamente alguma ação na tela. Visualizar este comp, e você deve ver algo como isto:
[Vídeo id = "6733"]

Note-se que a explosão inicial é adiada por um segundo, porque não começar a aumentar a Force 1 Radius até o ponto de 1 segundo.
Agora que está tudo bem, mas estamos montando suposto ser o nosso título, não explodi-lo. Mas Shatter só funciona para a frente no tempo - você só pode explodir coisas em Shatter, não un-explodi-los - por isso precisamos de mais um passo para montar o nosso título.
Passo 3 - Time Reverse-explosão do
Criar um novo comp 720p de 10 segundos, e chamá-lo-Time reverssa Comp. Arraste o comp Texto Shatter no comp novo, selecione a camada de texto Shatter e escolha Camada
[Vídeo id = "6734"]

Note-se que o título é visível por um segundo no final, é por isso que não permitiu a explosão para começar, até que um segundo para o comp. Se tivéssemos deixado o título explodir imediatamente, o que é Shatter do estado padrão, o título não teria sido na tela o tempo suficiente no final do clipe revertida para permitir-nos a vê-lo.
E é isso! Você pode fazer um monte de coisas legais com Shatter no Adobe After Effects , e como sempre, encorajo-vos a experimentar e se divertir.