There's lots of new features in the latest Adobe CC update. Although the update hasn't got its own large feature number it's definitely worth checking out. Iain Anderson gives an overview review.
Yes, it's a substantial Adobe update, but no, it's not called "CC 2016". Perhaps the next update will be big enough to justify a new year on the end of the app's name, but this time around, it's just a point on the end of 2015—InDesign CC 2015.4, Photoshop CC 2015.5, and so on. Still, there are plenty of new features, and some of them are going to change your daily workflows for the better. We'll take a good look at the main apps for design, and a brief look at the video apps too.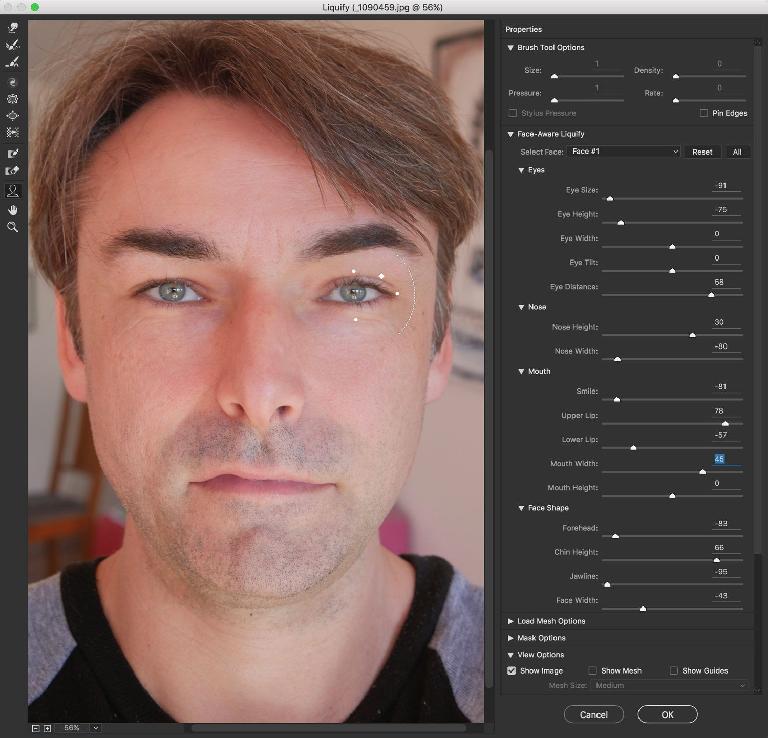 Liquify with face recognition makes every face shot into a game's character creation screen, and you can tweak all the sliders to make monsters
Photoshop (2015.5)
In a grab bag of several smaller items, there are a few which stick out, but if you're a portrait retoucher or simply like to play with photos of your friends, Liquify has seen a massive upgrade. It can now spot and adjust faces, and while this appeared in a mobile app first, the added controls here in the full-strength Photoshop make virtual plastic surgery easier than ever.
Match Font promises to identify a font in your image and then load it from Typekit if available. So far, I haven't had much luck, and I'm being offered fonts that look nothing like the text I'd typed. Hopefully this feature improves with time.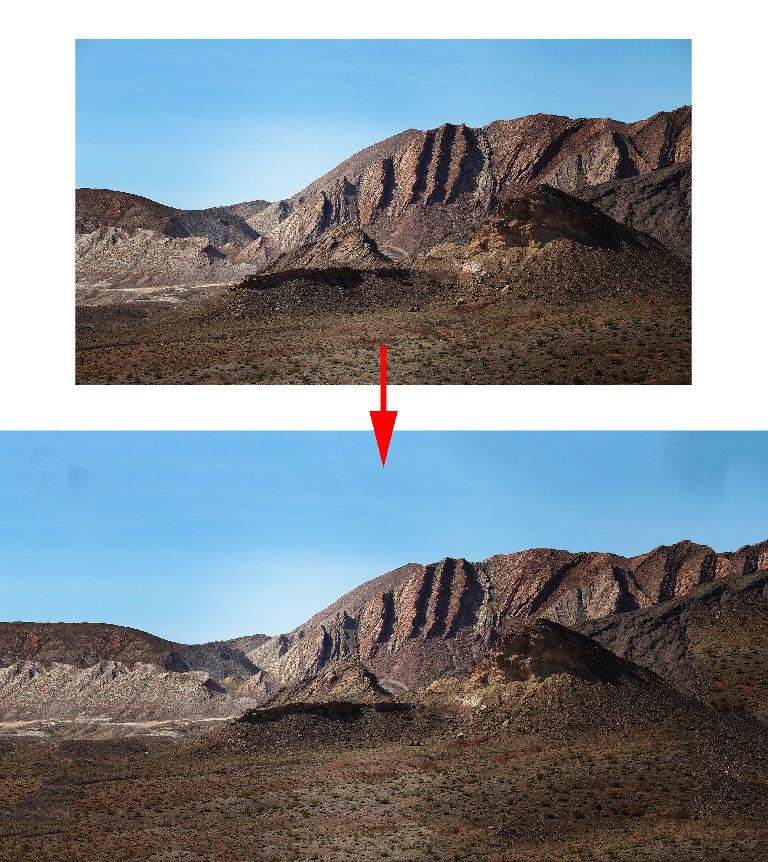 The Before and After of this image, created with Content-Aware Crop, is impressive for a one-shot operation
A second handy feature for many people is Content-Aware Crop, which lets you expand the canvas with the Crop Tool, then automatically fill the new area with appropriate-looking content. You've been able to expand the canvas and then use Content-Aware Fill for some time, but this is much easier. Select the Crop tool, be careful not to use "Classic Mode", then just make the canvas bigger. Even if the results (like any content aware option) will sometimes need tweaking or selective re-doing, it's a big time saver. (Also note that this won't work with Smart Objects.)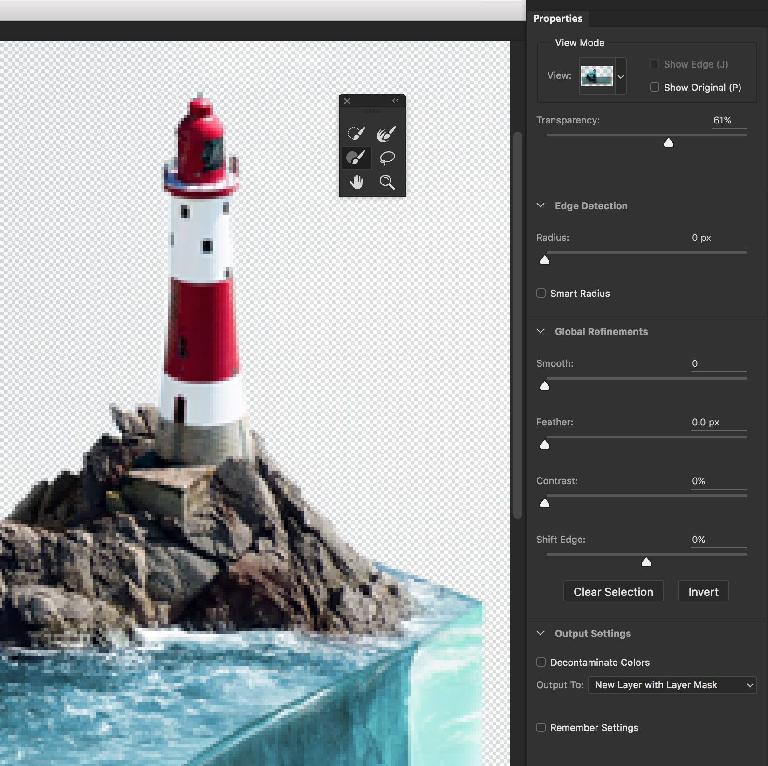 Now a separate mode, Refine Edge has grown up; you'll still make a selection first, but finessing it is easier
Refine Edge was great, but it's now been enhanced by the new Select and Mask mode, a little like the Blur Gallery, which will change the way you select. Not only do you have the old controls for refining and detecting edges, and a Refine Edge Brush that tells Photoshop where the edges are, you now have access to a Brush that can actually adjust the mask directly, a Lasso that adds or removes large areas, and a Quick Selection tool that adds or removes areas of similar color. You no longer have to get your selection nearly right before trying to refine it, because you have most of the tools you need at your fingertips. On top of that, there's a new view mode, Onion Skin, with controllable background transparency. Overall, this is a massive improvement to this key feature, and it's easily reason enough to upgrade. Check out the other improvements here.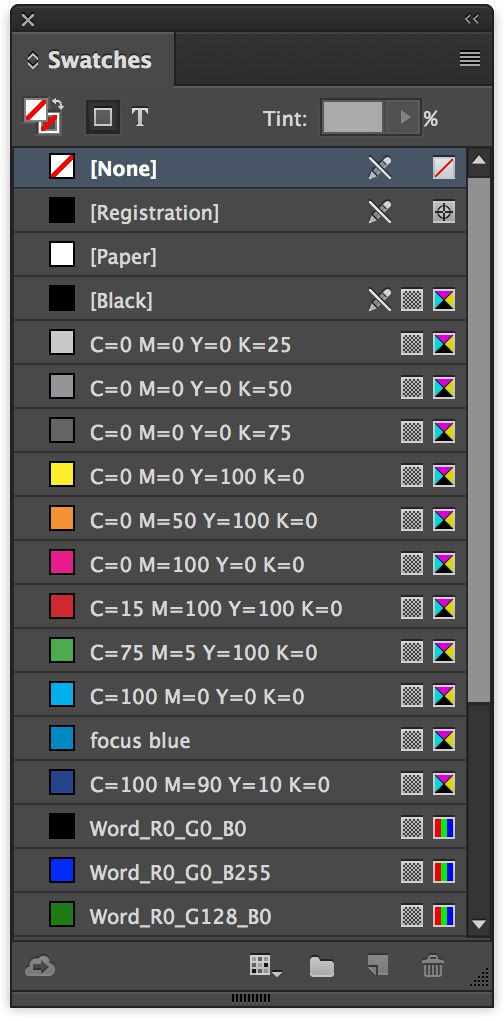 All the UI looks sleeker, but here's the new, roomier Swatches panel, sorted by color value
InDesign (2015.4)
Mostly the updates here are smaller, but there's a big improvement if you're on a Retina Mac. A new GPU-based display mode means that High Quality is now the default, and scrubby live zooming (yes!) is as fast and fluid as in Illustrator and Photoshop. This is a huge deal for complex layouts; even big documents with plenty of images work well. For everyone, the UI has been refined and subtly enlarged everywhere, which is welcome, as it was getting pretty tiny. There are also enhancements to swatch sorting (you can sort by color value), Adobe Stock integration and network file stability. Here's the fine print.
Illustrator
Anyone who works with screen-based media will appreciate the new artboard-based export features. With new support for UI development workflows, you can now export entire artboards—or even specific groups of elements—to multiple formats simultaneously. As well as different formats, you can automatically export to different resolutions, with retina-friendly @2x and @3x file naming. This is going to make a lot of boring jobs simpler, and a lot of UI designers happy.
There are also many smaller refinements to the ways in which Live Shapes work, and the shapes will now stay live even after transform operations like shearing. As before, you can use the Transform panel to access the shape controls, including pie-chart style controls for ellipses.
Libraries keep on getting better, and now make it easy to share Paragraph Styles from InDesign to Illustrator. They're not exactly the same, but it's a big help when you're looking for cross-app consistency. The default mode for graphic assets in Libraries is now also to be "linked", meaning that updates to the asset in the library will propagate through documents that use that asset. Here's general information about the new release and the new Library functionality.
Premiere Pro (2015.3)
If you work with FCP X, you may be familiar with its proxy workflow. This version of Premiere Pro adds something similar, but with greater control over the resolution and codec of the proxy files. There's also welcome new features to help with virtual reality workflows, remove effects (a common FCP X request!) and also use secondary HSL color correction within Lumetri Color. Along with social media exporting, there are many welcome features in this upgrade.
Animate CC (2015.2)
The new name for Flash has seen its first major update, and now supports Retina/HiDPI output for HTML5 canvas projects. There are other improvements to brushes and working with graphic symbols too.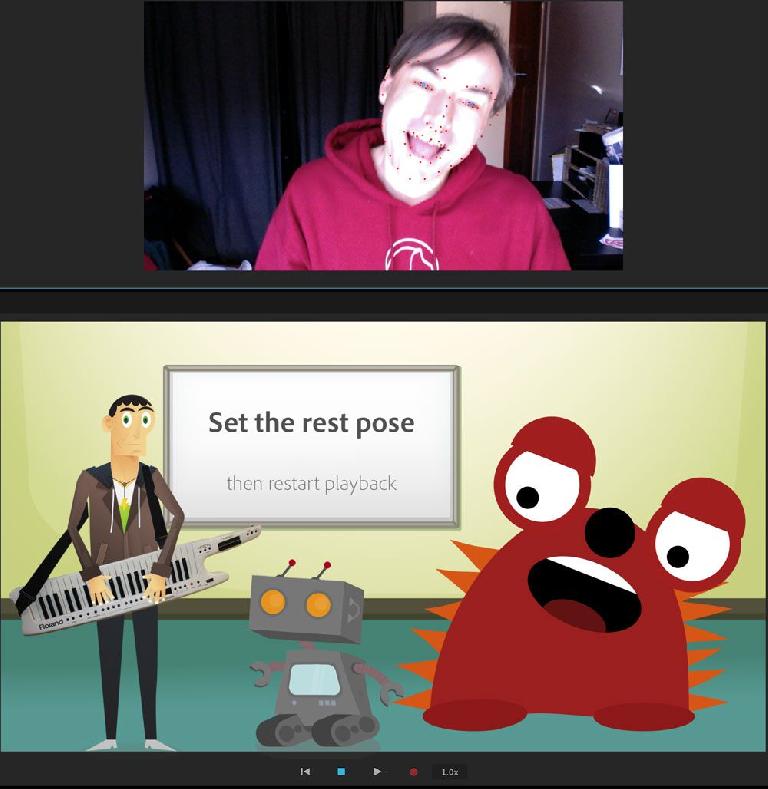 This "I am a red monster" screenshot from the introductory tutorial shows you how silly and fun the Character Animator can be; now, to find a use for it…
After Effects
Most of the updates here are to do with speed, though there are some more substantial changes to the Character Animator. You can even use it to perform live animation, as The Simpsons did recently. Details here.
Collaboration improvements
Common to many of these apps is an updated Libraries panel, so if you're working in a group, you'll have more control over how items are shared. Specifically, you can now set a library as read-only, meaning that those you share it with can't mess it up.
Conclusion
For a mid-year, no-new-name update, this is a substantial set of new features, improvements and bug fixes. Most of the apps have seen some significant new features, but if you're a designer, your selections and layouts just became a far smoother experience. Selections in Photoshop are core, and to improve them is to improve your day-to-day experience. Similarly, though it might not look great in screenshots, anyone who's waited painful seconds for an InDesign layout to pop into clarity will love the new GPU-based drawing engine. The other improvements are definitely welcome, and it's good to see the subscription model delivering on its promise of continuous improvement. Grab the updates now, but keep the old versions around just in case they give you trouble.
Learn more about Adobe apps here.