If you want to go from casual to serious Final Cut Pro X editor, then this article is for you. Iain Anderson shares five tips from the front line to help your editing workflow shine.
If there's one thing that separates the casual editor from a more serious one, it's usually speed. With experience comes knowledge of exactly what you need to do to the edit to make it sing, and the fastest way to put that knowledge into action is to know the tricks. With that in mind, here are five of the best ways to work quickly and efficiently in FCP X.
Live Trimming
During an edit, one of the most common tasks is to make a clip shorter. Editing wisdom tells us that a clip should be able to justify every frame of its length; if it's not necessary, it's cut. FCP X has three keys which are great at doing just that, whether you're paused or playing a timeline. With nothing selected, the clip under the playhead will be affected, but you can select a clip to trim that instead.
Option-[ to start the clip at the current playhead position (Trim Start)
Option-] to end the clip at the current playhead position (Trim End)
Option-\ trims to the start or end, whichever is closer to the current playhead position (Trim to Playhead)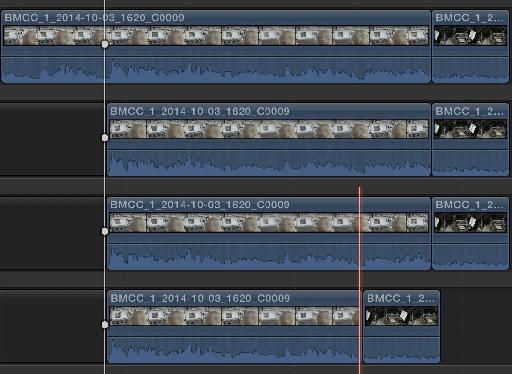 Before the edit, after a Trim Start, after playing forward, and after a Trim End.
These commands are invaluable for quick trims on the fly, and didn't exist in FCP 7.

Adjustment Layers
You can make your own with Motion, or pick up one from many places online, but Adjustment Layers are invaluable. They aren't included in the default installation, but they are ridiculously helpful. And what are they? They're empty titles, with no included text. Any color changes or effects applied to adjustment layers affect every clip below them.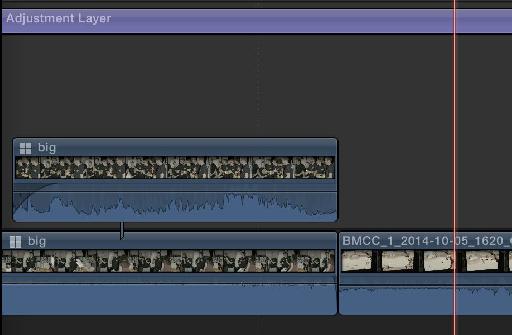 Everything below the purple line is affected, so put other titles above it to leave them untouched.
If you're shooting with a camera that records in a Log color space, an easy way to work with the footage is to apply a correction filter to an adjustment layer, then correct each clip individually with the color board.
Keyword and Favorite First
When you first start to work through your footage, it's quite tempting to dump it all on a timeline and start culling. There's often a better way, though. Press Command-K to bring up the Keywords popup, then pre-define keywords which suit your footage in each of the boxes, assigned shortcuts of Control-1 through Control-9.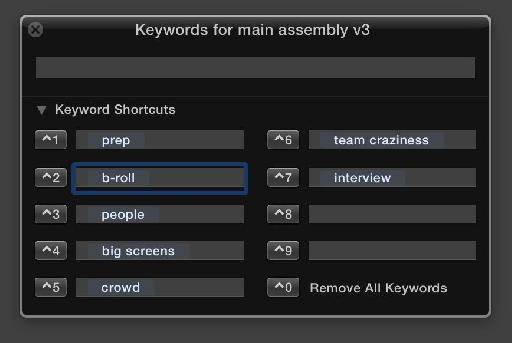 Tailor the keywords to your project as needed.
With the shortcuts ready to go, make sure no clips in your event are selected, then just hover over each in turn, and press the matching Control-# shortcut key. It's insanely fast to organize your footage. When that's done, click-drag-release or use I and O to mark in and out points, and press F to make a Favorite.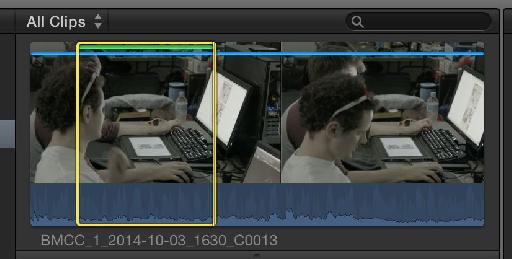 A clip after a quick click-drag-release or I then O.
View Favorites from the drop-down at the top, and you've got the best bits of all your clips sorted and organised, viewable with the keyword collections to the left.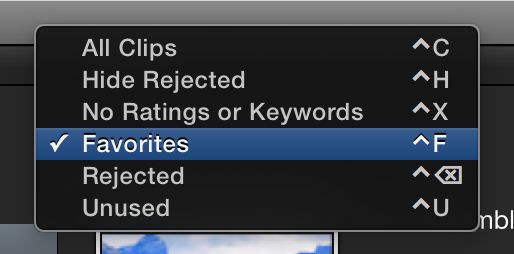 Look to the menu at the top to view only your top picks.
Export Faster
Though it's downplayed by the language used, there's very little wrong (and a lot right) with using the Faster Encode options in FCP X. Sure, the other option says 'Better Quality' but it's often hard to tell the difference visually.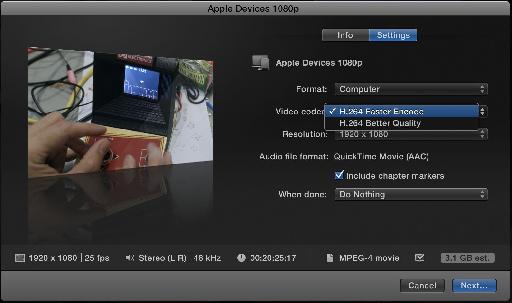 Many of the H.264 export options have Faster Encode.
And if you're on any modern Mac except a Mac Pro, the Faster option is much, much faster, as it uses Intel's Quick Sync, built into the CPU (but not available on the Mac Pro). More information is available here, including how to make it work in Compressor.
Reveal Hidden Features with Custom Keyboard Shortcuts
Changing often-used keyboard shortcuts is a great way to make common actions faster. For example, some people have recommended using G and H for the most common Trim Start and Trim End commands above.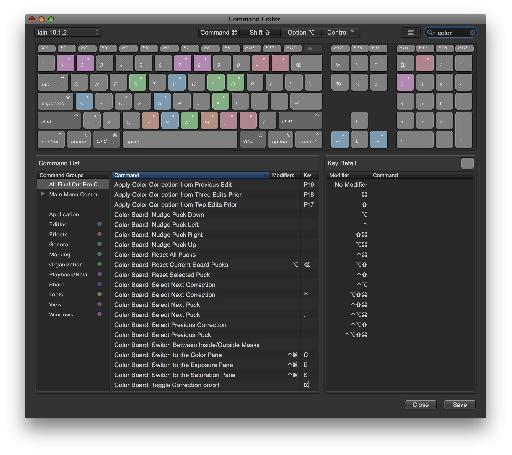 That key used for Toggle Correction is the clear key on the numeric keypad.
But some other commands are completely inaccessible if you don't assign keys to them '" they're not in the menus and they don't have shortcuts by default. Under Final Cut Pro > Commands > Customize, search for 'color' and assign keys to:
Apply Color Correction from Previous Edit

Apply Color Correction from Two Edits Prior

Apply Color Correction from Three Edits Prior

Color Board: Toggle Correction on/off

Conclusion
FCP X is a powerful tool with many features, and it can take time to become comfortable with it. Once you get there, it's great to know you can always get faster again. If you have any other tips, please leave them in the comments below, and happy editing.