OS X 10.10 Yosemite is here and if you haven't installed it yet, you may be thinking about it. Here's 5 features Francesco Schiavon feels might have you scratching your head, or not...
Like every new OS version, specially major version updates, like this jump from OS X 10.9 Mavericks to 10.10 Yosemite, you are bound to find a lot of nice new features, probably some that you won't like, and regardless if you like them or not, some that first will make you wonder: Why?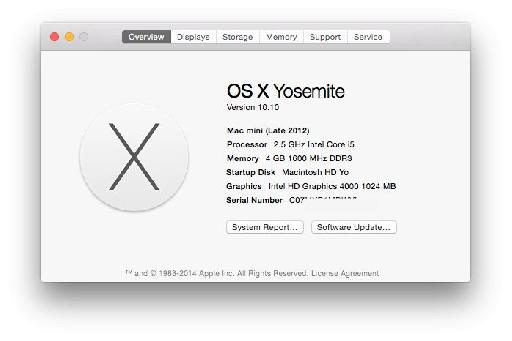 Here are some of the "Really?/What?" exclamations that popped in my head while switching from Mavericks to Yosemite*:
* Mind you that these popped in my head the first time or first few times I used Yosemite. Once you use it on a regular bases, they just become normal.
#1 - Yosemite - Really?
It used to be that software development had code names for projects so other teams and the competition were kept in the dark about the new features being developed. Somewhere along the lines, some brilliant marketeer decided to use those, often secret, code names for public advertisements. And that was the moment I lost track of what version comes after which. Is Mountain Lion newer than Snow Leopard? I totally get 10.7 vs. 10.8 vs. 10.9. But cat names and California landmarks? Come on! Yosemite has the added challenge that lots of people, including myself, are not sure about the correct pronunciation'¦
#2 - Start-up Progress Bar
If you have ever updated the firmware on your Mac, you'd know it's a big deal. Not because it's difficult, but because it's uncommon and it really gets into the guts of your Mac's hardware.

Well, it turns out that when you update the firmware on your Mac, as the update happens, you see a simple progress bar after the boot chime. During this time the update gets really deep into the hardware and you must not shut down your Mac.

Prior to OS X 10.10, when your Mac boots, it shows a spinning gear. You don't have an idea of how long it will take to finish booting by looking at the spinning icon, but it means something is happening as your Mac boots up.

Now, in Yosemite, when your Mac boots up, you'll see a progress bar, very similar, but not identical, to that of a firmware update. When I saw this progress bar the first couple of times as my Mac was booting up in Yosemite, my first thoughts were "WTF, the firmware is being updated!" But I was wrong.

Can you tell from these lousy photos which is a boot progress bar and which is a firmware update?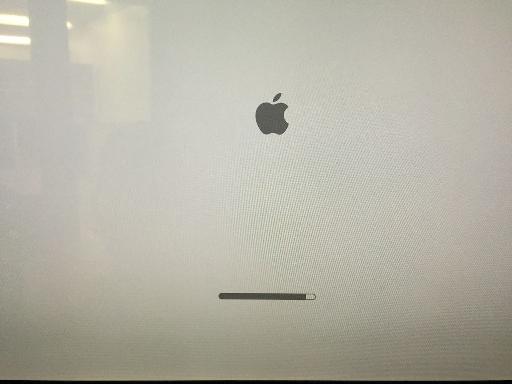 Boot progress bar.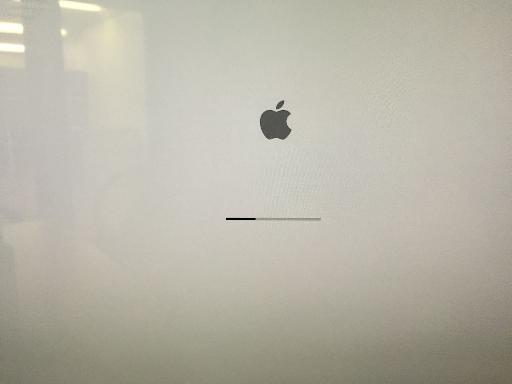 Firmware progress bar.
Oh, and BTW, during the boot progress bar, it first moves at a somewhat constant rate, until it reaches about 60 or 70%, then it seems to stop, and then suddenly jumps to close to 100%. So, the progress bar doesn't really get you much of a time indication, anyway.
#3 - Full Screen instead of Maximize
Later version of OS X have been making the Full Screen feature more and more prominent. I feel I've been pushed to use applications in full screen, even when I personally don't like the feature. Yosemite just goes above and beyond! Now the green button on the traffic light set of buttons at the top left of many windows now defaults to Full Screen. Not cool if you don't like the full screen feature.


Maximize changed to Full Screen.
If you've used OS X before Yosemite, and probably even if you love the full screen feature, the first time you click on that green button, two thoughts will go through your mind in a span of 3 milliseconds: "Was that a cross bar on the green button?" and "why is the window going full screen?". Welcome to Yosemite!

Hold down Option and click the green button to force it to Maximize the window.
I'm not sure what they were thinking. Although I did not find a way to turn this "feature" off completely, you can disable it while clicking on the green button by holding the Option key as you roll over the green button. I'm now used to holding the Option key as I press the green button.
#4 - Dead Centered Spotlight Search
The new Spotlight Search has a number of new search and non search capabilities (like doing unit conversions), but the thing that really made me scratch my head was the fact that it opens dead center in the middle of your screen. That on its own is not too bad if you use the keyboard shortcut, but my gripe is why can I not move the window around? If you want to see anything behind it, you'll have to close the search first.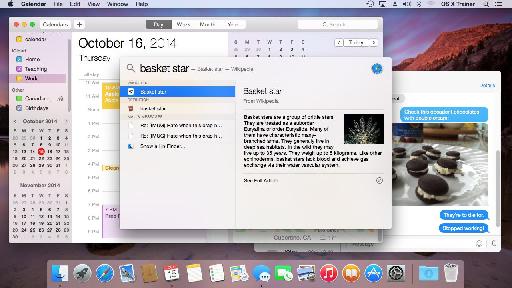 Dead Center Spotlight.
#5 - No full URLs in Safari
I totally appreciate the concept of "less is more", specially when it comes to UX (User Experience'"a relative of User Interface) and more importantly, elegant and thoughtful UX. And in all honesty, this is my very personal, techie rant that I undersand may not apply to everyone, though.

In Yosemite, Safari only shows the main domain of any webpage you're on, instead of showing you the full address or URL of such page. Compare these two Safari screenshots:


The default address bar in Safari on Yosemite.

The Full address bar in Safari.
These two screen shots are from the same page, which is NOT the homepage of macProVideo.com:

https://www.macprovideo.com/tutorial/os-x-yosemite-100-what-s-new-in-os-x-yosemite
If you'd rather see the second option, go to Safari > Preferences'¦ > Advanced and enable "Smart Search Field: Show full website address".
The Flipside: Welcome Features
Ok, ok, ok. Not all is bad in Yosemite. On the contrary. I think my personal best feature of the whole update to 10.10 is that the UX and UI are not dramatically different. It does have a lot of nice features that I welcome.

Here are just a few new changes that were nice to see:
#1 - Bright progress bars and check boxes
The hight contrast between the selected items, progress bars and pull-down menus make forms and dialogue windows much easier to read.

#2 - Flat Dock
I really dig the new, flat Dock with the blurry transparency vs the old, 3D glossy background. It just makes more sense and instead of distracting you with the reflection of windows close by, it sort of blends with the background and still offers excellent contrast with it.

#3 - Dark Menu Bar and Dock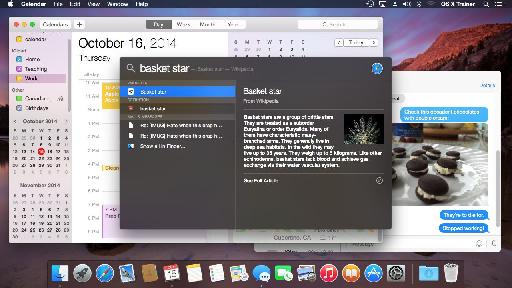 Dark mode in Yosemite.
The Dark Menu Bar and Dock give a nice change to the typical bright UI of the Mac. It does make it feel more professional, less distracting, and extends to other things like the Application Switcher, Spotlight Search, Volume/Screen Brightness overlays, etc. I only wish the Finder windows could also go dark as in Photoshop, Final Cut Pro X, Logic Pro X, etc.

Conclusion
To wrap up, I'm sure you'll encounter your own "Really?" moments when using the new OS. It's the price of getting new features with a generally refreshed UI. You'll see that after a few days/weeks of using it, you'll feel more at home. And the funny part is you'll feel that any older version of the Mac OS just looks and feels clunky.
Learn more about OS X Yosemite in these video courses:
https://www.macprovideo.com/tutorial/os-x-yosemite-100-what-s-new-in-os-x-yosemite