Editing quicker is the name of the game for most video editors. And using keyboard shortcuts still provides the best solution. David Smith shares his 8 essential finger-flexing FCP X shortcuts.
Keyboard shortcuts are a huge part of any editor's workflow. Like a concert pianist, an editor with flexible fingers goes a very long way. I recall working alongside one particularly large-handed editor who used nothing but keystrokes to cut. It was mesmerizing.

Now I'm not an advocate of the more obscure keyboard shortcuts out there but the really useful ones, I love. Here are eight of my favorites for FCP X.
Shortcut 1 - Nudge: , .
Nudge is a really useful addition to Final Cut's workflow in FCPX. To Nudge a clip select it it the timeline then press , (Comma) to move the clip 1 frame to the Left or . (Period) to move it one frame to the Right.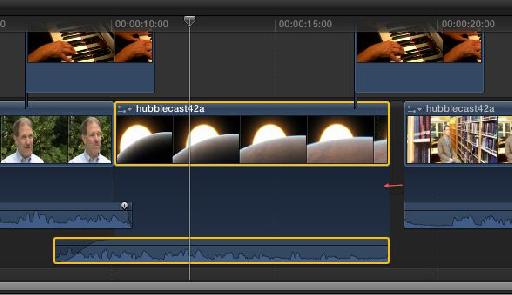 selected clip, nudged.
Nudging clips in the Primary Storyline can be problematic as it's not a Rippling tool, so it leaves a gap. For connected clips, sound effects etc., it's absolutely brilliant.
Using Shift with nudge keys, Shift-, and Shift-. nudges the clip 10 frames left or right, handy for larger movements.
Shortcut 2 - Select Edges: [ ]
Selecting the edges (in or out points) of a edit point is not particularly hard, but still an easier option should always be welcomed. To select the left edge of an edit point (think out point) press [. For the Right Edge (in point) press ].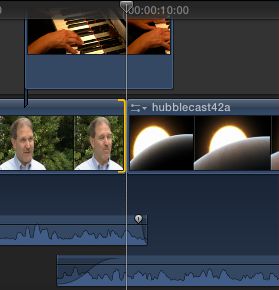 Selected edit point.
Now try using [ and ] with nudge , & . and you have a really neat ripple function.
Shortcut 3 - Backstory: Shift-Q or Shift-W
Backstory is the new term for the FCP X equivalent to Backtiming. Backstory lets you Insert or Connect clips to the Skimmer or Playhead in a Storyline by aligning the End (Out) point rather than the Start (In) point.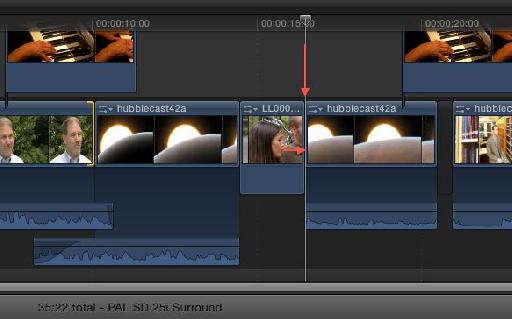 Inserted Backstory.
To Insert a Backstory clip press Shift-W. The clip will be inserted so that its end point will align with the Skimmer or Playhead position (tip: remember the Skimmer takes precedent)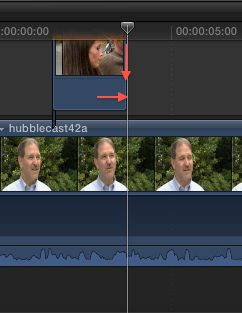 Connected Backstory.
To connect a Backstory clip press Shift-Q. The clip will be connected to the Storyline so that its end point aligns with the Skimmer or Playhead position.
Shortcut 4 - Move Playhead Position: Control-P
Sometimes, at least until you're more used to it, positioning the playhead can be a bit tricky when you're only able to drag it around and click. Particularly if you find the Skimmer tends to act like an excited puppy and follows you everywhere.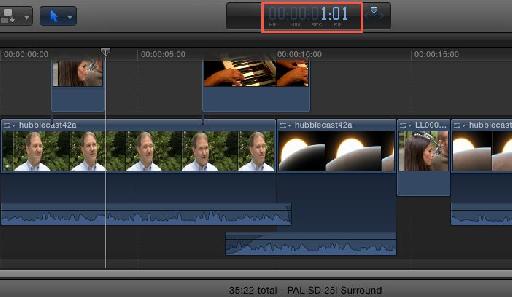 Playhead Position.
For a quicker way to place the playhead at a precise position try pressing Control-P and typing in a Timecode Value. The playhead will jump to that frame.
Tip: try typing a frame value instead such as +21 or -1.10 to make the playhead move by that amount.
Shortcut 5 - Insert Placeholder: Command-Option-W
In Final Cut Pro 7 if you wanted to create a space as a holder for a graphic that wasn't ready or some footage that hadn't been shot yet you would use Slug, or perhaps a Text clip. FCP X addresses this same issue by providing a Placeholder option.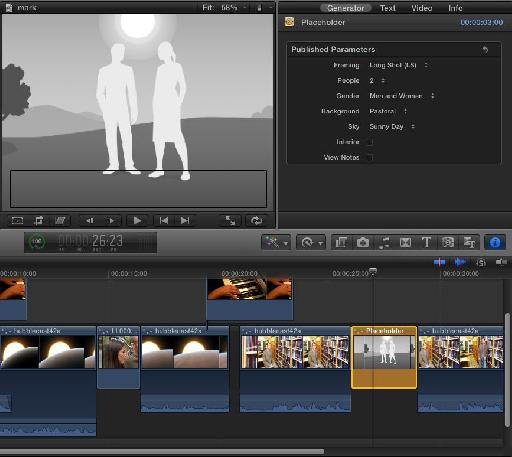 A Placeholder.
To insert a placeholder, place the Skimmer or Playhead at the desired position and press Command-Option-W. A placeholder clip will be inserted at the position. Open the inspector (Command-4) to modify the Placeholders parameters.
Shortcut 6 - Enable/Disable Clip: V
Clip Connections and Secondary Storylines are a great way to manage cutaways. However, because of FCP X's trackless workflow they can become a real pain when you need to see the Primary Storyline under them again.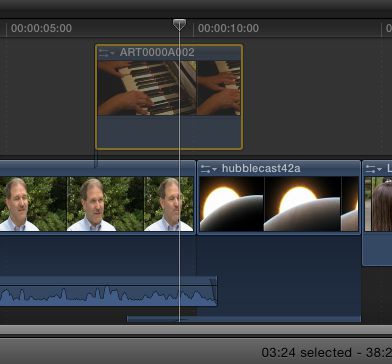 Disabled Clips.
Select any clip or clips and press V to disable them, revealing in the Viewer any clips under them. Press V again to re-enable them.
Shortcut 7 - Full Screen Playback: Command-Shift-F
The viewer is fine for most functions, but to get a really detailed look at your cut you need to switch to full screen mode (at least until Apple adds Video Monitor Out to FCP X).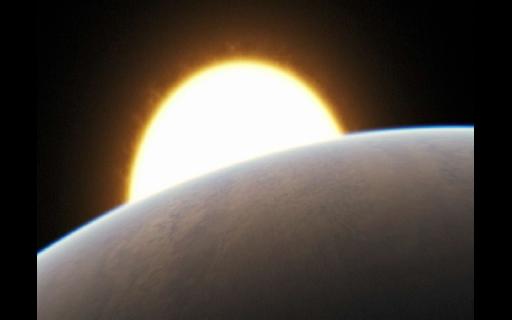 Full Screen.
Press Command-Shift-F to switch to Full Screen (and Esc to return to normal mode).
Shortcut 8 - Play Around: Shift-?
Play around is a huge help when reviewing any edit points or audio edits. it saves so much "to-ing" and "fro-ing" in the timeline.
Place the playhead on or near the centre of the edit you wish to review. Press Shift-? to play around the playhead position.
Tip: Looping playback Command-L will also be of use here. When you stop the playhead it neatly returns to the position you placed it.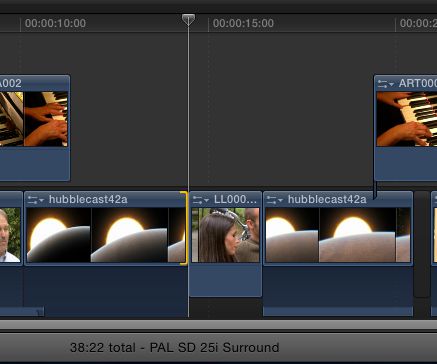 The Playhead positioned.
There are over 200 shortcuts available in FCPX, some more common than others but all of them useful in their own way. Have fun getting used to these new ones, I'm sure they will make a difference.
Want more? Learn all about FCP X from the co-creator of the original Final Cut, Michael Wohl.