In part 2 of this three-part series on Apple's Compressor, Ben Balser explores how to work with Compressor 4.1's Destinations and Locations to make your video compression tasks easier.
With Compressor updated with its new interface, things have gotten a lot easier to work with, but for the most part all of the functionality is still there. Two related items in Compressor that can make post-production life easier are the Destinations and Locations presets. These can be Apple supplied presets or your own custom presets. In this article we will look at what these are and how to create our own.
Destinations
The term Destinations is somewhat shared with Final Cut Pro X. It is an exporting, or transcoding preset. The difference between the FCP X term and the term in Compressor is that in Compressor a Destination is a transcode 'Setting' (like in FCP X) that additionally includes an automated 'Job Action'. I'll cover Job Actions later.
In the Settings & Locations pane (Command-5), the Settings section, in the Built-In category, the first few presets are Destinations. The icon is blue and look alike a monitor screen or box with an arrow that curves up and to the right. If you select one you can see its specific settings in the Inspector (Command-4) on the right side of the Compressor window.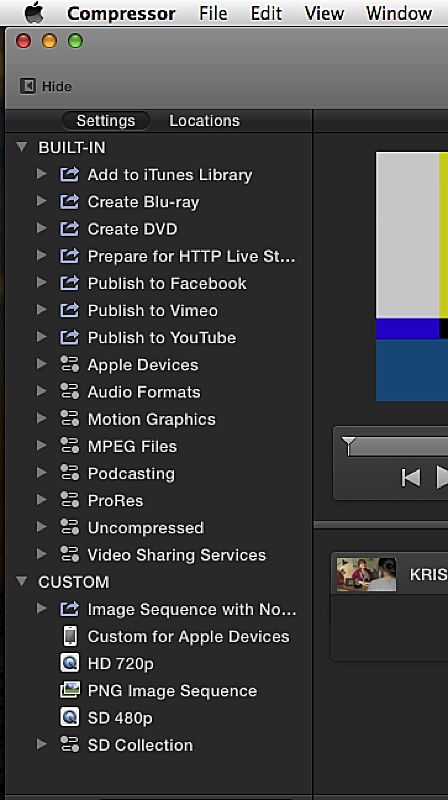 Creating A Custom Destination
Click the Plus sign icon at the bottom left of the Compressor window, choose New Destination. In the creation window, select a Compressor or Custom Settings preset, Select a Job Action, give it a name and description.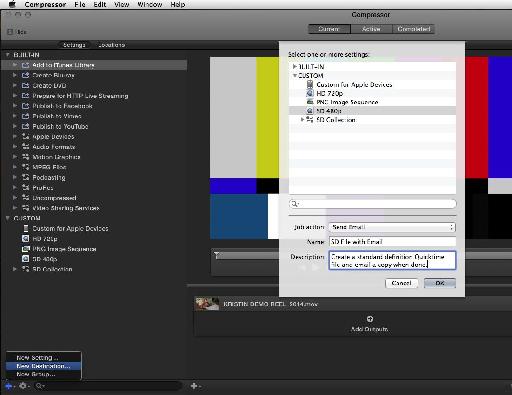 When you apply a Destination to an encoding job, you'll have the transcode Settings and Job Action already set up. Some Job Actions will require additional data, like emails and web publishing. This is all handled in the Inspector quite easily.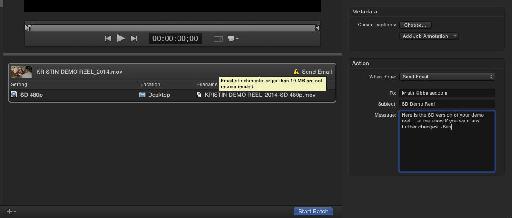 Job Actions
Job Actions include: Add to iTunes Library, burn a DVD, open with another application, send emails, web publishing options, and run Automator Actions. When the transcoding job is completed, the Job Action will take the resulting file and perform some automated action with that file. It is that simple. The example used in my screenshots is an email action, that will send the resulting QuickTime files as an attachment in an email, according to the additional data I supply in the Inspector. Be aware that things like the email address and message can be added to the preset, or left blank to be filled in when applying the Destination to a transcoding job.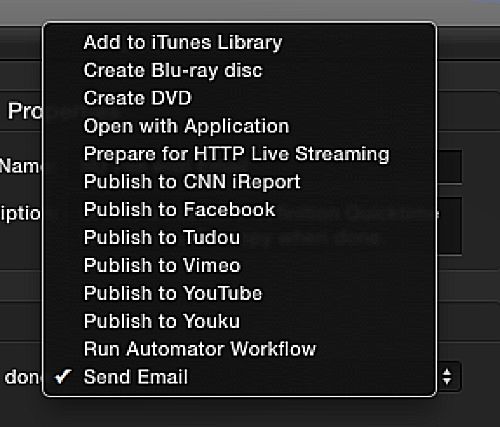 Locations
Locations are very simply the physical location, anywhere on any attached drive, that Compressor will write the file or files that result from the assigned transcoding jobs (in the Locations section of the Settings & Locations pane). When a transcoding job is set up in the Batch pane, you must specify where the resulting files are written to. This simply saves time specifying that parameter data input. If you write to the same location over and over and over again, make it a Custom Location, specify that in your Custom Setting, and you'll never have to manually set that parameter again.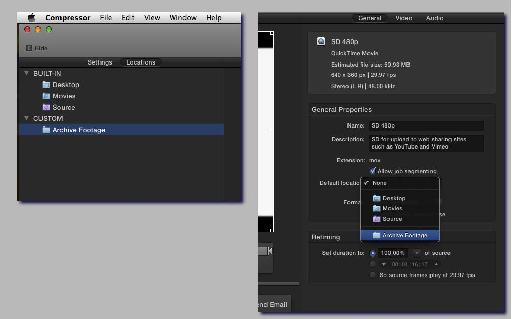 Custom Locations
With the Locations pane active, click the Plus sign icon at the bottom left of Compressor's window. This pulls up a window allowing you to specify any location on any available drive as a custom Location. Then when creating a custom Setting, Destination, or in tweaking the parameters of a waiting job batch, you can easily and quickly specify this location.
Conclusion
I hope this helps you see how Destinations and Locations can help save you time with repetitive transcoding tasks performed in Compressor. It is the little things that nit-pick your time and can cause a post-production job to stretch out longer than necessary. The essential tools such as Destinations and Locations can help cut that time quite a bit in the long run.
Compressor 4.1, Part 1: Custom Settings

Compressor 4.1, Part 3: Groups and Droplets