In part 3 of this three-part series on Apple's Compressor, Ben Balser takes a closer look at how the Groups and Droplets area can have a positive impact on your video compressing needs.
There are two scenarios that Compressor is pretty good at dealing with repetitive complex encoding jobs. The first is creating several differently encoded files from the same source file with one preset. The second is making any repetitive encoding task quick and easy. In this article I'll briefly cover the two functions in Compressor to accomplish these.
The Mechanics of Groups
A 'Group' is simply taking several different encoding presets and placing them inside of a container. These can be Compressor stock presets, or your own custom presets, or a mixture of both. Then when you need to encode a file to all of these different file types together, simply apply the Group as if it were one preset, single preset.
For an example, let us pretend that once or twice a week I am given finish videos, and that I have to supply a variety of standard definition video files, for distribution to several of my regular vendors. Thus I'll create one as NTSC-DV for a US vendor, one as PAL-DV for a UK vendor, and one as H.264 at 480p for web distribution.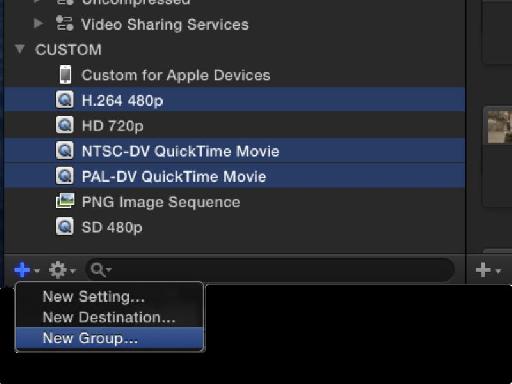 Once done with that, I'll go to the Add menu (plus sign) at the very bottom left of the Compressor window, and chose New Group. I'll name it 'SD Collection'. Now in the Settings window, in my CUSTOM section, I can simply drag and drop each of my SD custom presets into that Group. A Group has the icon of parameter slider controls. Once I have created a Group, I can simply drag-and-drop that on to a video in the Batch pane, and all of its presets will be applied. Clicking 'Start Batch' will process that file for each of the individual presets in my Group.

Groups In Final Cut Pro X
You can access Groups in Final Cut Pro X for even greater efficiency. Once a Group is created, in FCP X's Preferences, in the Destinations section, in the left column select Add Destination. Double-click the Compressor Settings icon. From the resulting list, select the Group you created and click OK. You'll probably want to rename it something that makes sense to you, also. Your custom Group is now accessible directly in the FCP X Share menu.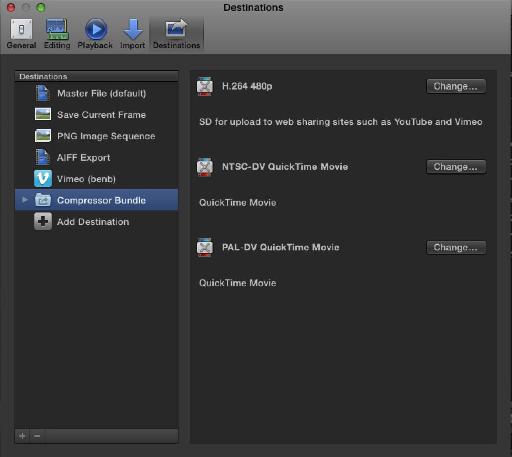 Creating Droplets
Using my Group I created in the example above, I'll make this easy to encode files on a hard drive easy, also. This works exactly the same with individual stock or custom settings presets.
With the Group I created selected in the Settings pane of Compressor, I can go to the Action menu (gear icon) at the very bottom left of the Compressor window. From there I will select Save As Droplet. In the resulting Save window, I'll name it. In this example 'SD Collection Droplet'. Select a location on a drive, or on my Desktop, and click Save.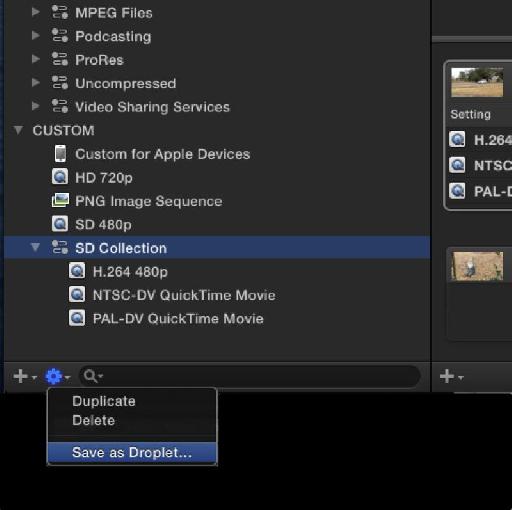 In the Finder, a Droplet's icon looks like a colored film strip with a downward pointing arrow on a base. This will now act as if it were an independent little application. To use it you can simply drag-and-drop a media file, or a group of media files directly on to the Droplet. Thus its name, 'Droplet', because you simply 'drop' things on to it.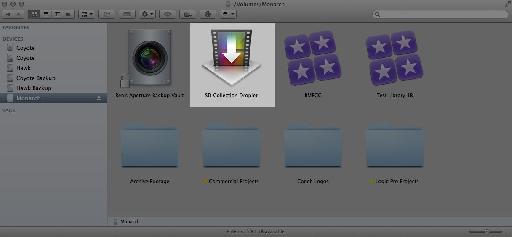 When you do that it will open its own window. You will see at the top a list of the video files you dragged onto the Droplet. Below that are a list of the encoding setting presets the Droplet was created from. Again, this can be one single preset, or a Group. You can change the default Location, which is the location where the files will be written to. Also, the encoding Cluster and the Priority of this specific encoding job can be set. Once you've verified everything is ready, click 'Start Batch'. If things are not correct and you want to start over, simply quit out of the Droplet as you would any other app via the application menu, or with Command-Q.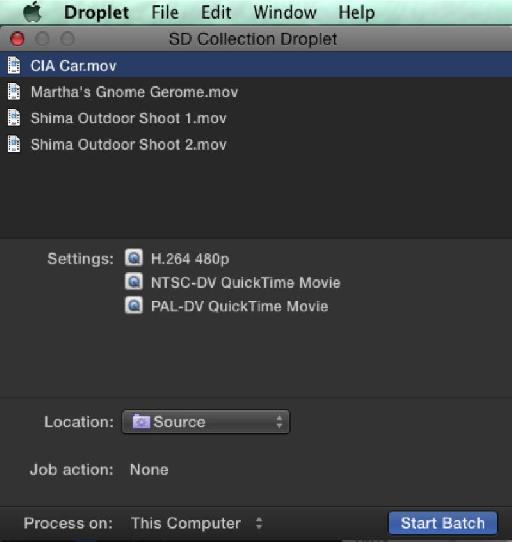 Conclusion
With the use of Compressor's Groups and Droplets, along with Final Cut Pro X's custom Destinations, simplifying repetitive encoding tasks is easy. This type of automation can save you lots of time and effort in the long run. Not to mention how really super easy all of this is to do.