Amongst the host of new features in Final Cut Pro X 10.0.6 is the ability to set multiple sets of In/Out points. The improvement this'll have when editing is explained by FCP expert, Ben Balser.
Imagine giving a Browser clip multiple sets of In/Out Points. In this article we'll look at a really fast workflow for cutting a simple scene with FCP X 10.0.6's new Multiple Range function. This means when viewing a clip in the Event Browser we can give it multiple ranges at one time.
Step 1 - Project Setup
I'll make a new Event in the Event Library with Option-N and name it appropriately. Then import 3 clips from a scene: wide shot, close-up of the mother, close-up of the daughter. We need to make a rough cut between these three clips.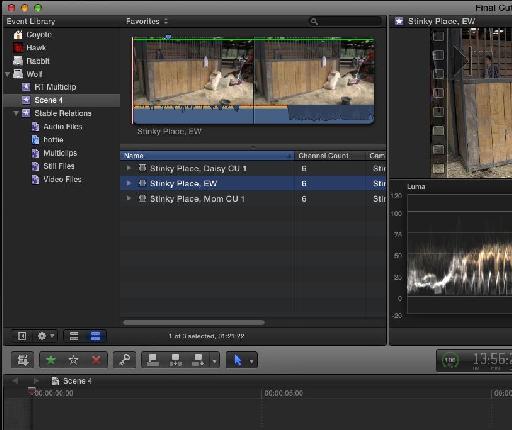 Step 2 - Wide Shot Selects
Use S to toggle skimming on and off. Beginning with the wide shot clip of this scene, I'll mark ranges for each section I want to use. I'll skim until I find the opening section, then click and drag to mark a Range. Later on in the clip, one actor shoves the other and I want to use it. I'll hold the Command key down while I click and drag to select that second range. Using the Command modifier key, I can continue selecting all the ranges I wish. I want to end the scene with this girl kicking a pale in the wide shot. Command-click-drag it and I have three ranges selected.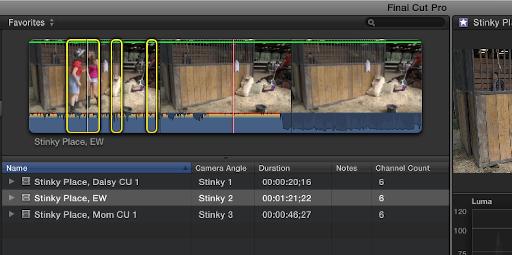 Step 3 - Making The Wide Shot Edit
Now that I have three independent ranges selected on this one clip, all at the same time, we can click on one of these ranges, and only it will highlight, the other two ranges are still there, just de-selected and not as bright. Command-click several ranges to highlight more than one at a time. To remove only one range Option-click it. To remove all use Option-X.
We want all three ranges so I'll command-click all three to selected them together. Then by using 'E' I'll perform an Extend edit, placing them all into the Primary Storyline.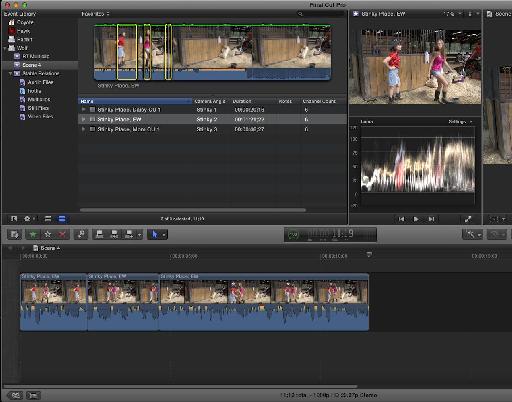 Step 4 - Editing Actors 1 And 2
I'll repeat the same steps for the close-up of actors 1 and 2. In the clip of Actor 1's close-ups, I'll skim through and find the ranges I want using Command-click-drag to create multiple ranges. Then use 'E' to add them to the Timeline. Then the same with the clip of Actor 2's close-up. So far we've gathered the sections of three shots we want to use in our scene faster than possible anywhere else.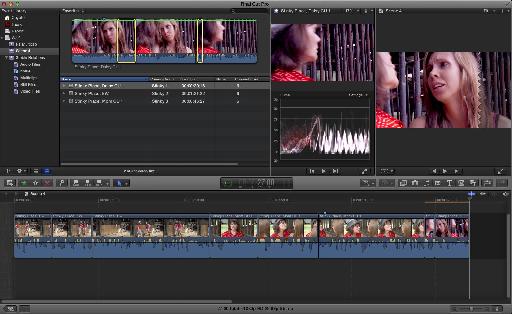 Step 5 - Arranging The Edit
Using the magnetic properties of the Primary Storyline, we save even more time. I can see via the filmstrip and audio waveforms of my clips in the Timeline pretty much what goes where. Click and dragging the wide shot that opens the scene to the start of the Primary Storyline, everything makes room for me magnetically. I'll grab the close-up of actor 1 that comes after it and drag it into place. Close-up of actor 2, drag it into place. I am arranging my shots faster and easier than ever. In no time my rough cut is done.
Finally I would use Final Cut's trim tool to clean up each edit point quickly and precisely. See my HUB article 'Final Cut Pro Speed Trimming Techniques'.

Conclusion
This is only one possible use of multiple ranges in a Browser clip. You can see now how useful and powerful this feature can be. One more feature of Final Cut Pro X 10.0.6 that shows Apple know what they are doing.