What to do if you've shot during the day but the director demands it looks like a night scene? Ben Balser shows how to add an authentic night scene without grain or noise in Final Cut Pro X.
On occasion we're not able to shoot a night scene at night. Thus, we shoot during the day, and then in post-production alter it to appear to have been shot at night. This is not limited to outdoor shots but indoor, also. I may shoot in a well lit studio and have a candle or two in the scene. This way I get great image quality with no grain/noise. Then in post I can make it look like a dark room with better image quality.
Step 1 - On The Set
Day for night post-production actually starts on the set. With outdoor shots, do all you can to avoid showing the daytime sky. Also shoot early or late in the day to avoid all shadows. You don't see hard shadows at night, right? Use reflectors on people and object to remove shadows across faces and objects that are normal for daytime, but non-existent at night.
If you're shooting in a studio with controlled lighting, this is much easier to achieve. Again, watch the shadows. Pretty much all of your set lights should have diffusers on them creating a very soft light. For both indoor and outdoor shots be sure your shots are very low contrast. Meaning there's very little grayscale value between the brightest whites and the darkest shadows. This allows us to have more control over contrast in the post process.
Step 2- General Post Adjustments
We will work with an outdoor shot. With a shot in a Timeline, highlight it and open the Inspector (Command-4). In the Video tab, the Color section, open the Correction 1 controls (Command-6). In the Exposure tab bring the Global control down to darken the whole image somewhere between -20 to -40%.
It may effect your colors, so in the Saturation tab, bring the Global control down somewhere between -50 and -70%. Less light means you see less color saturation.
Now in the Color tab let's pull the Global control across the center line to the blue band, then up to tint the whole image blue. This cools things off and gives it more of a night time look.
Step 3 - Detailed Post Adjustments
Now, let's go back through the Correction 1 controls and get our details worked out. Again, start with Exposure, move to Saturation, then adjust the Color controls. This time we'll ignore the Global controller, and work with the Shadows, Midtones, and Highlights controllers. At this point it's difficult to give specifics, you'll just have to tweak each to slowly build a night shot.
What you do need to keep in mind is that we're not just making a bright picture dark and blue, but mimicking night time shots on film. In the Contrast tab we want to brighten up the highlights more, make the shadows darker, and balance out the midtones. Remember that contrast is exaggerated at night, but the highlights can't be too bright! And every image will need different tweaking to different controls.
I normally start by stair stepping the controls for Saturation. The shadows have less light and thus are much more grayscale. The highlights will have the most color information, and the midtones will be somewhere in between. I'd never pull the highlights control up above the middle line.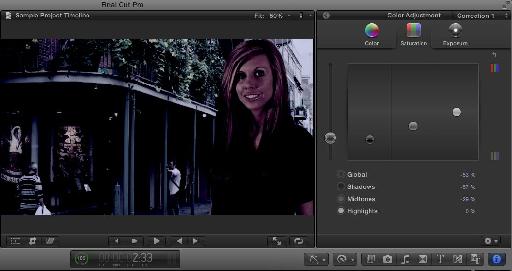 You may want to add some yellow to the highlights and/or mids in the color tab if your subjects are standing under a street lamp. You may want to add oranges if they are near a fire. You'll have to picture the scene in your mind, or better yet, find a still image that has the look you're going for and use it as a guide.
Be prepared to jump from one tab to the other. This is a balancing act. Getting the right balance of controls with a properly lit shot can give a very convincing night time shot.
Lagniappe
If you're shooting an indoor shot and need to simulate a candle flickering, see my HUB tutorial Faking Lighting In Motion. The trick will be to use soft ambient and spot lights combined, placing a 'wriggle' Parameter Behavior to the spot light to simulate the candle flickering. Then add a 'link' Parameter Behavior to the ambient light, link it to the wriggle on the spot light, and adjust it so that it is slightly off. When you're in a room with candle light, the direct light from a candle looks and acts slightly differently than the more ambient light the candle gives off on walls and more distant objects.
Conclusion
Yes, there are third party products that do this, but it helps to know how it's manually done, to understand the process in detail. Practice doing this effect manually a few times so that you better understand what makes a night shot look like a real night shot. Then you can achieve better results even when using a filter, and for those tricky times when a filter doesn't quite do the job you need.