Editing in FCP X is probably quicker than in any other NLE'¦ but how do you deal with audio and timecode in this new editing paradigm? Iain Anderson shows how!
Most of the time, the Final Cut Pro X timeline works really well. By connecting cutaways and audio clips to the 'main story' clips on the primary storyline, it's much easier to make sure that a sound or a voiceover stays where it should. Still, some things have to be dealt with differently in this different paradigm. Some kinds of media should be dealt with differently to older editors, where timecode is king. Audio is often one of those things, so let's take a look at how to do it.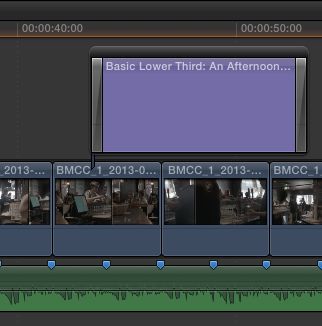 A connected title above in a secondary storyline and some music below on its own.
Recap: secondary storylines
While the primary storyline is the main backbone of the video'"what used to be known as V1'"other clips typically float free as connected clips. While that's often fine, sometimes you want to cut away to a sequence of more than one clip, and you want that short sequence to have the same magnetic powers as the primary storyline does. That's what secondary storylines do, and they're essential. As soon as you add a transition to a connected clip, you've made a secondary storyline, perhaps without realising.

To make a secondary storyline, select a connected clip, then choose Modify > Create Storyline, or press Command-G.
A secondary storyline attaches at only one point, which means that you can manage that sequence of clips as easily as you can manage a single clip. You can also move that single point by Command-Option-clicking the connected clip. Secondary storylines also let you transition between connected clips, or from a secondary storyline to the primary.
Editing a music video
One fairly common task for an editor is to tackle a music video'"and it's often a fun task. You don't have to worry about the quality of the location sound, the subject matter's more interesting than most other jobs, and you can just throw the audio on first and lock it down, right? Well, no.
If you follow the traditional workflow and put the audio in first, you'll be pushing it around when you add clips to your primary storyline, and possibly moving them. Worse, because the primary storyline likes to ripple, sections of the video will drift in and out of sync all the time.

A music video on the primary storyline, with video clips above, some in secondary storylines.
The solution is unusual: make the audio track the primary storyline, then connect everything to it. Every clip will stay in perfect sync with the part of the song you attach it to. Secondary storylines, in this type of project, keep a shorter sequence of clips together. It's great to be able to easily rearrange and ripple clips while knowing that the overall edit is still safe.
Editing voiceovers in a secondary storyline
Another common task is to add a voiceover to a regular video. Often, a voiceover track will need editing, to lengthen or shorten pauses, or to remove ums and ahs. Assuming that the audio track is a connected clip, breaking it up into multiple clips means a connection per clip.

Throw the VO in a secondary storyline, then chop it up as much as you want.
It's much more convenient to deal with the VO as a single entity, with the ability to ripple the edits, so select the voiceover clip, press Command-G to create a secondary storyline, then blade, delete and ripple away.
Editing music in a secondary storyline
Music that accompanies only part of your storyline needs a similar treatment. Let's say you're using a 4-minute clip, but you find you need to cover 5 minutes. While you can probably duplicate part of the track quite easily, you'll have a tricky time unless you create a secondary storyline first.

Here's one way to edit two pieces of music together in a secondary storyline.
Once you've done that, you'll have maximum control if you double-click the audio waveforms on each clip to expand them. You can then extend the clips into each other by dragging the ends of the waveforms, and use the fade handles to softly blend them together'"all within a safe secondary storyline
Conclusion
While not everyone understands them straight away, secondary storylines are a necessary part of FCP X. They work around a limitation of the (otherwise awesome) magnetic timeline, and make audio editing pain-free. Enjoy!