Editing video doesn't have to be a chore. Ben Balser, Final Cut Pro expert and trainer, guides us through the process with essential shortcuts and techniques for remembering them.
I'm always asked in my classes how editors can memorize all of the keyboard shortcuts right away. The more time you edit from the keyboard, the faster and more efficient you will be working. The more time you are working a mouse or trackpad, the slower and less efficient you will be working. Of course we need to do both, but spending more time on the keyboard with shortcuts makes for faster editing.
Memorizing Shortcuts
Having taught Final Cut classes for many years to more students than I can count, I have found that trying to purposefully sit with a list of shortcuts and memorizing them does not work. What I have found works is what I tell all of my classes. If you go to the same menu command or tool selection more than twice in an edit session, look at the shortcut listed, and purposefully make the effort to memorize just that one, at that time. When that one becomes natural, move to the next command or tool you find yourself using often. This way you will pick up many keyboard shortcuts in a fairly short amount of time and they will come more naturally to you.
When I say 'the shortcut listed', where is that exactly? If you mouse over a button in the interface, a Tool Tip pops up. This is a small yellow strip that comes up with a description and the keyboard shortcut spelled out for you. When you access a command or tool via a menu, the keyboard shortcut is listed to the right of it.
I also want to point out the symbols used to indicate the modifier keys. Command is the 'cloverleaf' symbol. Option is the symbol that show the regular path you always take and then the optional path you're taking now. Control is the 'carrot' or 'control' symbol used by programmers. Shift is obviously an arrow key. If you see a slanted thin arrow, that is the Home and End keys on a full sized keyboard.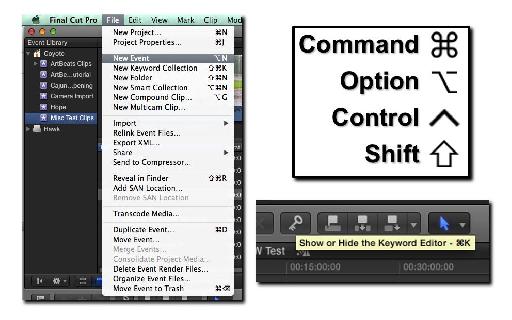 Mac OS X Essentials
There are a few keyboard shortcut essentials I do encourage my students to memorize over the 3 days of class they participate in. I'll take you through those here, in the order of workflow. These are the most common, and will speed up the work of every Mac user and FCP X editor. Thumbs on your Command key, here we go!
Here are the Mac universal shortcuts all Mac users should know:
Copy: Command-C

Paste: Command-V

Cut: Command-X

Undo: Command-Z

Quit an application: Command-Q

Switch between apps: Command-tab

Close a window: Command-W
These you really need to just burn into your brain, force yourself to use them, you'll find using your Mac just gets really easy. Remember that things like copy, cut, paste, undo, etc, work inside the FCP X timelines, too.
FCP X Essentials
Creating a new Event: Option-N

Import media: Command-I

Activate skimming: simply S

Assigning keywords: Command-K

Activate timeline: Command-2

Activate Inspector: Command-4

These help right off the bat if you can get them under your belt.
When editing, there are three buttons in the toolbar, the keys match them, from left to right:
Connection Edit - Q

Insert (wedge) Edit -W

Append Edit - E

Overwrite Edits I call the 'Dangerous Edit' as they destroy other clips is D, just below E, to keep it safe from accidents.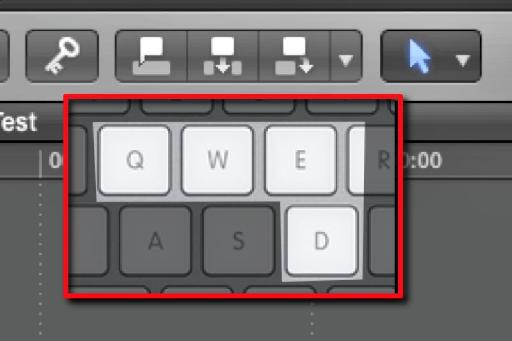 The editing tools are super easy to remember. If you look at the drop-down menu, it is the first letter of the tool. The most common being:
Selection (arrow) tool: A

Position tool: P

Range selection: R

Trim: T (covers ripple, roll, slip, slide all in one tool)

Blade: B

Blade selected clips without actually switching to the Blade tool: Option-B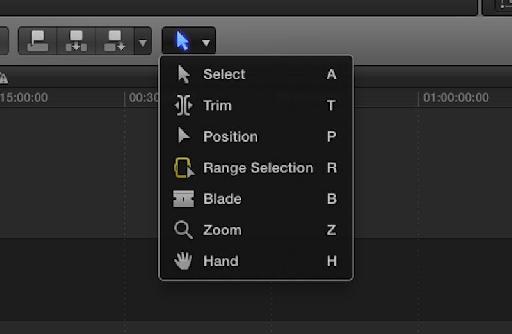 Conclusion
If these are the only keyboard shortcuts you ever memorize, you will be so far ahead of the game. You will see your editing work become much faster and easier. Again, trying to simply use rote memory from a spreadsheet is the worst way to go about this. With a little self discipline, picking them up as you actually work, one at a time, from the Tool Tips and menus, you'll find them becoming very organic to your daily editing tasks.