If you have Final Cut Pro X, you have a powerful video editor and capable tools for color correcting your video footage too. Iain Anderson shows how to use FCP X's built-in tools to great effect.
While it's not the same as FCP 7, Final Cut Pro X's color correction tools have a great deal of flexibility. There's a lot going on, and many ways to work, but here we'll discuss how the built-in tools work and a good way to use them. We'll leave third-party and homemade custom plug-ins for another time.
Overview: Color Board
The main color tool in FCP X is the Color Board, which takes the traditional 3-Way Color Corrector and mashes it into a rectangle. By and large it gets the job done, though some people have never quite made their peace with it. Three panes along the top switch between Color, Saturation and Exposure, and usually working from right to left is a good strategy.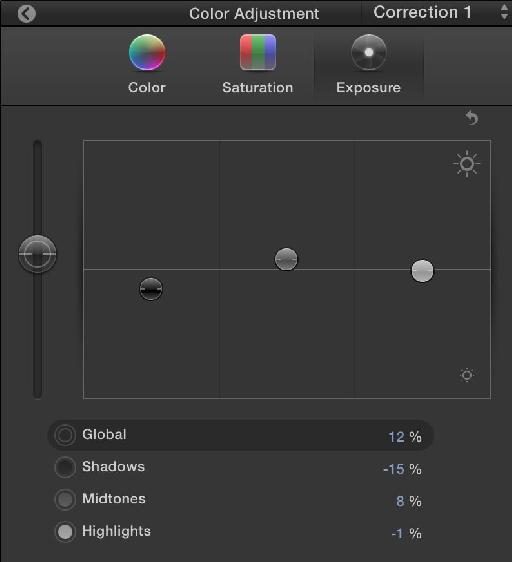 One way to push Exposure.
In Exposure, you can push around pucks that affect the entire image (Global), the Shadows (affecting the darkest areas but not the brightest), the Midtones (affecting the middle of the image but not either end) and the Highlights (affecting the brightest areas but not the darkest).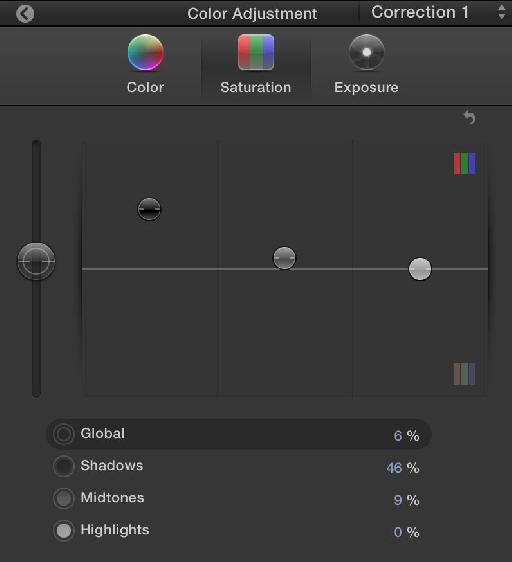 And a heavy Saturation push.
In Saturation, you can use the same controls to affect the saturation of your image. You may find that a subdued image is best enhanced by mostly pushing up the shadows, leaving the brightest parts of the image alone.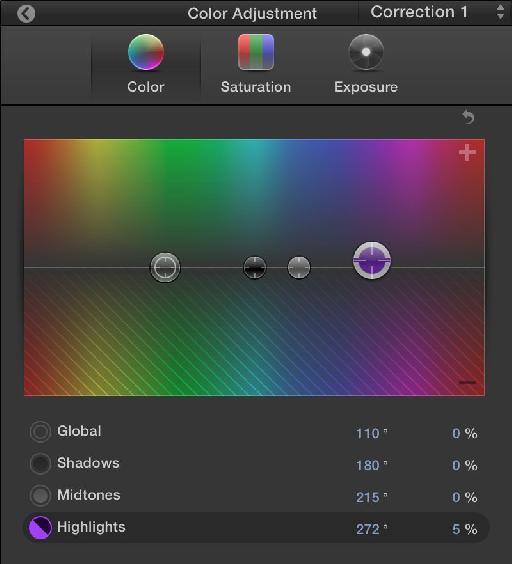 A quick nudge to fix white balance.
In Color, the controls are rearranged, and you're able to push the different areas of the image towards (up) or away from (down) any color. This lets you think about pushing the highlights towards orange or away from blue, even though they mean the same thing. It also allows you to increase color contrast quite easily, by sending the highlight and shadow pucks in opposing directions.
In all of these, it's worth noting that you can use the arrow keys to nudge a selected puck, and you can also drag the numbers below the graph rather than moving the pucks themselves. It's also possible to use a shape or color selection to mask a color board correction, which is powerful, but beyond the scope of this article.
Overview: Scopes
Scopes are essential to judge how your image looks, and are the only reliable way of producing a consistent image. Still, many professionals will also want to use external output devices and broadcast monitors.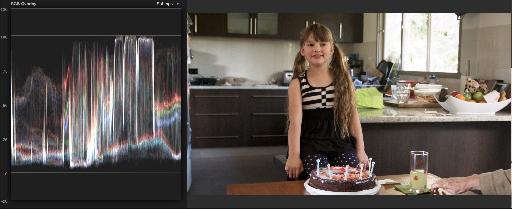 Waveform with RGB Overlay, showing a window left to clip at 100 but detail retained in shadows just above 0.
Command-7 shows or hides the Video Scopes, and probably the most useful option at first will be the Waveform, set to RGB Overlay. Use the Settings menu in the top right of the Scopes panel to set those up. In general, a balanced image will sit within 0 and 100IRE, though a high-key (bright) or low-key (dark) image won't necessarily hit those limits, and you may choose to clip some areas by making them very light or dark anyway.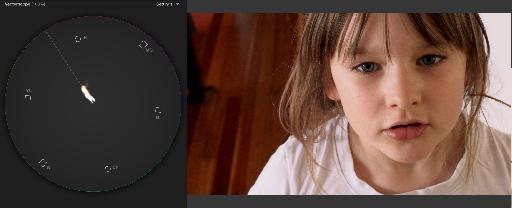 Vectorscope, showing a shot with plenty of skintone sitting along the skintone line.
While RGB Overlay allows you to verify grays (R, G, and B should line up on top of one another in white) the Vectorscope is also helpful, because the skintone line allows you to align your actors' skin (whatever color it is) on a consistent target.
Keyboard shortcuts
To make switching between these areas much easier, you may wish to assign custom command keys to "Show Waveform" (= on my extended keyboard's number pad) and "Show Vectorscope" (I like /). I also assign the "clear" key to "Color Board: Toggle Correction on/off" to make before/after comparisons dead simple.

Love that extended keyboard.
Also useful is to add shortcuts (I like F16/F17/F18) to "Apply Color Correction from Previous Edit/Two Edits Prior/Three Edits Prior" to make sharing color settings a lot easier.

These commands can't be used until you add a keyboard shortcut.
Correct a single clip
Access the Color Board by pressing Command-6, or by pressing the rightward-pointing arrow next to Correction 1.

Before correction, press the grey arrow in the circle; after correction, it becomes colorful.
Assuming you're working with a regular shot featuring both shadows and highlights, you should probably start with Exposure, dragging the Global puck up, positioning the bulk of the image where you want it, then drag the Shadow puck back down to put the shadows where you want them. Now, tweak the Highlight and (most important) Midtone pucks to fine-tune the image to taste. I like most of my shots near 0 and 100 but not beyond, while others prefer a stronger or softer look.
Head to Saturation, then push Shadows up if the image needs it. Shots that start out underexposed often need an extra saturation boost. If any skin areas are still looking flat, try pushing Midtones or even Global up too.
Finally, head to Color, where we'll fix white balance in one of a couple of ways. If it's only a little off, drag the Highlights puck a little up or down, pushing the image where it needs to go. If you have skin in the shot, flick to the Vectorscope and line up the traces on the skintone line. No skin in the shot? Try to make greys match by lining up R/G/B traces on top of one another. Finally, revisit Saturation and/or Exposure if it doesn't look quite right.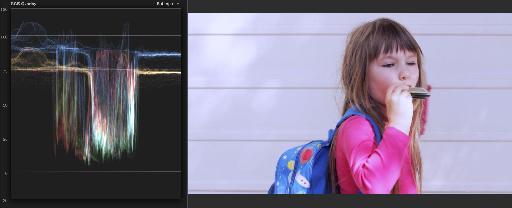 In this shot, red and green traces have overlapped to make yellow, and to make the background neutral, we need to bring blue down to make white.
The Color Board can remain open as you move the playhead to the next clip in the timeline, but you can press the left-pointing arrow at its top left to return to the regular Inspector.
Add built-in effects if needed
If the Color Board can't get the job done, you may find that the Hue control in the Hue/Saturation effect (in Basics) can. This is especially true of shots where the camera has been set to the wrong color temperature.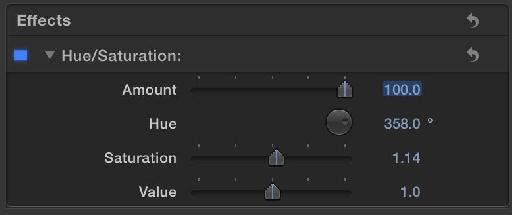 That pesky Hue control may need to go all the way around the circle to get to the right setting.
Carry it through the edit
With any luck, one clip's settings can be applied to any other clips shot in the same way, so use the keyboard shortcuts discussed earlier to copy settings from earlier clips in your timeline. Alternatively, use the Edit menu to Copy one clip and Paste Attributes on another, but don't be afraid to tweak each shot afterwards. You'll want the edit to appear consistent overall, but lighting and camera settings are likely to have changed between shots.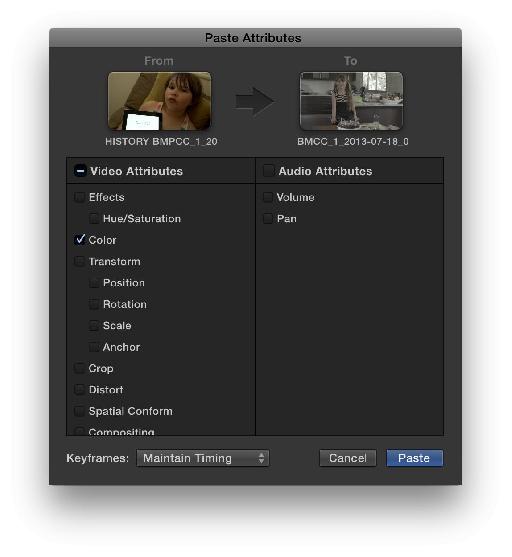 Command-C on the first clip, Command-Shift-V on the second, then choose what you want.
Once you've made your entire edit look roughly the same, you can affect all clips at once with an adjustment layer, to add a consistent look. We discuss how to make Adjustment Layers in this article here:
FCP X Tutorial: Using Adjustment Layers to Audition Effects
Avoid: Balance Color
Tempting though it might be to automatically correct colors, this feature also corrects the brightness of an image. Worse, there's no way to turn the feature down, only off—so leave it that way.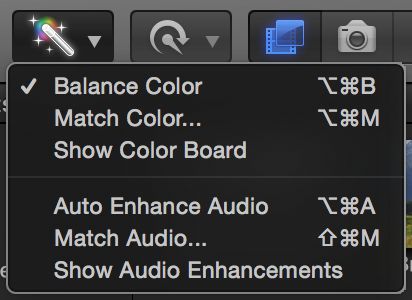 Waving a magic wand doesn't always work.
Avoid: Color Match
Wouldn't it be great to make one shot look the same as another? Well, while it seems appealing, this feature only really works well when the two shots share almost identical content. If you match from a shot with a red car to a shot without one, that red's going to go somewhere. Again, leave it off.
Avoid: Log Processing
If your camera shoots in a flat Log or Film mode, you may be tempted to use the in-built Log Processing feature to correct the images.
The Info tab, under the Settings metadata preset, lets you access Log Processing for supported cameras—but beware.
However, if your shots are underexposed or overexposed, you'll need to correct for this before compensating for the flat images, and unfortunately you won't be able to. Log Processing is applied (in an effectively destructive way) before the color board takes effect, and if the processing clamps darker areas to black or lighter areas to white, there's no way to recover that lost data. Instead, you'll need to turn Log Processing off, then use a third-party plug-in (with exposure control) to add contrast back in. We've looked at this before, here:
Final Cut Pro X: A BMCC Flat Picture Correction Roundup
Conclusion
This is only the starting point for color correction in FCP X. There are many other ways to perform more advanced corrections, with third-party effects and by rolling your own effects with Motion. Watch for a future article that shows you how, but for now—there are plenty of shots out there that need your help. Go for it!
Learn more about Final Cut Pro X in the video courses at macProVideo here:
http://www.macprovideo.com/finalcut/